Guh fyne ah book! Those words were an almost prison sentence for many "skylarking" children in Jamaica but for me, they were literary music to my ears. Yes! I'll admit it. I've been a life long, unabashed book worm. I've been known to read two, three, and four books at a time, (yes I know). I'm always looking for a good book, even when I have absolutely no time to read them I still buy them and put them in my ever-growing, 'To Read' stack.
In the exponentially expanding digital age, I still prefer a good hardcover to anything that I can read on Kindle, even though I do own one. No keypad or mouse can compare to the crisp, wispy heaviness of the pages of a great book being turned by your actual fingertips.
Over the years I've amassed a collection, starting with my very first Complete Book of Brother Anancy Stories that I've had since I was four. Among the many that I have in my slightly haphazard collection the one that I place the greatest value on are those that are about my homeland, Jamaica because I feel everything that I learn about my country teaches me just a little more about myself.
In acknowledgment of Jamaica's impending Fiftieth Independence, here are books that every Jamaican should have in their collection.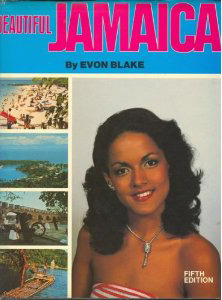 1. Beautiful Jamaica
Penned by: Evon Blake
The Reason It's A Keeper: This book renewed my romance with Jamaica. It's was an easy wonderfully depicted, straight forward telling of Jamaica's history. I've bought newer editions of this book as gifts for friends and loved ones.
What they said: A beautifully illustrated book on the natural, political, and social history of Jamaica. Amazon.com
2. Negro with a Hat: The Rise and Fall of Marcus Garvey
Penned by: Colin Grant
What they said: Independent historian and BBC Radio script editor Colin Grant presents Negro with a Hat: The Rise and Fall of Marcus Garvey, an in-depth biography of Marcus Mosiah Garvey (1887-1940), who is perhaps best-known for his "Back to Africa" movement that sought to create an independent homeland through Pan-African emigration. Known as the "Black Moses" to his many admirers, and crowned Jamaica's first national hero after his death, Marcus Garvey also made plenty of enemies – he was deemed an enough of a threat by Winston Churchill and J. Edgar Hoover to warrant surveillance, and was scornfully derided as a "negro with a hat" by W.E.B. Du Bois. His talent for promoting his ideas and resurrecting memory of lost African civilization was unsurpassed, and he earned his place in history as one of the founders of black nationalism and a crucial figure of the twentieth century. Negro with a Hat spares no detail yet remains accessible to readers of all backgrounds, and is highly recommended for its thoughtful and balanced presentation of a thoroughly complex individual's life. –  Midwest Book Review
3. The Natural Mystics: Marley, Tosh, and Wailer 
Penned by: Colin Grant
The Reason It's A Keeper: Certainly a must have for Reggae lovers and everyone loves reggae. It is a comprehensive look at the "Band of Brothers" and not only how they were shaped by the political, social, and economic atmosphere of the times and how they in turn had an effect on the very elements that shaped them. "
What they said: …A portrait of a seminal group during a period of exuberant cultural revolution." Amazon.com
4. Out of Many, One People: The Historical Archaeology of Colonial Jamaica (Caribbean Archaeology and Ethnohistory)
Penned by: Dr. James A. Delle Ph.D. and Mark W. Hauser
What they said: "This volume provides a comprehensive discourse on Jamaica's colonial archaeology from the sixteenth to the nineteenth centuries. Not only is the book wide-ranging in both scope and methodological approaches, it is also interspersed with a rich array of maps, figures, and tables that help to reinforce many of the discussion points raised in the narrative." Basil A. Reid, author of Myths and Realities of Caribbean History
5. Drumblair: Memories of a Jamaican Childhood
Penned by: Rachel Manley
The Reason It's A Keeper: I've always looked upon the Manley family as Jamaica's Kennedy's and viewed their idealism in relation to the governing and eve lotion of Jamaica from a Camelot-like perspective. Rachel Manley's memoir is one of the most riveting books I have ever read about her family and certainly is a must-have to acquire and pass on to future generations.
What they said: "…a captivating memoir of the people who most changed Jamaica's intellectual, social, and cultural landscape." Amazon.com
6. History of Jamaica
Penned by: Clinton Black
The Reason It's A Keeper: It's an accounting of Jamaican history from the arrival of the Arawak's over a millennium ago up to current time are written by the most reliable source, Jamaica's government Archivist, Clinton Black.
7. Pieces of the Past: A Stroll Down Jamaica's Memory Lane
Penned by: Rebecca Tortello
The Reason It's A Keeper: It a historical as well as folkloric stories stitched together like colorful insightful panel in the beautiful diverse quilt that is the history of Jamaica.
8. Book of Jamaica
Penned by: Russell Banks
The Reason It's A Keeper: The controversy surrounding this book of fiction was enough to drive me to purchase. The plot revolved around a an American who comes to Jamaica and leaves behind his family and career to immerse himself in some of the shady darker aspects of the culture. the controversy was based of the questioning of the perspective of a Non-Jamaican and his/ or her ability to share a truly 'honest' story. "If you really want to know how an American might feel living in our country Karen, take a read." My good friend Althea Brown in South Florida when she handed me the book.

9.The Other Side of Paradise: A Memoir
Penned by: Staceyann Chin
What they said: "…Liberating, beautiful, and life-affirming, The Other Side of Paradise is simply incredible…". Russell Simmons
What they said: Stacey Ann Chinn This book is a captivating sometimes startlingly honest coming-of-age biographical story and survival. The author, a successful writer, poet, and performance artist in New York City, shares the frank reality of what it means for some to be a "girl chile" in Jamaica.
10. Reggae Wisdom: Proverbs in Jamaican Music 
Penned by: Swami Anand Prahlad
The Reason It's A Keeper: Reggae music has long been lauded for it's message of progress and upliftment. This book examines lyrical pearls of wisdom from such noted sources as Jimmy Cliff, Peter Tosh, The Itals, and a variety of other important artists including Bob Marley, and how they have served as an aid and benefit to not only Jamaicans but the global reggae community. "What better way to enter this rich and powerful, eclectic world of sound and sense than through the magical world of proverbs?". The author, Swami Anand Prahlad.