Traveling to Antarctica was not my idea as I do not like cold places. It was my husband's wish to complete his bucket list of visiting the 7 continents. So, I mustered up the courage and went along with him on a trip that we had to book over a year in advance  on the National Geographic Explorer Research boat. We sailed out of Ushuaia, Argentina, capital of Tierra del Fuego, the southernmost city of the world.  We were on board November 29 – December 9, 2013 and the weather was exceptionally good with a high of 37 degrees one day. In preparation for the trip, we had to have a physical examination done by our doctor and a report submitted to National Geographic before acceptance to travel.
I liked the clean, untouched, whiteness of Antarctica.
It reminded me of the words of the song…
" White as snow, white as snow, though my sins were as scarlet,
Lord I know, Lord I know, that I'm clean and forgiven.
Through the power of Your blood, through the wonder of Your love, through faith in you I know that I can be white as snow. "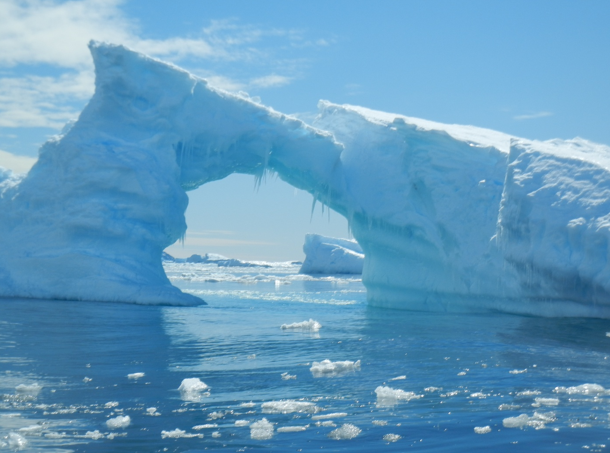 We got off the boat every day and went on land.  One day, my husband went on an uphill hike and I went on a Zodiac tour.  They served hot chocolate and Danish on the zodiac on the water among the icebergs. We walked among penguins but if they were crossing our path, we had to stop and let them go by. We got the best viewings as they were so close. We watched as the research team went out in boats to tag whales. Later in the evening, they would show videos of tracking where these whales went.
We landed on ice and got off the boat and pretended to be pulling the boat.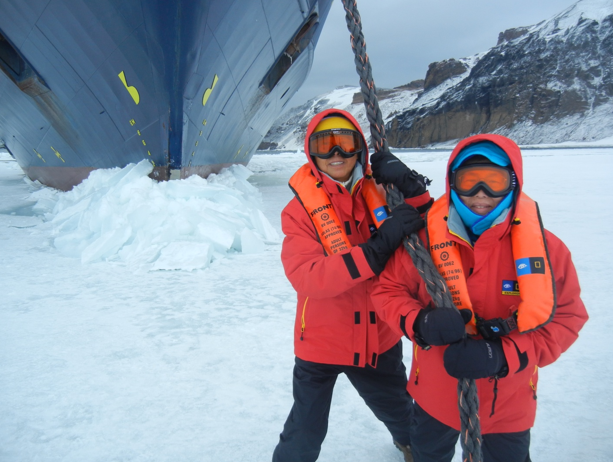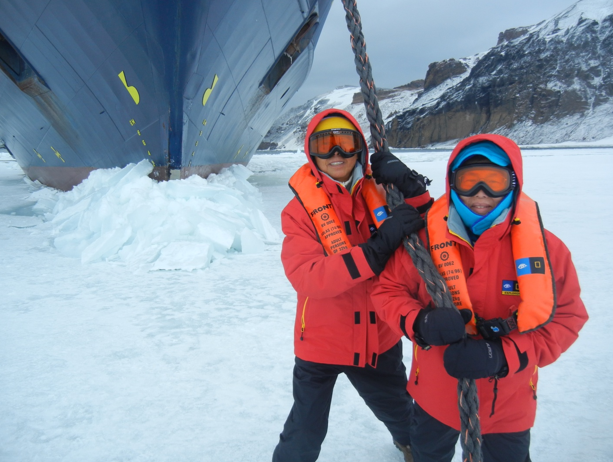 There were many highlights:
1) Seeing the different kinds of penguins,  birds, killer whales, humpback whales, minke whales.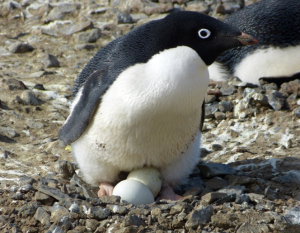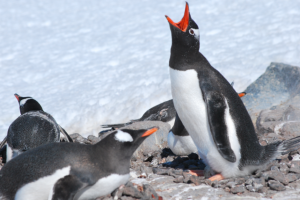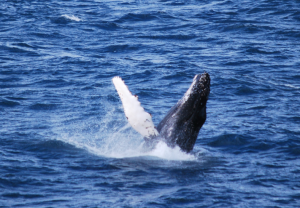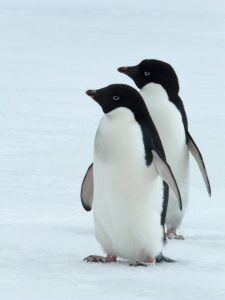 2) Hearing our ice breaker boat crunching through the ice as we sailed.
3) Meeting Peter Hillary, NZ mountaineer, son of Sir Edmund Hillary, and co-author John Elder who wrote the book, "In the Ghost country"  which tells of their 3-month – 900 miles journey across Antarctica . Sir Edmund Hillary was the first to reach the summit of Mt. Everest with Tenzing Norgay in 1953. Peter and Sir Edmund climbed Mt. Everest in 1990.
With Peter Hillary and John Elder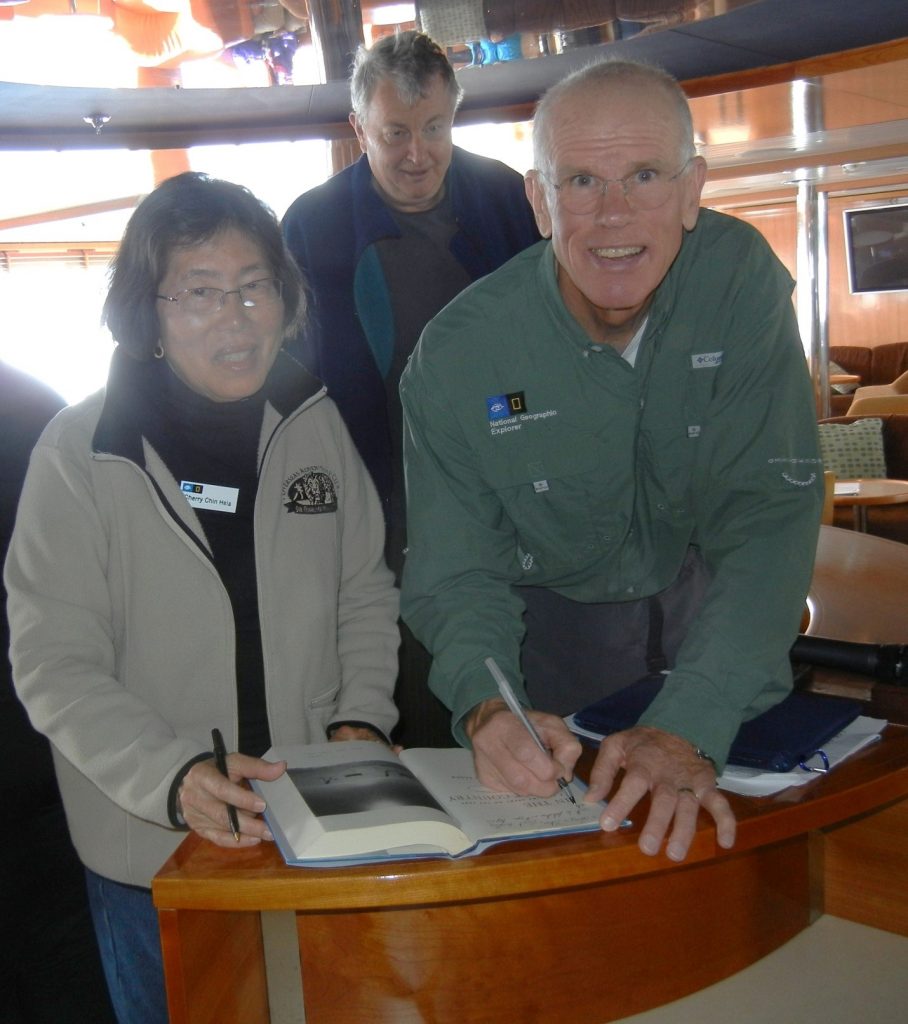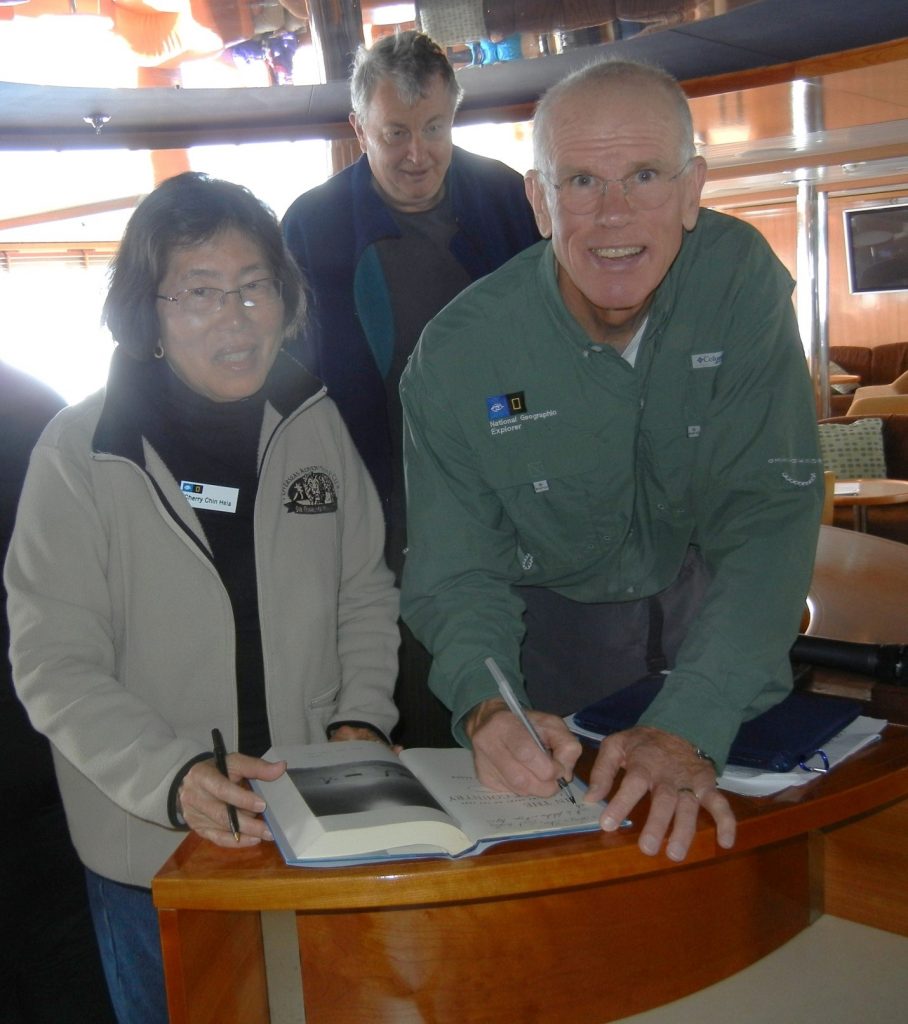 See: http://www.peterhillary.com/seven-summits/
I recommend visiting the Palmer Station (US base) Port Lockroy (British base) if possible.
We picked up 5 scientists at Palmer Station who were waiting for months to get back to the U.S.  Ships went to the area but turned back because they were not able to go through the ice. The National Geographic Explorer is  an icebreaker so we were able to go in and "rescue them". Our kayak outing was canceled due to this activity. I was quite happy for the cancelation  though I practiced kayaking in Newport Bay in preparation for this trip. I don't think kayaking in icy water would be fun but many passengers would have liked it.
At Palmer Station – human chain made to get 5 on board.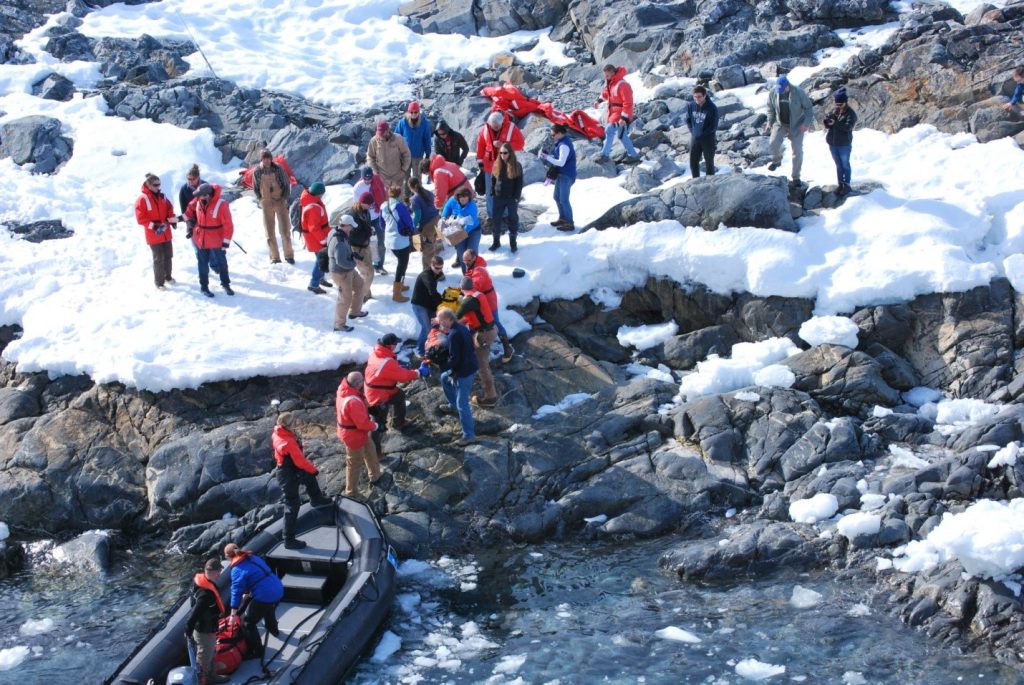 The tips I would give travelers going there are :
Bring motion sickness medication as you most likely will need it going through the Drake Passage. You need patience to get dressed in layers and layers of clothing. It took me about an hour each morning to get dressed with three pair of socks, water boots, thermal under wear, flannel lined pants, waterproof  pants, parka, gloves, goggles etc. You have to wash off your boots before going ashore so you do not contaminate the environment and wash them when you get back on boat.  This trip is not for the faint of heart.
Reminder of Jamaica?
At Port Lockroy, the British base, there is a small museum that had items such as Lifebuoy soap, dettol, brown (laundry) soap and more.
I will not visit again. This was a once in a lifetime trip but highly recommended.