This week we speak to Lorna Shelton-Beck Founder of the Charleston Carifest Caribbean Carnival. The Charleston Carifest Caribbean Carnival is   celebrating 10 year of existence. Here is our conversation with Lorna.
What Caribbean island are you from?
Jamaica
Tell us about your fondest memory of celebrations in Jamaica as a child?
In Jamaica we celebrate Festival with cultural performances in an auditorium. Our Street parade was during Christmas with the Masquerades that paraded through the town with half the town behind them. So my first participation in Carnival as we know it was in 1971 as a student at the College of Arts, Science & Technology now named Utech. The University of the West Indies celebrated Trinidad style Carnival each year so during my years at CAST I always joined in the fun.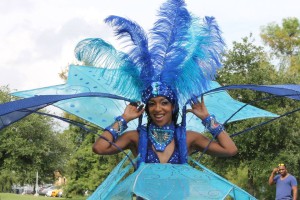 Tell us about the 2015 Charleston Carifest Caribbean Carnival'? How did it get started? How did you get involved?
Charleston Carifest Caribbean Carnival will celebrate 10 years in 2015, the same as Caribbean American Heritage Month.
Charleston Carifest was started as a tribute to Caribbean American Heritage Month. The carnival celebration is a common bond shared by all the islands so it was a wonderful way of celebrating the Caribbean and sharing our customs and traditions with the community.
Charleston Carifest is my brainchild. So I had to make it happen, finding costumes for the parade, venue for the activities, Caribbean vendors etc. I started out alone the first year with no money, just a thought.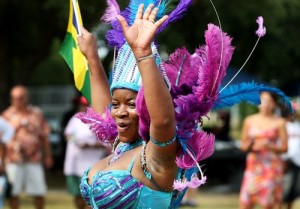 What is the main goal of the Charleston Carifest Caribbean Carnival 2015?
The main goal of Charleston Carifest 2015 is to enlighten the community of the contributions of Caribbean Americans to the USA, and the importance of this celebration to the local community and to the Caribbean Diaspora. As Caribbean Nationals we are forging a new path for our lives and that of our offspring so we must find ways to promote and preserve our culture and pass the knowledge unto the children.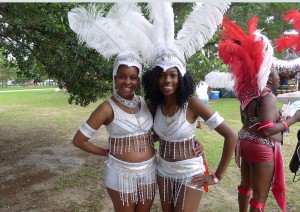 What can we expect this year?
Charleston Carifest will be seven events over four days. We are pleased Jamaican born, Dr. Claire A. Nelson, Named White House Change Agent, and the author of Caribbean American Heritage Month, Trinidad & Tobago Ambassador to The USA, Dr Neil Parsan and Consulate General Dr Anil Ramnanan will be in attendance.
In years past we have featured a different Caribbean Island but in celebration of our 10th year our theme is, One Caribbean. Our Headliner for the Park is Anthony Malvo, with other artists Guche Londan, and Trinidad born Champeon. For the first we are offering a J'Ouvert/Caribbean Mardi Gras event on the Friday night.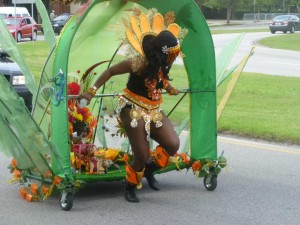 What does Charleston Carifest Caribbean Carnival mean to you?
Charleston Carifest means Caribbean celebration by Caribbean people showcasing various genre of Caribbean music, costumes and food. This is important because in my town people associate the Caribbean with Jamaica and Reggae only, so every year we educate people on the various islands of the Caribbean and the vast contribution Caribbean people have made starting with Alexander Hamilton.
Do you think there is enough being done to pass on Caribbean history to the next generation?
My children learnt in school, Christopher Columbus discovered the islands and that is the extent of the history. So we have to work together as the Caribbean community to 1) get changes in the schools, and 2) we must take on the responsibility to educate the next generation ourselves.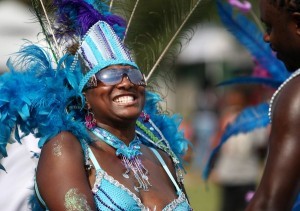 Where do you see the festival 5 years from now?
5 years from now the festival will either be bigger with more international artists to help attract more Carnival followers or it may morph into a different cultural activity that will serve as an educational event for the community without the drama and strife that somehow seems to manifest itself among Carnival organizers. Since the launch of Charleston Carifest we have served as an incubator and have motivated other Caribbean Nationals to want to organize events to compete with us or take over the event for their personal gain. Carnival requires a lot of work and planning. We do the work and then others come along and capitalize on the momentum and have Fetes without recognizing the significance of Caribbean American Heritage Month.
What other projects and events are you working on?
I am the founder of Healthy Lifestyle Network, Inc a 501c3 organization that provides two programs in Charleston and Jamaica. In Charleston we have a Youth and Adult Healthy Lifestyle Jamboree which is a day teaching nutrition and physical activity to the community in May, and a Diabetes Conference in November.
In Jamaica we offer a Four Prong Program to Infant and Basic Schools in Port Antonio. Every summer we host camp where we teach soccer, planting, reading, and nutrition. We are trying to raise funds to take the children on a day trip to a farm the last day of camp on July 17. Our newest program was started in 2012, the LifeChance Program where we teach teens and women vocational and entrepreneurial skills.
My other project is the SC Reggae Jerk and Wine Festival, celebrating Jamaica Day in the Carolinas. This will be held August 30 in Charleston, SC.
When you are not busy with work and projects what do you do to relax?
I watch television, I have some very special shows, try to improve my knitting, and learn new craft skills to teach the women and teens.
My favorite Caribbean musical artist is…
…Bob Marley
My comfort food is…
…fruits. It is a must have or I feel unfulfilled. When you are blue eat a fruit.
If I wanted to impress someone visiting my city I would take them to…
Magnolia Plantation & Gardens, drive along the Peninsular downtown to sightsee the anti-bellum houses, White Point Gardens, and view the historic Fort Moultrie.
Thanks for the time. Where can we learn more about the Charleston Carifest Caribbean Carnival'?
For more information visit Charlestoncarifest.com