After spending years observing the operations of the sound system, Keyn Supreme is one of the best music producers in Kingston.
Keyn Supreme is a reggae/dancehall artiste and producer who spent most of his boy years fascinating over sound systems. He admits that street dances and sound clashes inspired his sojourn through the music industry.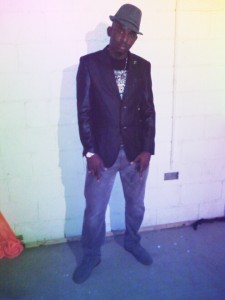 But Keyn Supreme is more than just an artiste. His fans take life lessons and history lessons from his music.
We sat down with Keyn Supreme to find out why his fans call him  "Di Original Lyrics Machine".
1. You're most fascinated by the sound system culture, what about the sound system do you like?
Apart from seeing the latest fashion trends, pretty ladies, flossers and high rollers, what I like most about the sound system culture is that I get to see first-hand how powerful music is and how easily it can influence people's actions…When in a dance the selector has control over the behaviour of the patrons based on his musical selections. He can make you laugh, shout out, jump, run up and down, beat down a fence, give money pull up etc…So basically music has great power and is an Instrument of Influence.
2. What inspires your music?
Ultimately the inspiration for my music comes from the Almighty who gave me my talent. Many a times out of nowhere I would get an idea for a song and within minutes the words and melodies just starts flowing. I also get inspiration from other people's life experiences
Other artistes who I look up to like Bob Marley, Dennis Brown, Professor Nuts, Etana, Bounty Killer, I Wayne, I Octane, Chronixx, 2Pac and Nas also inspire my music.
3. Why did you decide to enter the JCDC Festival song competition?
I decided to enter the JCDC Festival song competition because I noticed when most persons are talking about Jamaica they tend to highlight the negatives like our high crime rate, poverty, unemployment etc. I wanted to do a song which portrays Jamaica in a positive way and celebrates its beauty, achievements and good contribution it has made to the world thus far.
In addition (to that), being a young aspiring artiste I saw it as a medium through which I could get some exposure also.
4. Where did you get the name "Keyn Supreme"?
I got the name Keyn Supreme from my friends and myself. There was a good football player for Manchester United named Roy Keane, so because I was just as skillful as him and my given name is also Roy, my friends start calling me Roy Keane or Mr.Keane.
On entering the music business I decided to keep the name 'keane and alter the spelling to "keyn"… and because bad mind people always been trying to pull me down in life, a wise elderly person once told me, "people will only try to pull you down when you are above them," so I added the Supreme to Keyn, hence the name Keyn Supreme.
5. What is your mission as a Reggae/Dancehall Artiste?
To inspire, educate, uplift, motivate and impact people in a positive way through music is my mission as a Reggae/Dancehall Artist.
6. What makes you different from any other Jamaican reggae/ dancehall artiste?
What makes me different from other Reggae/Dance Artist is that I'm "Di Original Lyrics Machine", so when you hear my songs you are sure to get lyrics lyrics lyrics and more lyrics in overdrive.
My lyrics ain't vulgar or lewd, it's clean with a unique charismatic flow and always well-arranged and composed properly.
My music also represents righteousness, love, peace, truth, unity and spiritual empowerment.
7. Your song "Gun Culture" speaks about the trading of guns for votes/ popularity between inner city youth and politicians, why did you decide to produce that song? 
My reason for producing "Gun Culture" is that up to now I'm yet to hear a politician when speaking about Jamaica's crime problem say that they are the ones at fault, but they are always quick to blame other factors like the inner city youths, Dancehall music and poverty.
Gun Culture represents the truth and chronicles how corrupt politicians armed young inner city youths with guns in the 1970's/1980's to fight political warfare. I wanted to document this dark piece of Jamaica's history in a song so the future generation can always be reminded how Jamaica's gun culture really got started.
And thanks for making that bold move Keyn Supreme!
Here's Keyn Supreme's song- Gun Culture

Like his Facebook page
Follow him on Instagram and Twitter
About Youth Stars on ROOTS 96.1 FM: 
Youth Stars is a 10-minute feature programme aired on Jamaica's number one community radio station, ROOTS FM. The feature airs every other Monday at 5:45-5:55pm during Youth Talk. Youth Stars aims to provide greater exposure to young Jamaicans with true artistic talent who desperately want their music to reach a wider audience but do not have the means to get it done.
If you want to be featured on Youth Stars, send us an email at [email protected].
Listen to ROOTS FM online