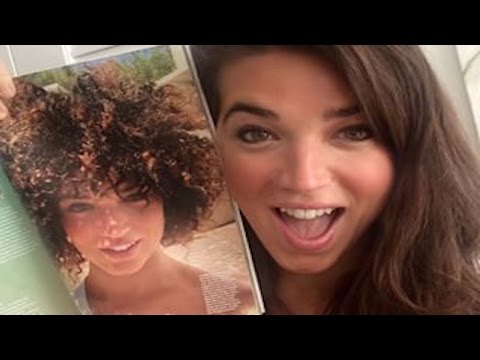 Another week, another painfully tone deaf example of cultural appropriation. The most recent high-profile case? Kylie Jenner's cornrows. Actress Amandla Stenberg pointed out that while Kylie happily publicized her cornrows, she stayed utterly silent on other black issues. Kylie never apologized.
Now, beauty magazine Allure is at the center of a similar discussion after using a white model for a tutorial about Afros without any acknowledgement of the hairstyle's cultural history. WhenAllure's story You (Yes, You) Can Have An Afro dropped, Twitter immediately pointed out that the magazine's choice to use a white model was way off. In its response to BuzzFeed,Allure side-stepped the issue, saying "The Afro has a rich cultural and aesthetic history. In this story we show women using different hairstyles as an individual expression of style. Using beauty and hair as a form of self-expression is a mirror of what's happening in our country today. The creativity is limitless -- and pretty wonderful.
https://i-d.vice.com/en_us/article/a...-afro-tutorial
Bi-racial Teen Vogue editor hits back after coming under fire for decision to use a 'light-skinned' model in a feature about an African hairstyle
Teen Vogue received online criticism from readers over the lack of dark-skinned models used to illustrate a feature on Senegalese twists
The hairstyle is most commonly associated with African Americans, but Teen Vogue opted to use a light-skinned model in its feature
In a new essay, the editor who wrote the piece defended the decision, and pointed out that the model is actually of mixed race
The editor, who is biracial herself, noted that the fashion and beauty industries still have a long way to go to be inclusive of women of color
By DAVID MCCORMACK FOR DAILYMAIL.COM and CARLY STERN FOR DAILYMAIL.COM
PUBLISHED: 10:03 EST, 26 June 2015 | UPDATED: 02:42 EST, 27 June 2015
258shares
48View comments
A Teen Vogue editor who faced a severe online backlash after she opted to use a light-skinned model to illustrate a feature about African-American hairstyles has penned an open letter to her critics in which she defends her controversial decision.
The June/July issue of the popular teen publication features an article by the magazine's beauty and health director Elaine Welteroth, in which she writes about having her hair braided in Rwanda and the reaction she received upon her return to New York City. Since its publication, readers have taken to social media to express their frustration with the magazine for excluding black models from the feature; the featured model in the piece has light skin, while many of the other women used to illustrate the Senegalese twists style were white.
Now, Ms. Welteroth has penned an essay defending her choice, as well as noting that the piece has opened a discussion about race.

+6
Talking 'bout tresses: The latest issue of Teen Vogue has received backlash over the lack of dark-skinned models used to illustrate a feature on Senegalese twists, a hairstyle popular among African American women

+6
All-inclusive: The article's author, editor Elaine Welteroth (pictured), wrote in a new essay that she chose a model who is biracial to demonstrate that there is a broad spectrum of what 'black' looks like
While a version of the article online features photos of Welteroth, who is herself of mixed race, the print version used photos of a model named Phillipa Steele.
Phillipa, Ms. Welteroth wrote, is of mixed race as well - just like singer and actress Zendaya, who inspired the piece on Senegalese twists by wearing dreadlocks to the Oscars earlier this year.
'Phillipa Steele... strikes an uncanny resemblance to Zendaya, the story's hero,' she wrote, noting that Zendaya used her platform to shed light 'on the importance of debunking harmful stereotypes linked to ethnic hairstyles'.
With this piece, Ms. Welteron was hoping to do the same. But because she used a 'racially ambiguous' model, whom many readers assumed was white because of her light skin, the message seems to have gotten lost.


Read more: http://www.dailymail.co.uk/femail/ar...#ixzz3i3m7AUXh
Follow us: @MailOnline on Twitter | DailyMail on Facebook
http://www.dailymail.co.uk/femail/ar...hairstyle.html