The morning was cool and the Toronto sky clear. It was as if the "weather gods" had decided to give the city a break from the cold with which it is familiar at this time of the year. And it seemed very appropriate as family and friends of Grace Carlene Reynolds, our Sweetssop, came not so much to say their goodbyes as they did to remember, reflect on, and to celebrate her life.
As individuals entered the service area, one could not miss the casket in the center of the room. But there was something else. Right beside the casket was a picture of Sweets, with her trademark smile, as if checking out each person as they walked in.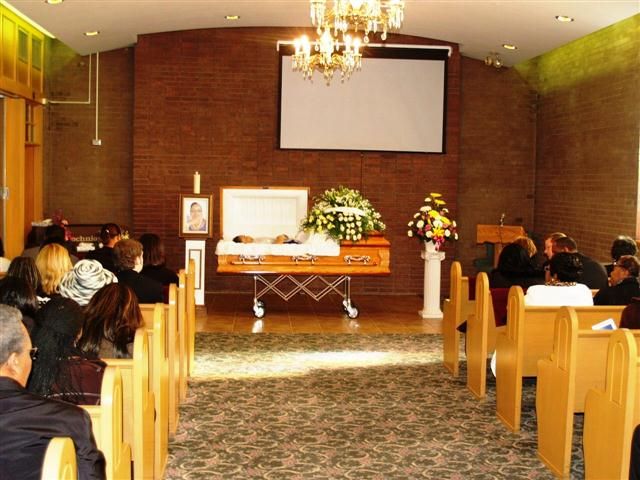 If that was what she was doing then she was busy because the people came. Fifteen minutes before the service started, the place was full. Many made their way to the open casket for their last look; others shuffled to find a place to stand from where they could observe the proceedings. There was a brief hush as the funeral directors closed the casket. It was as if the closure affirmed the reality that Sweets was really gone.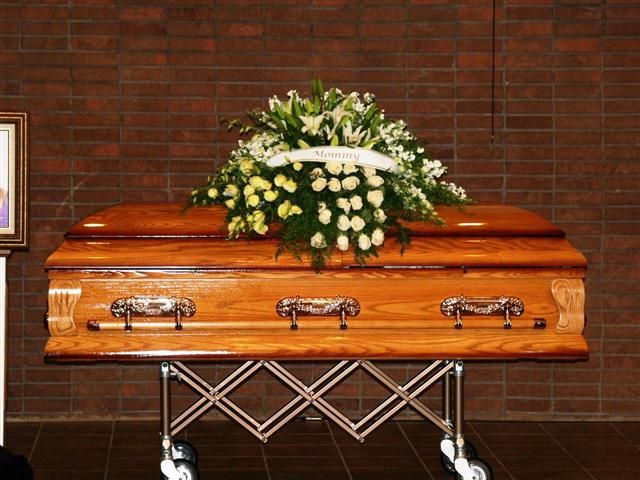 The mood was not too solemn but respectful when the officiating minister Pastor MC, our own Compry, walked to the podium. The acapella singing of
Amazing Grace
was beautiful and the two tributes, one by her aunt and the other by a friend, were moving. Her sisters struggled through tears to read their respective portions of the Scriptures (Job 14:1-14 and Philippians 4:4-13). Others cried softly with them, some dabbing their eyes with Kleenex and others doing their best to muffle the sobs. In the back rows on one side was a group of teens, each with Kleenex, occasionally holding hands as if needing each other's support. They were the evidence that in life Sweets touched the young and the old.
Minister Collington Daley shared how he met Grace and proceeded to sing what was her favourite song, "Wings to Heaven." Her cousin, between laughter and tears, gave a beautiful remembrance. Stories of Grace being the "informer" in the family, the one who knew all the suss, the one who knew what was happening with friends and family members in different parts of the world, and who even knew things about some people before they even knew about those things themselves. We heard about a woman who excelled in her interactions with others, who was independent and determined. A mother who loved her children and who would do anything for them; one who raised other children as her own. A woman who loved God, family, and others. We heard about some of her struggles and how her determination served her well as she faced those struggles. In between some tears, heads nodded and laughter rang out as those who knew her well readily affirmed the remembrance to be true of the one being remembered. Looking across at the smiling picture, it wasn't difficult imagining Sweets laughing and agreeing to it all. From all that was said, it was obvious that her passing has left quite the void in the lives of those she left behind.
The pastor's charge was as powerful as it was challenging. All who were present were reminded not only of life's uncertainty but of death's reality. We heard how Grace had woken up on January 1st not knowing it would be her last, but that her relationship with God had secured for her everlasting life. Using the Scriptural assurance that to be absent from the body was to be present with the Lord (2 Cor. 5:8), Pastor MC, from the book of Revelation, gave the audience an idea of what Sweets was experiencing in the presence of her Saviour. She challenged the audience to resolve whatever was standing between them and a relationship with Christ. It was powerful stuff; a demonstration of grace and strength by one of Sweets' closest friends under very difficult circumstances.
Sweets' pastor, Rev. Dr. Michael Reid, shared memories of his association with Grace from the time she became a Youth Leader and over the subsequent years. It was another poignant reminder of her character and personality.
Following the singing of the hymn, "It is Well With My Soul" and the pastoral benediction, six men - brother, cousins, friends, and a brother-in-law - walked up and slowly wheeled the casket out on its bier. For a while it was as if Grace wanted to linger because for several minutes the casket would not close to the funeral director's satisfaction. Of course, Sweets, even in death, wanted to have the last word.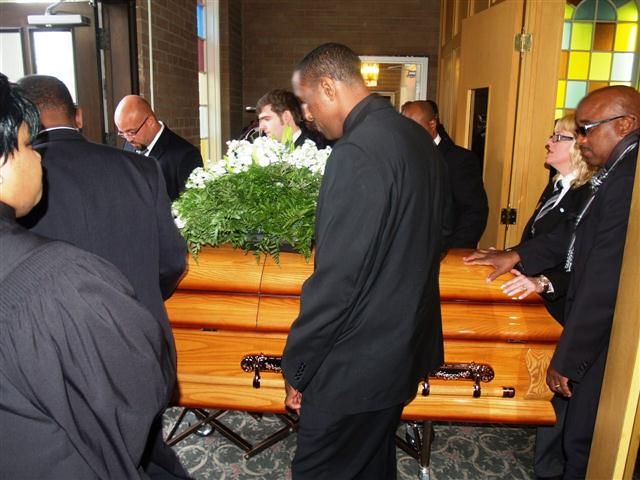 She would have loved the service. Not too stuffy and not too long. All the tributes and the outpouring of love would have been as much as she would have wished for. People she loved and who loved her gathered together in a celebration of her life.
For now she had one final ride and that was to the Queensville Cemetery in Newmarket. She was going home.