Jamaica sent a 20-member squad to represent the island at the 2023 CONCACAF Women's U20 Championship in the Dominican Republic as one of the eight teams seeking the championship title in the tournament's 12th edition, which runs from May 22 through June 3, 2023. Play was delayed due to inclement weather, however, and the dates for the Reggae Girls' matches were changed.
Group A Matches Delayed By Weather
Inclement weather in the Dominican Republic delayed scheduled play for the 2023 U20 competition, with the initial matches featuring Jamaica versus Canada and the US versus Panama in Group A postponed to Friday, May 26, from the original date of Wednesday, May 24. The Reggae Girls will take on their Canadian competitors at the Estadio Olimpico Felix Sanchez in Santo Domingo. The Group A matches originally set for the 26th will now be played Sunday, May 28, and the group's finals will be played on Tuesday, May 30, 2023. All dates for Group B matches, the semifinals, the third place match, and the final have not been changed.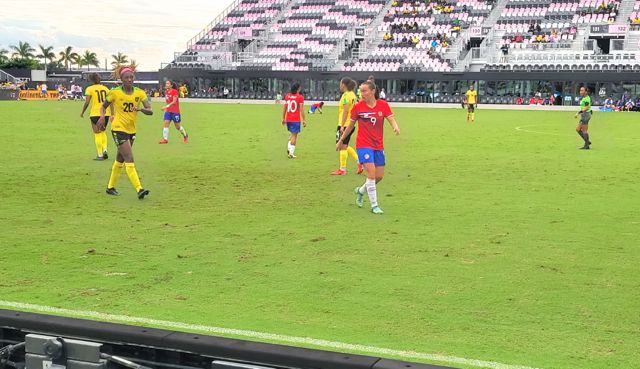 Reggae Girls in Group A
The Reggae Girls, who include Andrene Smith, Shaneil Buckley, Una Moy Lue, Davia  Richards, Liha Williams, Taijah Fraser, Tiny Seaton, Kaitlyn Ennis, Natoya Atkinson, Destiny Powell, Akeila Johnson, Janiel Mignott, Amelia Zanten, Liya Brooks, Avery Johnson, Maya Raghunandanan, Anaiyah Robinson, Njeri  Butts, NjerI Lewis, and Katie Oakley, left Jamaica on May 20, 2023, to compete in Group A, which comprises the United States, Canada, and Panama, in addition to Jamaica. The US is the current Women's U20 title holder.
Jamaica's Revised Play Dates
The Reggae Girls will play the US on Sunday, May 28, and Panama on Tuesday, May 30, 2023. Following the round-robin play, the best team from Group A will face the best squad from Group B on Thursday, June 1 in the semi-final, with the final scheduled for Saturday, June 3. The two finalist teams and the third-place match winner will qualify to compete for the FIFA U20 Women's World Cup.
Two Venues
The 2023 CONCACAF Women's U20 Championship matches will be played at two locations in the Dominican Republic, the Estadio Felix Sanchez in Santo Domingo and the Estadio Panamericano in San Cristobal.
Photo – Nick Ford