A cultural ambassador of Jamaica, 100 year-old Sybil Leslie, has launched her latest book as a contribution to the effort to retain Jamaica's cultural heritage, especially among the younger Jamaicans in the diaspora, as well as the wider American audience.
Sybil Leslie's passion about the "spread of Jamaican culture" springs to life from the pages of the delightfully little volume "Uncle Zekie Seh: Tales of Old Jamaica".
Few have a better sense of the island's history and traditions to tell these tales better than this centenarian historian, storyteller and published author, who hails from Bethel Town, Westmoreland, Jamaica, where she received her early education.
Sybil Leslie brings back fond memories of a Jamaica many years ago, which she shares through iconic Jamaican portraits captured in such snippets as the classic Jamaican Sunday dinner or Harvest Festival – vignettes of life in the delightful "old Jamaica" in sections she titles: Food and Dining Traditions, Household Chores, Self-Care, Church, Having Fun, Celebrations, and Folklore, ending with the Anansi. The aim behind it all is to bring "these rich traditions back to life."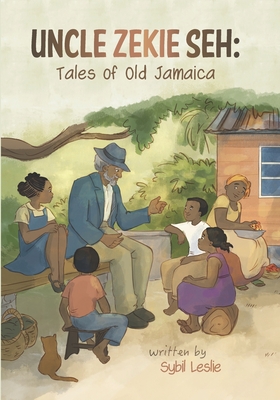 In the preface to the book, the author invites the reader on a journey with Uncle Zekie, a fictious character helping her tell the stories taken from her early life growing up in Jamaica. She draws on memorable items, to entice the reader along, such as "the chocolate in mi chocolate tea, The goat's milk in mi coffee, The ackee in mi salt fish… The flour in mi dumplin…."
A retired teacher, Sybil Leslie is a historian, storyteller and published author, whose work has earned her national honors from the Government of Jamaica and honors from Jamaica diaspora organizations, including those in Atlanta, Georgia, where she resided for over 20 years. Educated at Bethlehem Teachers College and with an M.A. in Educational Administration the University from the West Indies (UWI), Jamaica, she also holds and an M. Phil in History from UWI Cave Hill (Barbados). She taught at different levels of the Jamaican education system, including Shortwood Teachers College, where she was head of the Social Studies Department, and UWI Cave Hill. Sybil has published previous works, among them a series of four Social Studies textbooks published by Carlong, for schools in Jamaica.
She played a key role in the Atlanta Jamaica Association, serving for many years as head of the Education and Family Relations Committees. In 2010, she formed a Jamaican folk singing group, the Sugar Canes, which still exists today and has performed at a variety of functions, both in and out of the State of Georgia.
Uncle Zekie Seh will be the featured book in the first installment of a series of conversations on Jamaican culture as seen in the writings of women writers, moderated by Claudette Lindsay, host of the Caribbean Exchange on WEAA Morgan State radio in Baltimore, Maryland. The series will begin in March, so stay tuned.