The Ben and Jerry's ice cream company has taken inspiration from reggae legend Bob Marley and partnered with the singer's family to introduce its newest flavor: One Love. The One Love ice cream is meant to honor Bob Marley's vision of a better world. The new flavor features banana ice cream combined with caramel and cookie swirls. It also includes chocolate peace signs.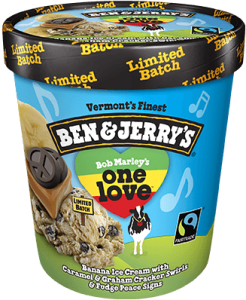 For every pint of One Love ice cream sold, part of the proceeds with go to benefit Jamaica's One Love Youth Camp operated by The Bob Marley Foundation and Partners for Youth Empowerment. The organizations work to show young people in Jamaica the way to use music, dance and the arts in response to life challenges and breaking down barriers. Jerry Greenfield, co-founder of the ice cream firm, noted that Bob Marley represented much more than music; he was also an advocate for social change and inspired millions of people "to think about peace, love and equality." Greenfield went on to say that his company has always tried to champion social justice and love, and through the partnership with the Marley family, he hopes to play a part in supporting Bob Marley's vision "for a sweeter world."
ABOUT BEN & JERRY'S
As a social justice company, Ben & Jerry's believes in a greater calling than simply making a profit. Ben & Jerry's incorporates Linked Prosperity into its business practices in a number of ways including a focus on values-led sourcing. The company produces a wide variety of super-premium ice cream, non-dairy frozen dessert, yogurt and sorbet using high-quality, responsibly sourced ingredients. Ben & Jerry's, a Vermont corporation and wholly-owned subsidiary of Unilever, operates its business on a three-part Mission Statement emphasizing product quality, economic reward and a commitment to the community and became a certified B Corp (Benefit Corporation) in 2012. Ben & Jerry's products are distributed in over 35 countries in retail, franchised Ben & Jerry's Scoop Shops, restaurants and other venues. The Ben & Jerry's Foundation's employee-led grant programs totaled $2.4MM in 2015 to support efforts to improve social and environmental justice throughout the United States.
Photo Source: Ben and Jerry's