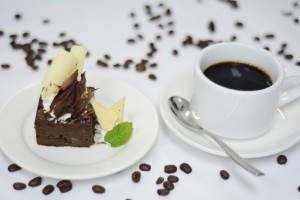 Looking for unique chocolate brownie recipe? Do you love Blue Mountain coffee? Try this Blue Mountain Chocolate Brownie recipe by Alicia Baker, Executive Pastry Chef, Sandals Montego Bay Resort.
Ingredients
Brownie
2 lbs dark chocolate
1 ½ lb butter
2 ½ lbs whole eggs
2 lbs sugar
1 pinch vanilla flavor
1 lb cake flour
1 ½ lb pecan or walnuts
 SYRUP GLAZE
½ cup of sugar
¼cup of honey
¼  cup coffee
¼ cup Appleton Special gold rum
Method
Preheat oven to 350°F.
Melt chocolate with butter.
Whip eggs with sugar like a sponge cake then add all remaining ingredients.
Pour the batter into a greased 8" x 8" square pan and bake for 30 minutes, or until a toothpick inserted in the center comes out clean. Remove from the oven and place on a baking rack to cool slightly.
Brownies should be soft in the middle when cold.
For the Glaze bring all ingredients to the boil in a pot and then simmer for 5 minutes.
Once glaze is ready and brownie is out of the oven brush the glaze over the warm brownie to allow for the absorption of the liquid.
Place in chiller till firm and turn out for cutting on cutting board.
Recipes courtesy of Café de Paris, Sandals Montego Bay
 CAFÉ DE PARIS 
Sandals Resorts – the home of Discovery Dining – takes délices infinies to unrelenting new heights with its French Pâtisserie – Cafe de Paris. Cafe de Paris is nothing if not an ode to the most delightful elements of French gastronomy steeped in the finest blend of local flavours and a side order of world-famous Jamaican blue mountain coffee.
Guests vacationing at Sandals Montego Bay can now partake in this fine tradition with the resort's unveiling of its very own Cafe de Paris.
Boasting the same delectable offerings guests have come to expect from Sandals' famous French pâtisseries, Sandals Montego Bay's Café de Paris adds to the resort's diverse culinary options through Discovery Dining and is set to continue a tradition of mouthwatering delights.
Centrally located on resort, Café de Paris features a cozy atmosphere befitting of the flagship resort's laid-back mood and personality. This quaint little café invites guests in from 6:00am each day for light conversation, great company and a plethora of sweet treats from made-to-order crepes and scones to decadent desserts, macaroons and much more created by Sandals Montego Bay Pastry Chef, Alicia Baker-Wray and her dedicated team.