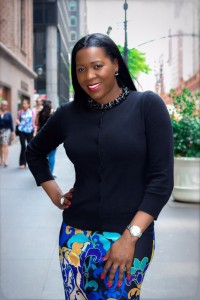 Heather Elliott-Whitehead, Marketing Consultant and CEO of Jar of Joy Body™ Body Products, is a small business enterprise advocate and Marketing and Publicity expert in the United States. Based in New York City, Heather runs Elliott PR Group, a multifaceted celebrity and promotional boutique firm with satellite offices in Toronto Canada and London, UK. With the success of the firm's network in the beauty manufacturing sector, Heather launched a body care product line–Jar of Joy in May of 2015. Jar of Joy™ is a line of luxury super fruit Body Soufflés manufactured under contract in California for parent company Heather Elliott LLC.
Heather is also professional writer who occasionally contributes to multiple publications in the US and the Caribbean. Heather is also the Author of the popular Self-Help book; 'Bold, Forward & Beautiful-A woman's guide to reinventing herself'…
Q: Are you a business person or entrepreneur or both?
Definitely an Entrepreneur
Q: What was your profession before you started your business? 
I have worked as an executive in multiple industries primarily in Marketing, PR and Sales
Q: Who or what motivated you to go into business?
I have always been very business oriented. Typically when I start a new venture, it's because there is a need. Specifically relating to Jar of Joy, it was a personal frustration with overpriced brands coupled with the need to change directions professionally
Q: Did you face any challenges in mobilizing your capital?
My entire business up to this point was self-funded. I will seek funding once we've past maybe the two year mark and will have a good looking financial statement.
Q: Tell us about your business?
Jar of Joy Body Products is a personal care brand of products manufactured in the United States. Jar of Joy is aiming to become a leading specialty retailer of personal care products including fragrant flavorful indulgences such as body soufflés, body lotions, body fragrance, body oils, body scrubs and accessories. Our intention is to create and offer some of the best body-care products with an emphasis on precision and innovation. Our body souffles are super-fruit based with the powerful anti-agent agent Pro-Vitamin B5 as a main ingredient.
Q: Many businesses have a moment they call their "big break", whether it be a news story, a big contract etc. Have you or your business had that ""big break " yet?
No, I don't think we've had our big break yet. More than anything I want the products to be popular because of it's quality and customer word-of-mouth. However, we have a few influential connections that we will tap into when the time is right.That should give us some good exposure.
Q: Currently what is Your biggest business challenge?
Like any new business, the most significant challenge is getting customers and getting them consistently. Marketing and customer retention can take the most out of any business with a limited budget. We are working assiduously now to increase our customer base. It's a 24/7 effort.
Q: Other than the money what types of satisfaction do you get out of your work?
I often tell people this; If you are doing a business purely for financial gain, chances are that business may not succeed. There has to be some type of passion. I am extremely passionate about what I do.
Q: What motivates you on a day to day basis?
My desire to succeed, my quest for a bigger life and my desire to keep going in general. Everyday I wake up, I see it an opportunity to be greater than I was the day before.
Q: How do you motivate people that aren't close to you and enable them to see your vision?
I do this all the time based on my work here in the Tri-State. I always like to give bits and pieces of my life story when I am talking to young people and as much as I can, I encourage people in general to tap into the strength that they naturally possess despite what is going on around them. The safest place anyone can be is in their mind but if you are not careful it can also be the most dangerous. It is very powerful when you get to choose how you want to see your life come together. We always must do our best to choose well.
Q: How do you remind yourself of what's important?
Every morning I wake up, I have the tendency to look around me and if I am home, I hop over to my son's room and peep in on him. This practice reinforces that every day I get to be wake up is the only thing that matters. What I do with the rest of the day it is up to me, but I try to ensure that every moment counts.
Q. What time do you wake up and do you have a routine?
I wake up before the rooster crows, perhaps due to the fact that I get little sleep some time. Twice a week, I make a two hour conference to Asian and those usually start at 12am or 1am. I am ready to get things moving by 5:15am. When I am home, I make a hot breakfast for my son and help him get it together for school. I am usually in my office in Manhattan by 7:30am. .
Q. Do you have any hobbies?
Yes, I love tennis and sailing but I don't ever get to do them consistently, so instead I like to entertain at home with my closest friends in the city, then I do most of my leisure activities with my best friend D'Marsh and my son. I spend a lot of time catching up my monthly magazine subscriptions and going through my DVR.
Q. If the economy crashed hard and there was no more room for you in the business sector, what would you do with yourself?
I would survive. I built my business while moonlighting in various industries. I am very flexible and I am lucky enough to have done a bit of everything that could be sustainable if my business were to fail.
Q: Seven day, six night, all expense paid, my vacation destination is…
I would definitely want to go to Coco Privé in the Maldives
Q: My favorite guilty pleasure is…
Stealing away to the spa where I can read all my fave magazines and drink bubbly.
Q: My favorite Jamaican food is…
Any style fish
Thanks for taking the time for this interview. All the best.
Thanks
To learn more about Jar of Joy Body visit  –  Website | Instagram | Facebook | Twitter