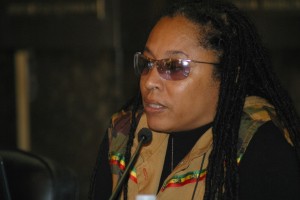 International Reggae DayTM (IRD) is a 24-hour global media festival hosted annually on JulyOne by Kingston as the home of Jamaican music, to highlight the best of Jamaica's creativity and 'uplift, inspire and unite' the Reggae community worldwide with a one true love movement.
International Reggae DayTM is the brainchild of organizer Andrea Davis.  Davis is a part of new breed of Jamaican strategist who have been educated or traveled the Diaspora and experienced the impact of Jamaica as a brand and Reggae as a genre.   Educated in the United States, Canada and the Bahamas, Andrea sees Jamaica as an anchor in her life experience and believes in its untapped potential in the global market.
Having lectured from the University of Technology Jamaica to far away places like China, Brazil, Tanzania and Trinidad, Davis has done strategic work in the areas of creative economy, country branding, intellectual property, entertainment and brand marketing with international organizations from UNDP and WIPO to the Government of Jamaica and creative brands from Studio One to Bridget Sandals. 
The IRD festival producer believes that the government of Jamaica should focus on the creative industries in order to grow the economy. She "is trying to bring into focus creativity as a development strategy, especially for developing nations". Davis published an article on Jamaica in the Central America and the Caribbean, section of the United Nations publication, 'Creative Economy 2010'.
Like Carole Beckford and Dr Hume Johnson, of the "Re-imaging Jamaica Project" Davis, who believes "the world loves Reggae music – it is the brand soundtrack for Jamaica", brings both analytical perspective as well as practical experience to International Reggae DayTM as a brand marketing initiative.   As part of that experience, she lists being a member of reggae superstar Toots and the Maytals management team.  Stan Evan Smith, Jamaicans.com Senior Music Editor caught up with Davis.

When you conceptualized the International Reggae DayTM what was your main goal, has that goal been achieved?  Reggae Day was inspired by Winnie Mandela's speech made while visiting Kingston with her husband Nelson in 1992 in which she spoke eloquently of the power of Reggae music to 'uplift, inspire and unite' the people of South Africa in their fight against apartheid.  By July 1, 1994 when the first Reggae Day premiered, before the internet was born, the idea was to 1) mobilize radio stations in Jamaica to showcase the roots and branches of Jamaican music 2) promote quality standards in music and media 3) showcase the best of Jamaica and 4) help the people of Jamaica overcome their own struggle for equality united by the music which had helped inspired the people of South Africa toward freedom.  With the birth of the internet in 1996, the brand name was changed to International Reggae DayTM and the goals expanded to 'unite, inspire and uplift' the global Reggae community through the power of music, media and technology…aluta continua.
What has been the greatest challenge hosting International Reggae Day?
Charting unchartered waters is always a fluid journey full of surprises – good and bad.  Building a 24-hour global celebration of Reggae has had its challenges, with limited capital resources being the most critical.    Jamaica has been blessed to produce several distinct genres of globally appealing music (Ska, Rock Steady, Dub, Reggae, Dancehall) but hampered by its unwillingness to invest in the creativity that is arguably its most competitive advantage.  Given the IRD's objective to anchor JulyOne celebrations in Kingston as home of Jamaican music to reinforce its position as the culturally authentic source of a global phenomenon, it is ironic that Jamaica's chronic underinvestment in its human resources and creative brand capital has been the biggest challenge in sustaining the vision.  Creativity (music, film, fashion, art, dance, cuisine etc) are venture capital intensive industries trying to flourish in a country with very limited venture capital.  Venture capital is needed to develop and market Jamaica's creative assets as a sustainable economic strategy in the global information age.  An effective bridge is needed between the financial capital required to invest in the human capital necessary to build sustainable brand value for Jamaica's Creative Economy.  Reggae is the stone that the builder refused but it is destined to take its natural place as the head cornerstone, brand soundtrack and lifestyle experience for which Jamaica is known globally.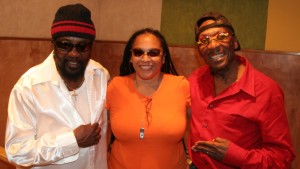 What has been the rewarding aspect of producing International Reggae Day?
It has been exciting to witness the organic evolution of the IRD brand and the increasing recognition of the concept as an innovative initiative whose time has come.  The generous support of the countless artistes and musicians who have performed over the twenty plus year history of the brand as well as the participation of Jamaican and international host media who have contributed to the global media festival has strengthened the network of Reggae ambassadors worldwide.  Over the years as we have been able to honour many of cultural our heroes while they were still with us – from the first IRD honouree and the 'father of Jamaican music' Clement 'Sir Coxsone' Dodd to the 'mother of Jamaican culture' Ms Lou, the 'father of Jamaican film' Perry Henzel and living legends Jimmy Cliff and Toots & the Maytals among others, all of whom graciously accepted the recognition.
You have experienced the impact of brand Jamaica globally, how did this experience inform your decision to develop IRD?
Before the evolution of the 'creative economy', 'brands' or 'cultural industries' constructs, Jamaica's creativity was already impacting the world stage as one of three country giants in global culture along with the US and the UK.  The country's brand is one of the most recognized and popular in the world fueled in large part by the legacy of success created by its music, culture and sporting talent.   There are four other brands that are inextricably linked with Jamaica in the mind of the international market –  Reggae | Marley | Rastafari | Ganja.  As a lifestyle brand, Reggae music is arguably the first true 'world beat' spreading to the four corners of the world before internet and music videos with Bob Marley as its king and Rastafari as its guiding spiritual lifestyle movement.  The music has been established globally as a powerful force able to unite people across borders, generations and cultures.  Reggae deserves to be recognized and celebrated for its impact on pop culture and its power to unite, inspire and uplift the world and International Reggae Day provides the global platform to highlight that its value.
Has the growth and popularity of the International Reggae Day surprised you, if so in what way?
The willingness of the international Reggae community to participate and promote JulyOne as International Reggae Day is always refreshing and encouraging.  Time is required to build the brand global and enable each target market to be sensitized and engaged with the annual celebration.  Social media has really opened the possibilities for the IRD blueprint to engage more fans and create an even greater global impact.
You argue that Reggae is the soundtrack of Jamaica's brand but can Reggae also become the soundtrack of Jamaica's culture?
Reggae is a lifestyle genre that like Hip Hop, Country and other lifestyle music genres, has its own sound, fashion, dance, language, philosophy, cuisine, visuals and attitude.  Jamaica's brand identity and value are intrinsically tied to its music and culture.  Reggae music is the soundtrack to Jamaica's brand and culture and the signature genre in the Sounds of JamaicaTM.
How can IRD as global national success brand help to convince the Jamaica government to create a national strategy for integration?
There are a number of strategic plans and policy papers, written by Jamaican and international consultants including myself, which outline the strengths, weaknesses, opportunities and threats facing Jamaica as a global music producer.  The IRD festival brand showcases leading creative brands whose growing success will add to the efforts being made by the creative entrepreneurs, companies and organizations who collectively, have been lobbying the Jamaican government to create a national strategy for integration. The government's responsibility is to create an enabling environment for the sustainable development and growth of Jamaica's creative economy as a strategy in the digital information age where technology can be bought but content is king.
Given Toots extremely busy global schedule, how do you balance being a part of his management team and organizing a big project like International Reggae Day?
Managing an international icon and producing an annual global festival is a tall order.    I have worked with many artistes over the years but Toots & the Maytals is definately one of the most talented and professional artistes Jamaica has ever produced and I am honoured to be a part of his management team.  Planning, preparation, time management and teamwork are extremely important for success in this business so I am very selective about the clients I represent, the projects I accept and the professionals with whom I collaborate.  I am a natural multi-tasker who doesn't sleep much so I try to enjoy what I am doing so it feels less like work and more like life.
Do you work on other projects outside of these two?
I consult with a number of creative brands, organizations and NGOs regarding various areas of the creative industries developing brand plans and writing industry related documents such as the recent white paper to extend Jamaica's Copyright Protection Term commissioned by JAMMS. I am involved in various areas of the business from artiste bookings and digital distribution to strategic brand marketing and event and film production.  I am working a manuscript about Jamaican music culture that will be produced as a book and multimedia series.
When you are not busy with projects, or work what do you do to relax?
My favourite thing is a good massage.  Other relaxers for me include music, movies, dinner with friends, exploring Jamaica, anything to do with water – baths, beach, river, swimming laps, sailing – binge watching TV series I missed, surfing Google and You Tube and of course the all too rare – deep sleep.  I also like sports and travel but now I mostly watch sports and my travel always seems to be work related.
What can the International Reggae Day fans worldwide expect in 2015?
As International Reggae Day approaches JulyOne, fans logging onto ireggaeday.com will be able to hear and watch even more of the day's celebration than ever and listen to programme specials from participating media hosts (radio|tv|print).  Fans are invited to 'Experience Reggae' on JulyOne by wearing Reggae colours, planting a tree, donating to Alpha Boys School and shopping at lifestyle brands which support Reggae and will offer IRD specials from Spur Tree Lounge and Miss Lily's in NYC to Bridget Sandals and East Japanese in Kingston.
The IRD social media promotions will build on #ThisIsMyReggae campaign launched last year with new artiste ambassadors and millennial tastemakers.  We are revamping the IRD website and app to deliver a more integrated festival experience and allow fans to view live streams from the various cities hosting lifestyle parties – Kingston | Negril | Miami | New York | Honolulu | London | Bombay | Sandals Resorts etc.   This year the festival salutes the Jamaican Sound System movement and a number of events planned will utilize the sound system dance format.  IRD Kingston will host the annual JulyOne  conference at the Jamaica Pegasus which will include two sessions – one on the sound system and the other on sustaining Jamaica's competitive advantage in the global Reggae market.  Speakers will include industry players and overseas presenters from WIPO, IFPI and Billboard.  A nmber of IRD dances will be held between June 30 – July 4 to celebrate IRD from Rose Town Community Centre to the Countryside Club in Kingston and New York to London internationally.  In an effort to take art to the streets and reflect the music through social design and murals inspired by great Jamaican music, IRD 2015 continues to collaborate with the 'International Reggae Poster Contest' (IRPC) and 'Paint Jamaica'.   Demonstrating the power of art to transform space, IRD will again feature a the digital art exhibit launched in 2014 on the wall of the Jamaica Pegasus, which will be expanded this year to include works from the IRPC international collection plus additional works from IRD affiliated Jamaican artists.