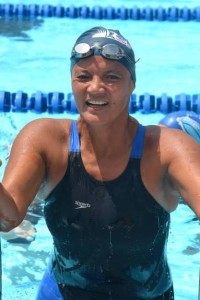 This week on People Profile: Adrienne Addy Chin-Ogilvie(Swimmer/Philanthropist) Swimming is an aquatic sport which is based on the human act of swimming. Basically, the goal of swimming sport is to complete a given distance in the smallest time. Different swimming competitions are held which are totally based on speed and endurance such as crossing an English Channel. Swimming as a sport, is different from other aquatic sports like diving, synchronized swimming and water polo that involves the act of swimming but the goal is neither speed nor endurance. However, it is widely believe that swimming is the best aerobic exercise in the world.
This week on People Profile we have as our guest Addy Chin Ogilvie. Welcome to People Profile Addy…
Adrienne Addy Chin-Ogilvie
Thank you, Dr.C. Your visions on swimming are indeed accurate. It is an exercise that can take a person through all stages of life, starting from the very young and graduating to the very old.
For me, it is also social fun and a way to set goals and challenges in the sport.
Dr. C
Absolutely Addy, could you share with us your involvement in the sports over the years and the impact both positive and negative it has had on your life?
Adrienne Addy Chin-Ogilvie
Growing up in high school, sports were seasonal. I participated in everything – netball, tennis, track & field, softball and swimming. Swimming was my best attribute. I represented Alpha Academy in long jump at Champs in Kingston, Jamaica. I placed last in the entire country but the positive part for the day was I didn't have to go to school. I redeemed myself at Girls Swimming Champs where I was 3rd in 50 meters breast stroke.
Upon moving to the US, I started going to the gym. After 6 months, I was encouraged to enter a bodybuilding competition. I placed 4th. Went on further with proper training and diet and I won my very first event in 1986. Another title came thereafter and I placed from 1st to 4th in my division.
The sad part is that sports has always been recreational and a way to socialize. So I didn't pursue it to the max. I had to quit for awhile to go back to school. This was a time when there was a minor recession and the dire need for job stability became paramount. After obtaining a nursing degree and later on a bachelor's program, I was diagnosed with High blood pressure. I needed some sort of aerobics alongside weight training and medication for stability. I tried everything on the aerobic market but all were too "girly, girly". I decided to go back to the pool for fitness swimming. Lo and behold, within less than a year, I entered the 2006 National Championships for the team and to hang out with friends. Placed 10th in the 200 yards breast stroke. A shocker indeed. Then, the saga continued.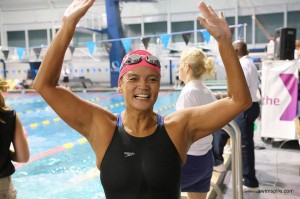 Dr. C
Wow! now I fully understand where your energy is coming from! lololol Could you share with us Addy, who is your role model and who or what is your motivation?
Adrienne Addy Chin-Ogilvie
At this time, my role models are the elderly who are participating in sports. None are Olympians but prove to the world "I can't" is non-existent. There is a 98 year old lady who swims the 100 and 200 freestyle in competitions. I witnessed a relay team were the youngest was 87.
Recently, I had the pleasure of photographing swimmers training for the Special Olympics. So, my inspirations are not the greats, but the "do-ers" despite the odds.
Dr. C
That's my inspiration Addy! These are the stories that "People Profile" gladly brings to our readers!
Adrienne Addy Chin-Ogilvie
The down turn in swimming, like any other sport, is that with age it is harder to maintain times and certain standards. And I don't have the time to dedicate to the sport wholeheartedly. I am now an avid athlete who set goals and do sports as an achievement and a fun way to travel and meet others.
Dr. C
Ok, I see…..
Adrienne Addy Chin-Ogilvie
I can now say at 55, I swam every single event slated at the Olympics. I completed 3 triathlons and now doing relays until I find time to train again for the entire thing. I have completed 5k ocean and pool swims more than once and a maximum of a 100k bike ride and half marathon.
Dr. C
Wow!!!……..
Where do you see yourself at age 70?
Adrienne Addy Chin-Ogilvie
As a swimming competitor, I am a 2009 All-American swimmer from a relay, 2013 world record top 10 rankings in two relays and along the way, was US top 10 in relays and have placed in the top 10 at National and International Competitions.
I am hoping at age 70, I am still the active person but at a slower pace. This is the hard part, the heart and passion wants to race but the physical body won't allow especially harder when it's something that you love.
That is another thing I learned. Age is just a physical number.
Like Nike says: Just Do it!
Sport is not just winning or placing well, although it would be nice, but the joy of seeing the accomplishment of a finish line.
Dr. C
Thank you so much for that insight Addy. I know you are an avid photographer, and a strong supporter of the jamaican diaspora in South Florida. In fact i understand that you are being awarded by the Consul General in a special function. How do you balance personal, business, and social aspect of your life?
Adrienne Addy Chin-Ogilvie
Balancing the three aspects of life is challenging. As an ER RN, my job takes precedence. I have to fit the others around the job to ensure safety in care and delivery during a 12-hour shift. I have to write out a schedule or make a calendar to fit in all activities. It is indeed hard but I do my best.
Adrienne Addy Chin-Ogilvie
Charity is not always about the money but the giving of time and talents. Throughout the years, being involved mostly in the alumni sector, I made invaluable friendships and bonds. I don't affiliate a person with an organization but as a friend. For example, if Camperdown High School Alumni is hosting an event, I am thus helping out and supporting my friends with their fundraiser.
Adrienne Addy Chin-Ogilvie
By spreading my wings, I am not helping out just a handful of children within my own Alma Mater through the Alpha Florida Chapter, but to many other children in my country.
Dr. C
Addy, your philosophy and kindness is refreshing. Absolutely! Charity is not always about the money. Adrienne Addy Chin-Ogilvie your outlook on life reflects the true image of a successful and happy individual. Your love for the sport of swimming and your ability to compete at your age is amazing. I can't thank you enough for being our guest this week on Facebook Profile. It would certainly be our pleasure to speak with you again in the near future. Thank you very much.
Adrienne Addy Chin-Ogilvie
Dr C it was indeed my pleasure to be on People Profile and I wish you and your team all the success that you deserve God bless.