Jamaican five decades music history Ska, Rock Steady and Reggae produced many great male vocalists. Scanning the kaleidoscope of the nation's music landscape to find the ten best male vocalists is, at best challenging. These are my selections/picks. Who do you think is missing from this list? We want to hear from you! Tell us by leaving a comment below.
10. Fredrick 'Toots" Hibbert
Fredrick 'Toots" Hibbert is rated by Rolling Stone Magazine at #71 in their list of the 100 greatest singers of all time. Toots & The Maytals released True Love in 2004, a retrospective all-star collaboration featuring rock's stars Eric Clapton, Keith Richards, Jeff Beck and Trey Anastasio, country legends Willie Nelson and Bonnie Raitt), modern Ska rockers (No Doubt), new folk-rock disciples (Ryan Adams and Ben Harper) a modern dancehall star (Shaggy), a funk icon (Bootsy Collins), rap innovators (The Roots) along with venerable reggae veterans (Bunny Wailer, The Skatalites). In April 2004, Toots performed material from True Love on Saturday Night Live.
9. Jimmy Cliff 
Jimmy Cliff represented Jamaica as a singer at the World's Fair as a teenager. Cliff is the second Jamaican singer to be inducted into the Rock and Roll Hall of Fame 2010 and he's won a Grammy Award for Best Reggae Album in 2013. Cliff's breakthrough as an international singer came in 1969 with his critically acclaimed album "Wonderful World, Beautiful People." The album entered the United States top 25 and climbed to# 6 on the BBC charts in the UK. Bob Dylan praised Cliff anti-war album track "Vietnam" as the best protest song he had ever heard. In '72, Cliff skyrocket to worldwide fame as the star in the Jamaican movie, "The Harder They Come." His success in recording with superstar of other genre including Kool & the Gang, Sting, Annie Lennox and the Rolling Stones, attest to his international standing. In 1988, his song "Shelter of Your Love" was featured in the hit film Cocktail. Cliff's influence extended as Desmond Dekker took Cliff's own "You Can Get It if You Really Want" to number two in Britain.
In 1995, Cliff collaborated on the song "Hakuna Matata" for the soundtrack of the film The Lion King. He's performed at the closing ceremony of the Commonwealth Games, won the International Song Festival with "Waterfall," a song that became a smash hit in Brazil. His cover of Cat Steven's "Wild World," was another smash in 1970, and was included in the soundtrack of the film Something's Gotta Give.
8. Hopeton Lewis
Hopeton Lewis, another of the great defining voices in Jamaica's music Rock Steady era. Lewis' successful hit song "Take it Easy" is reported to be the first Rock Steady song recorded. Take it Easy" ushered in the Rock Steady era in Jamaica music. Singer/song writer Beres Hammond and dub poet Mutabaruka calls rock steady "the greatest era of Jamaican music." As a winner of Jamaica's National festival song competition with "Boom Shaka Laka", one of the most popular festival songs ever it became a chart topping hit.
7. Bob Andy
Bob Andy, is arguably Jamaican music greatest song writer as well as one of that country's great vocal stylist. Andy's use of jazz inflection in his vocal styling made his songs commercially successful. His classic album "Song Book" is a musical master piece, a brilliant array of song writing and singing on par with any Bob Marley work. Bob Andy is one was of Jamaican music great singer songwriter.
6. Gregory Isaacs
Gregory Isaacs' unique voice defined the Jamaican Lovers Rock. The New York Times' Milo Miles described the singer as "the most exquisite vocalist in reggae, his pliable baritone equally at ease with silken ballads and slinky dance grooves." His career defining album, "Night Nurse" album peeked #32 on the UK charts but his dominance and hit making thrilled large audiences from to the Americas o Argentina, Brazil Africa and Europe. Isaacs was of Jamaican music great singer songwriter.
5. Ken Booth
Ken Booth is Alton Ellis' closest competitor for the title of King of Rock Steady. Name "Mr. Rock Steady" Ken's BBC Charts # 1 hit " Everything I Own" (1973) gave him a career defining advantage as Jamaicans vocalist and commercial hit maker beyond the shores of Jamaica. Booth was equally successful in Jamaica.
4. John Holt
John Holt, is one Jamaica music most prolific hit maker both as the lead vocalist of the Rock Steady group, the "Paragons "and also as a solo singer. Holt's charts success, as a singer spans the Jamaica music landscape and Great Britain.
3. Delroy Wilson
Delroy Wilson-child prodigy and one the defining voices of the Ska Rock steady era. Despite his many chart topping songs his politically era defining hit "Better Must Come " is the definitive track for his musical career. Brown told this writer in a 1988 interview that Delroy Wilson was the most important influence on his vocal styling.
2. Alton Ellis
Alton Ellis, is the definitive voice of Jamaica Rock Steady era. Ellis operated in a more era competitive era with a distinct diversity of male vocalists than Dennis Brown. Alton Ellis is one of top two the most influential vocalists in Jamaican of music history.
1. Dennis Brown
Dennis Brown is Jamaica's ultimate song stylist; he brought the Jamaican style to a song. As the most influential singer in the history of Jamaican music, his vocal styling defined what reggae vocals are all about and spawned a generation of the most successful reggae singers and sin-jays, all of them took a page from his vocal song book. Dennis Brown was the singer who wrote great songs.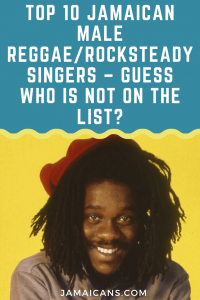 Special mention should be made of Desmond Decker whose worldwide hit "Israelites" reached the top ten on the American Charts and the top of the UK Singles Chart. Who do you think is missing from this list? We want to hear from you! Tell us by leaving a comment below.