Jamaican Khadija "Bunny" Shaw was named Woman Player of the Season by Manchester City FC in the United Kingdom. Shortly thereafter, Shaw signed a contract extension with the club that will keep her playing there until 2026. Her initial three-year contract signed when she joined Manchester City FC in 2021 was scheduled to expire in the summer of 2024.
"The Perfect Place For Me"
Commenting on the extension of her contract, Shaw said she was delighted to continue with "this amazing group," as she describes Man City. She noted that everyone had made her feel welcome from her first day and that she enjoys the way the squad plays. "I think here at City is the perfect place for me," she stated, adding that Manchester always feels like her home away from home and cited her enjoyment of training and "vibing" with the girls every day.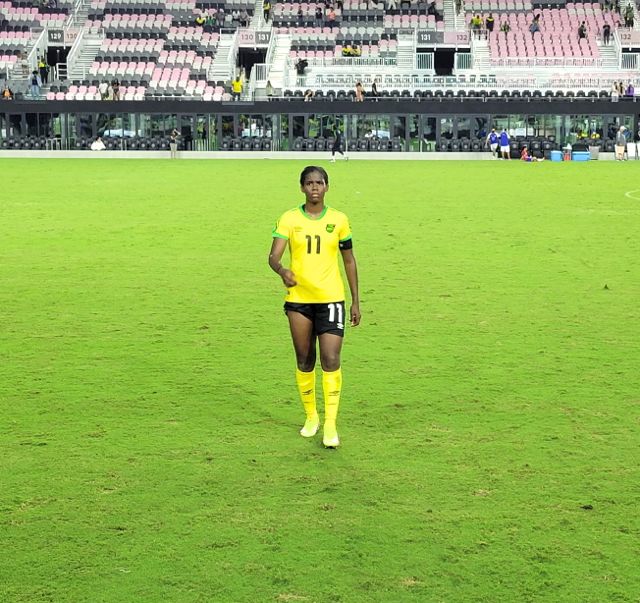 Achievements By The  "Woman Player Of The Year"
1. Shaw broke the record for most goals scored by a player in a natural season, scoring a total of 31.
2. She received recognition from the Women's Super League, which gave her two Player of the Month Awards.
3. Shaw has been nominated as one of the eight best players in England.
4. She received the Goal of the Season award for her goal against Arsenal in April 2021 when she made the only goal for Man City within the first minutes of the match with an amazing header.
5. Shaw was been named the Barclays WSL Player of the Month for October 2022.
6. Shaw received the Concacaf Women's Player of the Year award for 2022, the year in which she led the Jamaican national team, the Reggae Girlz, to their second FIFA Women's World Cup.
7. In 2021, Shaw was ranked among the 50 Best Female Football Players in the World by ESPN, and at age 24, was already the top goal scorer, male or female, in Jamaica's history.
8. Her 31 goals scored in 30 appearances in all competitions for Man City during the 2022-2023 season meant she finished as the Women's Super League's second-highest goal scorer.
9. She was named the 2022 Concacaf Women's Player of the Year, making her the first Caribbean player to win the prestigious award.
10. Shaw helped Manchester City win the FA Women's Continental Tyres League Cup and also help the side qualify for Europe, reaching the Vitality Women's FA Cup final.
Photo – Official Facebook & Instagram Pages For Khadija Bunny Shaw , Nick Ford