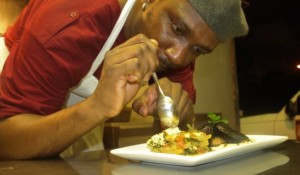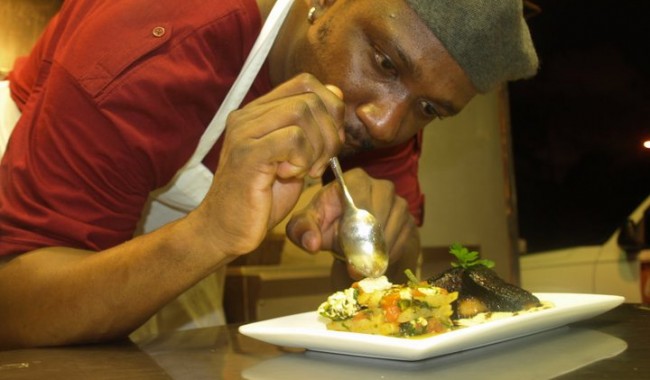 This week we have a conversation with Jamaican Chef Irie. Born in Kingston and grew up in St. Catherine on Caymanas Estates, a sugar estate in Jamaica. Chef Irie went to Calabar High School in Jamaica and studied at University of Florida where he received a BA in Design of Architecture. After which he went on to receive a degree in Culinary Arts from Johnson & Wales University in North Miami. Chef Irie lives in South Florida and is currently the host of the national Caribbean cooking show on PBS, "Taste the Islands"
Tell us about the cooking show "Taste the Islands"?
Taste the Islands has been awesome. The first season, "Taste the Islands with Chef Irie" has been doing well. It's now being seen across the United States showing on Create TV and PBS affiliates and in a few countries in the Caribbean. For being the first Caribbean cooking show on PBS, featuring an all Caribbean cast with a Jamaican Chef and Jamaican Producer Ms. Calibe Thompson, It's doing rather well. The show allows us to bring forth Caribbean foods and culture front and center. The show brings attention to the versatility of the foods from the different islands and it highlights the many cross cultural nuances that make our foods so unique and different from the rest of the world. We are currently shooting episodes for season two so stay tuned for release dates. Taste the islands is here to stay.
How would you define your cuisine?
Wow, how much time do you have? lol. My cuisine reflects a few things, my culture, my heritage, my travels and the things I'm interested in learning. I live here in South Florida and Caribbean food culture is bananas. A fusion of Caribbean niceness. Considering where I'm from, I believe I have treasure house for a food canvas. There's so much to choose from; Indian Chinese, African, Middle Eastern to name a few. I say Caribbean Fusion, but each time I think about it, fusion seems a little out of place. The Caribbean region and all that it offers is already fused with so many cultures, my style of cooking enhances MY Caribbean.
Tell us some of the qualities that you feel a successful modern chef should have?
A pre-requisite for any chef should be a love of food, a love to create food, a love to see people eat and be happy. Understanding what is needed by the guests you serve. As chefs we are always exposed to new things, new people, new food ideas, and new techniques. The trick is to not become a slave to that which you've been exposed. We always have to motivate ourselves to continue learning. Any modern chef should want to see others grow, should have a need to teach others, and should have a need to inspire others.
Would you cook at home if you were just making a laid-back dinner?
Now why would you want to shame like that? … Ummm. Well, to answer, I used to say for the longest time that my comfort food was corn beef in the can with cooked white rice. Yes I know, you are saying in your puzzled brain, really? But you are a chef. Even though I still do that periodically for myself, laid back is something that gets cooked in 30 minutes or less, 45 minutes tops. If I'm really not in the mood, I'm ordering Chinese takeout. Most chefs I know don't stand around cooking laid back dinners for themselves. Now laid back dinner for some friends, spouse or partner, now that's more fun. So, to answer the question, some fish, pork chops or some other protein that cooks quickly with some sautéed vegs or a quickly made salad. That will do the trick for me.
What are some emerging Caribbean food trends that you're noticing?
From what I've seen, I believe based on who the chef is, the use of provisions in unique ways is a developing theme. I think embracing the world of molecular cooking has been growing. As new class of chefs come forth, new ideas come with them. I'm trying more to look at the works of other chefs from the Caribbean as I get to know of them especially through social media. I think in general, I believe most chefs are really highlighting and truly transforming local ingredients in their cooking. We have some many ingredients to work with. I'm discovering new things all the time.
What do you think the most important qualities are in a young chef?
For any young chefs coming up through the ranks, whether through culinary school or hard knocks, I believe the most important qualities would be a willingness to learn, a willingness to listen, a willingness to be humble, a willingness to show up, a willingness to show up on time. To be motivated in wanting to perfect their craft and hone their skills. Today, most young chefs are not wanting to truly pay their dues. Everyone wants to skip the basics and want to be a super star, a rock star chef. That's not good for the industry. If that's the case, who will be left to cook, to cook some good food for all of us?
What's the one cooking tool that a chef should not be without?
Well, I think most chefs have a knife or a set of knives in their vehicles or close to them. That seems rather self-explanatory. Two "tools" come into mind though, and they are quite important. As I'm saying this, I realize that I must get back to basics because I have gotten away from using them daily. What are they you ask? Well, it's very simple, a pen and a small notebook. Our minds are always going, so it would make sense that we should want to record those thoughts and ideas. No pen and notebook, phones and digital notebooks works just as good. I really must get back to writing more.
What is your favorite show on Food Network?
You know, I can't honestly say that I have a favorite food network show right now. Honestly, I haven't watched the network in months. But if I had to sit down to watch, Chopped and Iron Chef would be my choices.
What inspires you when you are in the kitchen?
There are a lot of things that inspire me. I'll get inspired watching and viewing the work of other chefs, walking into the grocery store and looking at some ingredient that I've never used before, having conversations about food with friends and sometimes just thinking about various trips I've taken over the years. Just recently, I was hanging out with some friends at a local restaurant in Hollywood, Florida and warm Thai style donuts we had at the end of the evening were a source of inspiration. I just haven't had the time to play around with ideas in my head. It will definitely be a play on something from Jamaica. The mind of chefs never stop, we are always thinking because we have so much on our plates. But it's fun though.
What is your favorite Jamaican meal?
I love all the foods we are used to eating in Jamaica. There's just something though about a well-cooked dish of stew peas and rice. For me, there's no half stepping on that dish. Sorry, chicken, smoked turkey or whatever other substitutes for whatever reason are placed in the pot. I want stew peas with (wid) pigtails and stew beef with just the right amount of coconut milk, scotchy, thyme and a good amount of spinners. Because I'm now older I can't eat most of my Jamaican foods as much as I used to. Now, I treat myself every so often.
What foods do you stay away from?
There's not much that I don't eat or won't try at least once. As I get older though, I have to moderate most if things I eat. I don't eat a lot of bread, stay away from juices, sodas and Lord I'm gonna say it, I don't drink as much rum as I used to. Let me check my pulse, lol. Thank god I'm not allergic to anything. That would not be a good thing.
If you were on a desert island and you could have one food what would it be?
One, just one? That's a hard choice. A big pot of stew peas…red peas soup? A nice big fried parrot fish with some fried bammy? I'm thinking I don't want to get stuck on any deserted island. No sah.
What is the weirdest question you have been asked about Jamaicans and Jamaican food since you started being a chef?
I haven't had any weird questions. I think a lot more folks are getting exposed to Caribbean foods and cultures so a large part of the ignorance I used to encounter has dissipated. Yes, we finally have cars. Hmmmhm. As I get the chance to bring to light the different foods from the Caribbean as they are highlighted in dishes I create, I get quizzical looks and queries as to the combinations of the ingredients used. I usually hear, "…I would never think to put those things together or make a dish with that "ingredient"…" It's awesome when I get to do new things and try to push the envelope some.
Tell us about your upcoming cookbook?
Well, not much to say about the cookbook just yet, but I actually started putting recipes together so stay tuned, it's coming.
What is the weird food request you have every gotten?
I haven't had any food requests I don't think, but if you are a prospective client out there that would like to me prepare some "weird" food menu, I'm ready to make it a Food on Fiyah!!! Experience.
How do you organize your recipes? Are you using a smart phone, tablet, computer, recipe cards, scraps of paper, a note book etc.?
I'm working on becoming more organized, and believe me that has been a labor of love. Recipes are on my computer but more often than not, even with all this technology, the old school mentality has me writing them down on paper somewhere so I still have to transcribe that to the computer. When I do locate that paper. The worse, and I'm really trying to get better at this is to move those recipes that I've concocted by thought or actually cooking from my head onto paper. Often times when chefs come up with recipes, it's usually done on the fly. Then we go back to script the recipe. Yeah I know, crazy yeah.
Being a Jamaican chef do you have any amusing stories to share with us when people discover you are Jamaican?
I can't say that I have stories to tell because I'm a Jamaican chef. What I can say though is that I hear quite a bit that folks love the fact that me being a Jamaican chef makes me very versatile in the things I'm able to create. I think it drives some people nutty though when I break out in some ragged other island accent. For me it's fun though. I feel like I get to embrace the culture of my friends, most of whom are from other islands. So after having a spirited conversation and someone will reveal that they thought I was Bahamian or just not Jamaican can be quite amusing. Especially when the topic of carnival comes around. Man, I truly become a West Indian then.
I find that Chefs who have studied the culinary arts tend to experiment with fusions. Tell us about some of your Jamaican fusion recipes?
Oh goodness, we could be here all day, lol. We may call it fusion but I think in our minds we are merely putting ingredients together because it sounds it really works. So a dish like Seared lamb chops with Guava mint sauce over smashed Boniato with pickled red onions; Ackee sautéed with rum and served with Jerk Codfish over eggplant puree; Jerk oysters with jackfruit relish and rum gastrique; Breadfruit Gnocchi with curried roasted goat and wilted citrus Kale might be a few dishes that come to mind when I think of fusing elements together. Funny enough, I believe I've only just begun to scratch the surface. Watch out world!!!
A movie you never get tired of watching….
New Jack City, The Blade trilogy, Matrix trilogy, Lord of the Rings trilogy
Growing up, your hero was…
Strange as it may seem, I don't believe I had a very pronounced hero growing up. As an adult, looking back though, my mom, Maudlyn "Mama" Sinclair was that hero. The things that she did have made me a big part of who I am today. The counsel and teachings are ingrained in me – yes I can still feel some of those counseling sessions, lol – I appreciate her more now for the woman she was. She instilled in me a foundation for life. She was an indomitable force. And if I'm going to mention heroes then all my teachers growing up would be my heroes as well, for without them my life today would be so different. My life as a chef would be so different.
Thanks for your time. Any closing words?
I hope that one day, Caribbean foods and culture will be the rage and not seen as just a thing to experience because you are on vacation. A culinary ambassador I'll be to the best of my ability making it a Food on Fiyah!!! Journey. Try new foods, try experiencing another's culture, try working together for we are, Out of many One people. In the words of a good friend of mine, Manny Slomovits, "Life is too short to be eating bad food". Eat well my friends.