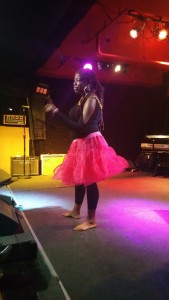 Marcia Davis in action.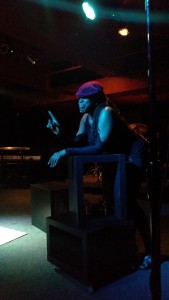 A Brit A-Broad & A Little Bit of Babylon, the one-woman show written by and starring the electrifying Marcia Davis made its stunning debut at Smash Studios on March 25, 2016 to standing ovations. Directed by Antoinette Pitcan and featuring original music from Ms. Davis, A Brit A-Broad & A Little Bit of Babylon is an important piece of theater not to be missed.
Presenting a story that's real and heartfelt the multi-sensory dramatization of personal narratives reveals an uncompromising and intimate view of the author/song writer. This play perfectly captures Davis' vulnerability, strength and spirit. By using her emotionally-charged personal sentiments with more than a sprinkling of satire and brilliant flashes of comedic timing topped with her unique and poignant blend of lyrics and music, the play moves seamlessly from scene to scene. The music is as important to this production as the star herself and she skillfully delivers a perfectly reggaerised theatre experience. Pitcan provides direction that makes every moment of the show relevant and relatable.
Marcia Davis is completely honest, feisty, savvy and intellectually vibrant. You will forget that you are at Smash Studio, believing instead that you are accompanying Marcia on her incredibly vibrant life's journey. The character is developed onstage from gawky teenager to the highs and lows of adult personal life and career. A Brit, A-Broad and a Little Bit of Babylon showcases Davis' talent and the audience will definitely leave with a smile.
Marcia Davis
Born in Liverpool, England of Jamaican parents, Marcia Davis's musical journey was primarily influenced by other musical family members. Her obvious talent bloomed at an early age and she was subsequently encouraged by teachers and peers alike to pursue a career in the creative field. A student of dance and theatre, Marcia received local accolades when by the age of 17 she had formed her own theatre company, Catalyst and had written, published and performed two musical plays. Her first play Ella was performed to sold-out audiences at two renowned Liverpool theatres, The Liverpool Playhouse and the Everyman Theatre.
In the subsequent years, after taking time out to raise her family, Marcia continued to write, her dream is visibly clear when she emotes in her sultry contralto and her visionary lyrics and catchy beats have unlocked the door to a very promising future.
Production credits – Marcia Davis (Writer/Performer), Antoinette Pitcan (Director), Sheron Hamilton-Pearson (Artistic Director), Sidney Mills (Musical Direction), Gabe Kirchmeier (Sound), Anginease Phillips and Kadeem Alston Roman (Choreography)