Day One
While it doesn't cost a thing to lay on the seven miles of Beach in Negril, accommodations can be steep; especially at one of the many all-inclusive hotels that stretch all along the Norman Manley Beach road. But broke backpackers know how to live a lifestyle of the Rich and Famous while spending as little as possible.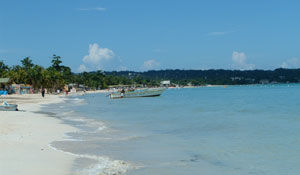 One of the hippest, as well as cheapest places to stay on the beach is Roots Bamboo. (Norman Manley Boulevard (876-957-4479). The bungalows here are small, simple and clean, but most importantly, cheap. At $20 a night and up, sharing a cold water shower seems a small price to pay to stay a few feet from the ocean. For stricter budgets, a campsite is available at $10 a night. The bar at Roots offers inexpensive food and cheap Red Stripe beer, and the live reggae show every Wednesday attracts a large mixture of tourists and locals. On Sunday evenings at 6:00 pm, a live jazz band performs. No cover charge makes Roots even more appealing.
Breakfast begins with a stop at Juicy Patty, located in the roundabout at the center of Negril where the town's only three roads connect. For $1 to $2, you can choose from juice, egg and cheese sandwiches, patties or pastries. This fast food joint is a junk food heaven for travelers on a shoestring budget.
After breakfast, head over to Easy Rock Cafe on the West End Road (Taxi $1.00) to check email, or for free top ups on world famous Blue Mountain coffee with Betty milk, a thick, syrupy cream that is addictive for only $1.00. If you're still hungry, Sue (ex-pat owner of Easy Rock,) makes the most incredible homemade cherry and apple pies served with fresh cream ($3.00). Computers cost around $3.00 an hour here, but ask anyone for directions to the town library a short walk away for less atmosphere but more savings at $1.00 an hour.
Further up the West End Road you'll find a few art galleries. The Hungry Lion (876-957-4486) showcases some of Jamaica's most talented artists. Exquisite jewelry made from all organic, natural materials from the earth, such as Lucky seeds, bright red seeds, and earth-tone nuts are designed by area Rastas. Oil paintings, carvings and pottery are also included in the exhibit.
When you've worked up an appetite, walk, or flag a cab ($1.00) back to the West End Road to Chicken Lavish (directly across from Easy Rock Cafe) for a choice of mouth watering, inexpensive meals. Spicy Jerk chicken or fish smothered in sauteed vegetables, curried goat, and oxtail served with rice and peas are just a few of the choices each under $5.00.
Friday nights on the beach are always exciting, at either Alfred's Ocean Palace, (Norman Manley Blvd., (876-957-4735) or a short walk down the road at Bourbon Beach; both offer live reggae shows for around $3.00. Special shows can cost up to $10.00 at Bourbon Beach, but you won't have the chance to win the J$5000 (about $80.00) door prize that Alfred's uses to lure beachcombers and locals.
On the beach road in front of Alfred's you'll find a small shack owned by Bigga. At 5:00 am, if you've got a craving for a callaloo sandwich or pumpkin soup and less than a dollar, Bigga will wake up and whip up a hearty meal. Don't mind the working girls who all share the floor space at Bigga's; they can be persistent (whether you're male or female) but friendly, even if you're not seeking a date.
At any night along the beach road, you'll find vendors offering jerk chicken, beer, or sip (vegetable soup) after the clubs close. If you intend to sleep on the beach all day, continue your night at MiYard (West End Road), a 24 hour dive bar. Note that taxi costs double after midnight, so budget for $3.00 from the beach. Music blasts from this hot spot, but beers are cheap, coffee is always brewing, and festivals ( fried dough snacks) are 3 for a dollar. MiYard is almost always packed after hours with intoxicated dancers gyrating to the sounds of Capleton, Sizzla, and Beenie Man. For a reprieve, check your mail in the private, (quiet) back room for a few dollars.