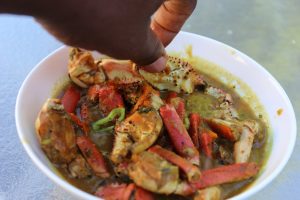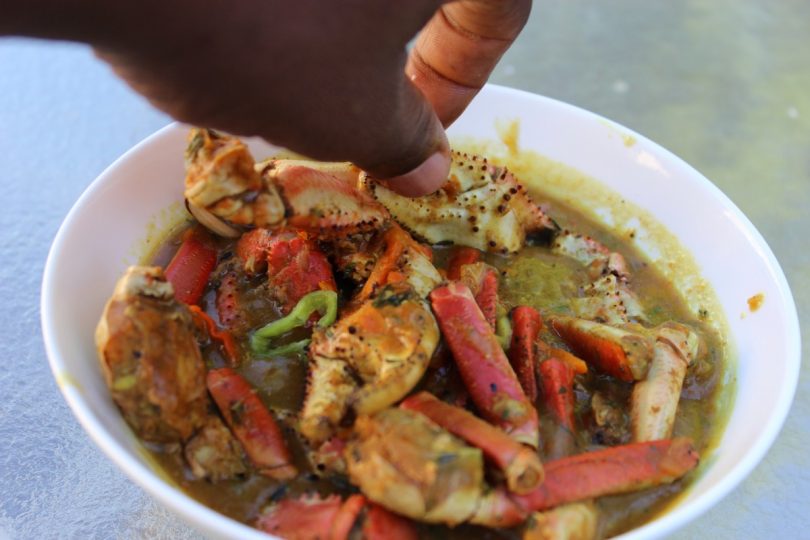 Crab season is officially upon us. In Jamaica Crab can be seen selling on almost every corner in big pots boiling away. Crab is one of our favourite street food to have during the summer.
But this time, I'm turning things up with  one of my favorite ways to prepare crab, in a true Jamaican style. Crab smothered in a rich & creamy curry coconut sauce with a spicy, bold flavour. This dish is perfect to have with a group of friends or family just chilling and enjoying some crab and good company. Here is my Spicy Curry Coconut Crab Recipe.
Serves 4
Time: 45 minutes
Ingredients
2lb crab ( 5 crab cut in pieces)
1 tablespoon curry powder
2 tablespoon vegetable oil
3 garlic cloves, crushed
1 teaspoon freshly grated ginger
2 stalk scallions, sliced
1 small onion, sliced
2 sprig fresh thyme
8  pimento berries, crushed
   salt and pepper, to taste
1 scotch bonnet pepper, finely chopped
1/2 cup coconut milk
Directions
1. Clean and separate the crab in pieces (cut each crab into 4 pieces) then discard the back. Put crabs to boil for 20 minutes in salted water. (Save liquid )
2. In a preheated frying pan over medium heat sauté together; ginger, pepper, minced  garlic, thyme, and onion. Stir fry until the seasonings are translucent. Add curry powder and cook for an additional 5 minutes then add 2 cups of  crab stock (crab water). Then add coconut milk scallion, pimento, salt and pepper bring to the boil and then reduce heat. Add crab and allow to simmer for 15 minutes, stir frequently to avoid sticking.  When the sauce is thick, turn off the stove and enjoy.
Chef Note: I used buck crab for this recipe but you can use what you have. Fresh or frozen works well.