Many of you have heard of Curry Goat but have you tried Curry Oxtails? Once you try it, I am sure you will love it. Here is my Curry Oxtail Recipe
Ingredients
4 lbs oxtails cut and trimmed
1 teaspoon salt
pinch of black pepper
3 tablespoon curry powder
2 tbsp oxtail seasoning
2 tablespoon veg oil
1 onion (diced)
5 cloves garlic (diced fine or crushed)
1 scotch bonnet pepper
4 allspice (pimento) berries
4 sprigs thyme
5 cups water
2 tbsp grated ginger – (optional)
Direction
Trim off as much fat as you can off the oxtail pieces, wash and drain. Then season with salt, black pepper, oxtail seasoning mix well and let marinate in the fridge for a few hours.
Heat the oil in a heavy/deep pot on medium heat, then add the diced onion and garlic. Turn the heat down to low and cook for about 3-4 minutes. Now add the curry powder (heat still on low) and toast for another 3-4 minutes. This step will awaken the spices which make up the curry blend.
Add oxtail to the pot and Meanwhile in the same bowl you marinated the oxtail, add the water and move around to pick up any remaining marinade (set aside). Place the lid on the pot and bring to a boil. It will release natural juices.. as it comes to a boil, lower the heat to a simmer, cover the pot and let it go for about an hour to two-15 Remember to stir frequently and add boiling water as needed. Then remove the lid, turn up the heat add thyme, scallion, pimento, and seasoning to taste leave to simmer for an additional 15 minutes.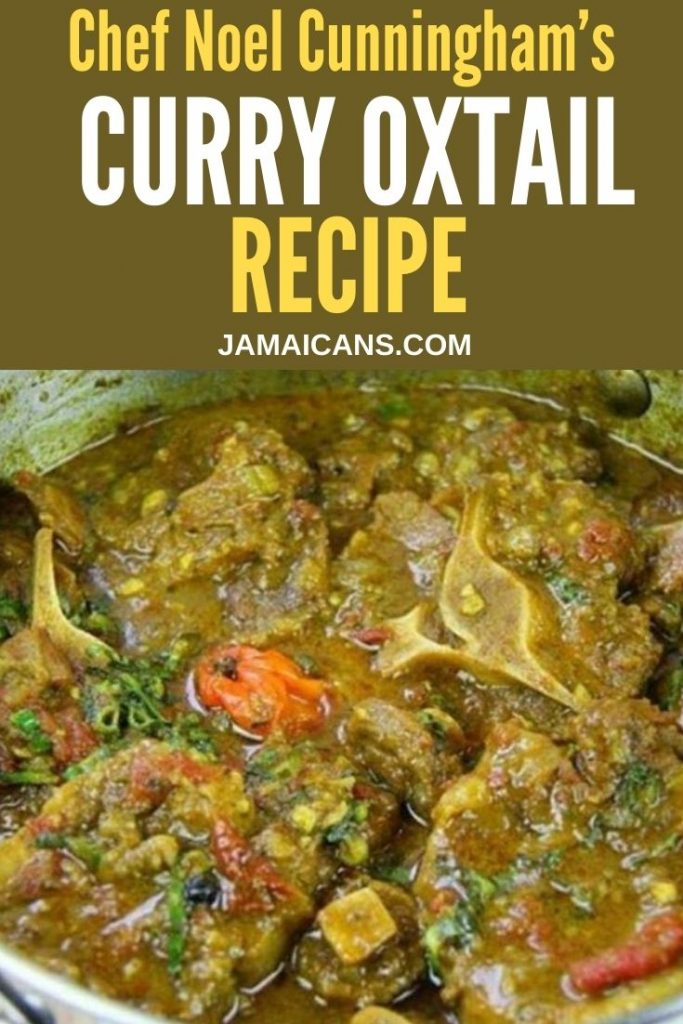 Chef Noel Cunningham, Cuisine by Noel