Jamaica, land of wood and water, is well known for reggae music, beach life and most of all stunning waterfalls. It is probably impossible to explore all the falls and hard to make a choice at the same time. To give you a hand we've selected 7 awesome waterfalls; from well-known tourist attractions to secret hidden gems, surrounded by lush trees and colored flowers. So, this will help to pick your choice and relax at the magnificent waterfalls in Jamaica, you just need to remember to bring your swimsuit and water shoes.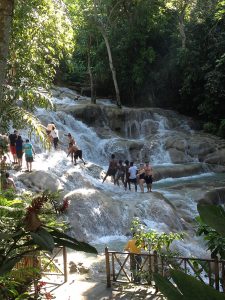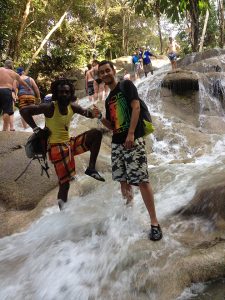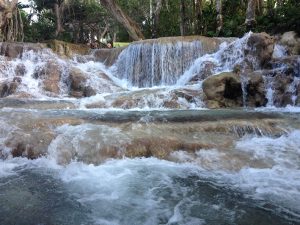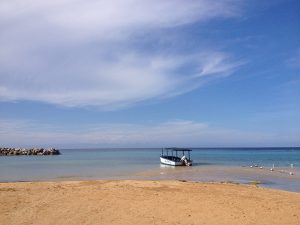 1 Dunn's River Falls
Dunn's River is tourist attraction number one. We all know the pictures of great throngs of people and guides helping with the climb (tip expected), although most able-bodied people easily achieve the ascent. Touristic and crowded or not, Dunn's River Falls is a stunning waterfall to explore. You can take your own time clamber up great tiers of limestone that step down 180m. You can stay all day if you like. As a result you will be surprised by the beauty of a series of magnificent cascades and pools, which are surrounded with palm trees.
Starting point is just above at sea level or all the way down at the white sand beach. You'll pass several arts & craft shops, bars & restaurants and playgrounds for children, as you walk down.
The biggest en best known waterfalls in Ocho Rios is easy to combine with a tour to 'Nine Mile Bob Marley Mausoleum'.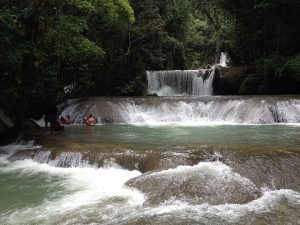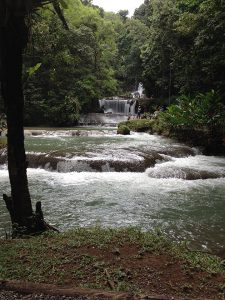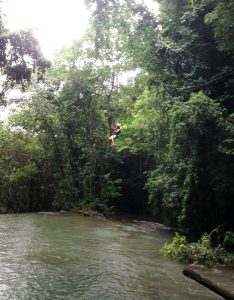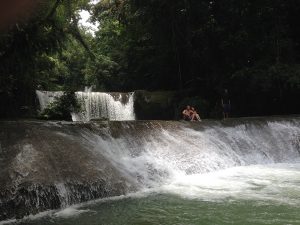 2 YS Falls
YS Falls is located in a beautiful park, surrounded by lush gardens and magnificent trees in the parish St. Elizabeth. A tractor-drawn jitney, through a working cattle ranch, will take you to the waterfall, afterwards you will be dropped at the starting point.
The rich limestone collection creates the falls, which are completed with calm pools for swimming. The picnic areas and changing rooms are free to use, and a Tarzan-style rope swing above a natural pool is hilarious.
YS Falls has seven cascades to climb. Lifeguards are around and are grateful to help, when you need some assistance with climbing the falls or making pictures. You can also enjoy the exhilarating canopy rides, which glide from the top of the falls to its base, throughout the forests. This will need an additional fee.
YS Falls can be combined with 'Rum Estate', or through 'Bamboo Avenue' with 'Pelican Bar'.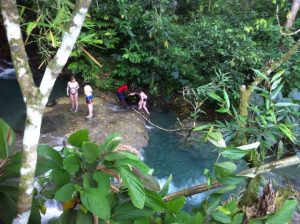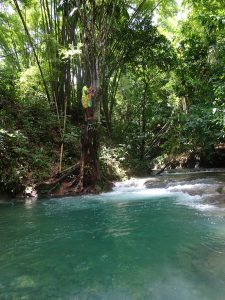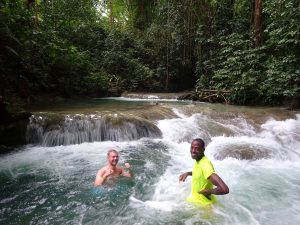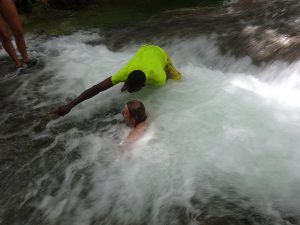 3 Mayfield Falls
A stunning drive from Negril through hills and villages leads to the more local look and feel of Mayfield Falls. This, off-the-beaten-path, natural spa is one of Jamaica's hidden charms and unknown to most travellers. It is for sure the best experience when you want an escape from the hot sandy beach in Negril. An experienced guide leads you through the mineral healing water, with smal cascades, while revealing various secrets in the river and surroundings.
Mayfield Falls is still quite discreet, therefore usually allowing its guests to have a more or less private experience.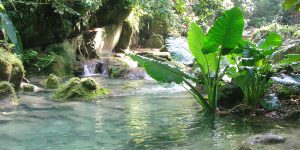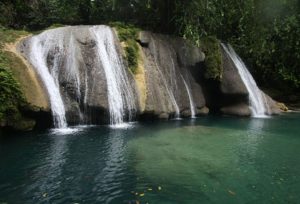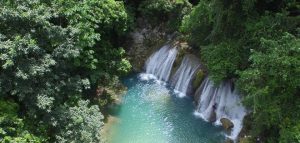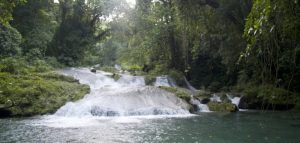 4 Reach Falls
Runaway slaves from plantations discovered Reach Falls. Without any doubts, it is a relaxing place in a pure forest with incredible vegetation. The natural heart-shaped pool is ideal for a swim and in the waterfall you will enjoy an energizing natural massage from the water flow. It is amazing when you take the offer of the local guides, and climb to the upper pools. The little underground, underwater tunnel is created to plunging through, therefor a real treat.
You have to bring your climbing shoes, and be prepared for a long climb to reach the top of the cascades. But then, as mentioned before, it is definitely worth it.
Get to Reach Falls, Portland, through Manchioneal, a beautiful laid back fishing village. In the surroundings is Bath, also a natural, mineral river but with hot water and massage possibility.


5 Fishdone Waterfalls
On your way from Buff Bay, Portland, to the Blue Mountains, you will pass the communities Tranquility and Mullet Hall. This way you get to the hidden gem of Fishdone Falls. At the bridge at Avocat, to the right, is a perfect spot to relax.  Maybe Fishdone waterfall is not the best waterfall to climb, it is definitely good for a swim in the pool. When locals are around they might take you to the next level, to explore a second fall. Embrace the possibility for this special, local experience and be so kind to thank them with a tip. (summer 2019 Fishdone Falls is privatized and needs a entry fee)
For more excitement take a downhill bike tour and have a superb lunch break at the pool and falls.
Around and in the upper Blue Mountains are coffee plantations, guesthouses and hotels, see example on the next blog: http://bit.ly/2p8l9gm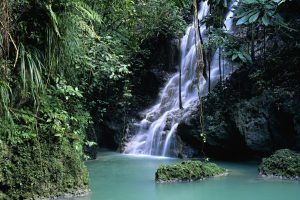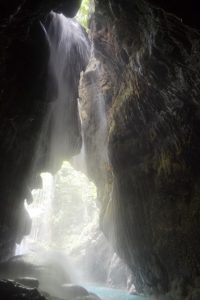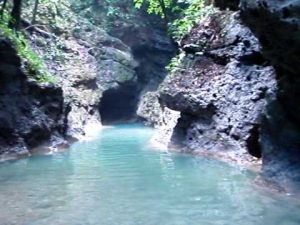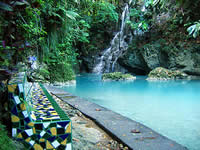 6 Somerset Falls
The breath-taking waterfall is hidden in the rainforest, 3km east of Hope Bay. This is where the Daniels River plunges down a narrow gorge. Entrance fee includes a guided tour through a grotto by boat, therefore a stunning experience! Hidden Falls tumbles 10m into this jade-colored grotto.
At the entrance you'll start with a walk in the tropical rainforest to the hidden falls. The tropical forest path takes you past the ruins of a Spanish aqueduct; there is history all over Jamaica! Furthermore, you board a boat to travel beneath the tumbling water. Make sure to get your camera ready! The beauty of the falls will take your breath away as you slowly pass their delicate descent.
(Summer 2019 Somerset is closed by drought – hopefully this will be temporarily)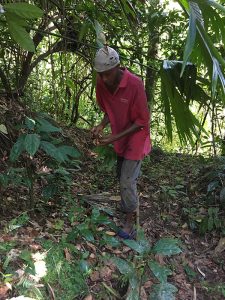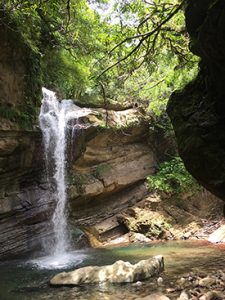 7 Nanni Falls
Up in the hills of Port Antonio, in the village Moore Town, Nanni waterfalls is the most hidden gem of all falls. Don't be afraid of climbing down the rocks to reach the pool. As a result, you can cool down in the water surrounded by trees and rocks.
Maroons will keep the place clean and they work constantly on the road, therefore a gift or tip to the community is appreciated. The falls are surrounded by farmland and plenty trees with medicinal effect, for instance naseberries, noni fruit and strongback. Take your opportunity to speak to the Maroons. Take a look around in the village too, and share a drink at the bar.
'These tips are written by Sandra Smits, a true lover of Jamaica, founder of InspiringVibes.nl and co-founder of travel agency "Rappa Rasta Tours". She is writer of travel guides and blogs and works together with wearetravellers.nl and favoroute.com.'
More blogs of Sandra Smits at Jamaicans.com.