One of the most popular and innovative choreographers of today's dancehall scene in the USA is Brooklyn-based Blacka Di Danca. Blacka has already performed at stage shows, festivals and carnivals across the United States, Europe, Canada and Hawaii. He has been on multiple tours, domestic and international with Collie Buddz as well as a brief tour with Major Lazer. He recently choreographed Major Lazer's latest music video "Lose Yourself" featuring Moska and RDX in Kingston, Jamaica. Blacka currently tours as a choreographer throughout Europe, Canada, Mexico and the United States teaching dancehall workshops. Over the summer of 2013, Blacka was featured as a choreographer on cablevision's FUSE TV for the television show "The Hustle After-party". Blacka's photo was featured on the Beats by Dre website, and he has been featured in magazines and billboards in Siberia as well as newspapers in Jamaica. Blacka continues to add new projects and endeavors very often. Here is our conversation with Blacka Di Danca.
Q: What is your connection to Jamaica?
A: I was born and raised in Brooklyn, New York City and Brooklyn has been one of the biggest epicenters of Caribbean culture since the 1980's. My parents were born in Trinidad, so I grew up listening and dancing to reggae, calypso, dancehall and soca music all of my life (while drinking Carib and Shandy). The music of Jamaica and Trinidad are not so different, for example, mento and calypso nearly sound one in the same. So, to get to the simpler point, my connection to Jamaica is growing up in Brooklyn around Jamaicans, visiting Jamaica and being Caribbean.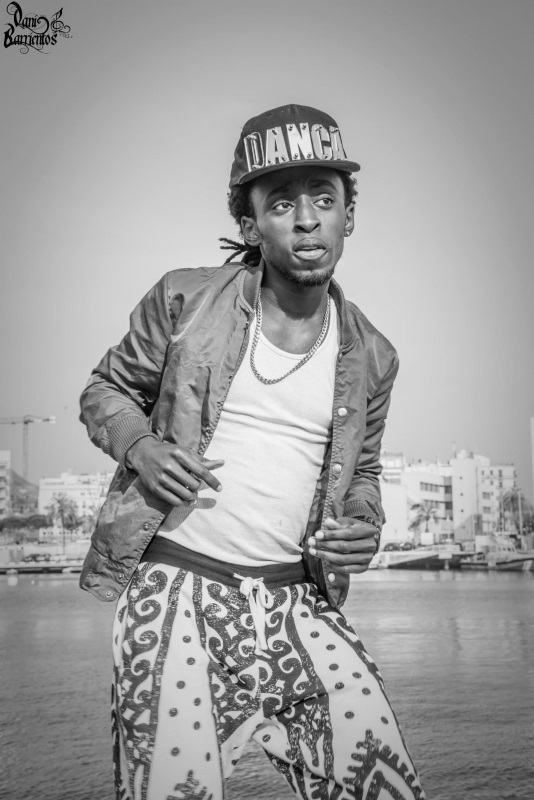 Q: When did you become interested in dancing?
A: Well, like most people will answer, I've been dancing since I could walk, which is the way of life in a Caribbean household. I started to take dancing more seriously in my freshman year of high school (2003-2004). During that time, I'd start to party more often because I felt like a grown man being in high school. At that time, dancehall songs and dances became more internationally known with the help of Elephant Man's "Pon Di River" and other songs like Sean Paul's "Gimmi The Light", "Like Glue", and "Get Busy. Those songs and music videos were a big inspiration and push to start dancing more seriously and to make a name for myself.
Q: Do you have any formal dance training when you were growing up?
A: No. I've never taken a formal dance class, other than taking friend's classes to support. I learned to dance in parties, Passa Passa DVD's and through friends with a little more experience.
Q: What do you enjoy the most, dancing or choreographing
A: I enjoy dancing the most because I'm an artist by nature. The music is my studio, the floor is my canvas and my body is my brush. I feel completely free and happy when I dance because that's what I was born to do. Dancing on stage in front of 5,000 people or dancing in a party with only 5 people gives me the same exact feeling – happiness. There is no better way to express myself than to talk through my body and to give the music the life that it gives me. I will dance as long as I can walk, and even after I can't walk, I'll dance in my head and heart.
Q: Do you remember the first time you ever got on a stage to perform? Where was it and what did it feel like?
A: I usually performed in parties and on the club's dance floor. The first time I really performed on a stage with a big audience was in 2008 in Binghamton, New York. I competed in the "Binghamton Carnival's Dancehall King" competition with a few thousand people in the crowd. Surprisingly, I wasn't nervous to dance in front of all of those people, but anxious and ready. At that time, dances like Ovamarz "Nuh Linga", Ding Dong's "Sweep" and Black Bling's "Tek Weh Yuhself" were dominating the dancehall scene, so they were everybody's favorite dance. At that same time, all of the song's that were written for the dances were hot, so I was excited to showcase how I knew to do the steps and also to battle everyone else. We had about 3 elimination rounds starting with everybody on one stage for a free-for-all. After the first round, a few people got cut, then we went again, another huge free-for-all with everybody dancing at the same time around each other. It was very intense. A few more people got cut. Then the last round was with me and another dancer, we went head to head battling out at the same time and then it was time for the judges' decision. In 2008, in Binghamton, New York, I won my first title as Dancehall King.
Q: What was it like working with Diplo on the Major Lazer project?
A: Working with Diplo and the entire Major Lazer Crew (Walshy Fire, Jillionaire and dancers Mela Murder and Lafayette Bless) was absolutely amazing. We met in Stockholm, Sweden while I was on my European tour teaching dancehall workshops. At that time, they were on their Major Lazer tour. I performed with them in Sweden and Norway and then we part ways because I had my own tour to finish. We then flew to Jamaica a few months later to shoot their music video for "Lose Yourself" featuring RDX and Moska, which I choreographed with Mela Murder. We shot that video in several locations around the island. I can honestly say that project was the best project that I've ever worked on in my career. It was already an honor to be invited to choreograph a Major Lazer music video, but the professionalism and personality of the team made it even better. We stayed in Kingston for almost a week and during that week we worked really hard. We had 12-hour shoot days that included 4-hour minimum trips around the island to get from location to location. The shoots were hard work but tons of fun because good and talented people surrounded me. We had one day off which we spent at Lime Cay Beach. That beach day was relaxing and well deserved – soaking in the Jamaican sun, bathing in the warm water and lying down on the soft sand was a memory never to be forgotten. The following day, we had a show at Mas Camp in Kingston with Skrillex and 10,000 fans where I performed as well. The show was wild and crazy. There were special guests and what made the night perfect was how well the audience received the entire show – they loved it. The following day we all flew home with great memories and a great music video in progress.
Q: What other artists have you worked with either touring as a dancer or choreographing their music videos?
A: I toured as a solo and featured act with Collie Buddz for almost 2 years. During his tours, I'd have a one-minute solo, then I'd teach Collie how to dance on stage and then we'd perform the dance step together for the crowd. The Collie Buddz tour was the best and most memorable time in my entire life. I danced in the Busta Rhymes "Twerk It' music video and I recently danced in ASAP Rocky's newest but unreleased music video. I recently choreographed a music video called "Gyals in Brooklyn" by We Chief featuring Da Professor, I've done music videos with Screechy Dan, recently acted in RDX's latest music video "Hell" and have danced in countless other music videos with upcoming artists.
Q: Tell us about your trip to Russia? What is the dancehall culture in Russia like?
A: I first flew to Moscow, Russia in 2011 to teach my dancehall workshops. It was an amazing trip full of surprises. When I first walked into the dance studio, I expected to teach basic steps like Summer Bounce, Thunder Clap etc.… I opened the door and they were doing the latest dances at the time like "Stay Clear" and "Badda Wave". It was crazy. I didn't understand it but I was happy to see it. I was invited by Jiff and Anna to teach for a weekend in Russia with Camron One Shot from Paris. I taught 2 workshops then judged and performed in a dancehall competition. Russia was cold… very cold, but the dancers are extremely warm and inviting. Some travelled for more than a day by train from surrounding countries like Siberia and Ukraine. One thing that I have to say about Russians and their love for dancehall is that they are committed. They are hungry to study, hungry to learn and very dedicated in their efforts. I've met some of the most talented dancers in the world in Russia because their work ethic is extraordinary. Dancehall culture in Russia is growing rapidly because Jiff and Anna host events such as the "Big Up Kemp" in which they invite dancers and teachers from Jamaica and the world to come and teach their knowledge, steps and techniques. People really love dancehall worldwide and a lot are working really hard to learn and teach it correctly.
Q: Recently there was a clip of you teaching a lady in a wheelchair that went viral. Can you tell us about that clip and what was happening?
A: During my spring tour in 2013, I was booked to teach workshops in London, England. Cindy (organizer) told me prior to the workshop that I'd be working with a disabled young lady and asked if I was okay with it. I told her yes, but at the time I didn't associate disabled with wheelchair-bound. I was teaching my workshops regularly and as I glanced through the students as we were learning choreography I saw a young lady sitting in a wheelchair dancing along with us. It took me by surprise. I kept the thought of her dancing in my head as I continued to teach choreography. As the class went on, I continued to watch and smile as she danced as hard, if not harder, than the rest of my students. At the end of the class, I usually call out a few or sometimes all of the students to individually perform the learned routine with me. Something told me that I had to call her out. The music started and we started to dance. As she started to dance I fought back tears of complete joy. This woman was letting nothing hold her back from dancing. We danced the entire routine together, wheelchair and all, and for about one full minute of my life, I lived in a complete Utopia. I'll never forget that day , that moment or exactly how I felt at the time for the rest of my life. Honestly, at that very moment, I realized that I'm doing exactly what I need to be doing with my life. At that time, I realized my purpose in this world and why I teach dancehall workshops. People can have such a negative perspective on dancehall because of the lyrics, gimmicks, images and stigmas, but that's because they don't see moments like that. I strongly believe that dancehall can change lives and change the world if we utilize and preserve it the right way. Bob Marley taught the world how to love through music and I intend to do the same through dance.
Q: Your knowledge of dancehall terminology has developed you into a versatile performer and well-respected choreographer. What would be your advice to dancers, who would like to enhance their dancehall skills and become back-up dancers for recording artists?
A: My advice for dancers who want to enhance their dancehall skills is to first go to a dancehall party. That's the right way to learn, it's how I learned. Dancehall dancing is about the steps, yes, but also the groove and atmosphere as the dance hall is the place where people go to dance. To learn dancehall you must be in the environment to understand why we move certain ways to certain songs and to learn to fully understand the grooves. Watch videos of dancers in Jamaica first to understand the source. Then watch videos from around the world to understand the evolution and different types of techniques. If you've never been to Jamaica, visit Jamaica to party, learn the history and take classes. Being on the island will give you a good understanding because dancehall is a way of life, from the fashion to the music to the man outside the party selling jerk chicken. If you can't afford a trip to Jamaica then take classes with proper dancehall instructors who are knowledgeable in the culture and dance.
Q: What is the best advice you have ever received while working for celebrities?
A: The best advice I've ever received from working with celebrities was an unspoken advice. Watching their work ethic and professionalism is the best thing I've taken away from celebrities I've worked with. A celebrities' lifestyle looks lavish and simple but it actually involves a lot of behind the scenes grinding. Most of the time, they are on business calls, Skype conferences or just always on their phones. Talent is nothing without work ethic. I once heard a saying; "it takes years of work to become an overnight success". Work hard for what you want because nobody will or wants to grind for two people.
Q: You created a dance instructional channel on YouTube with some of the hottest dancehall moves. How is that being received?
A: I recently created a platform for people who cannot find the time or money to take a dancehall class to take free online classes through my YouTube channel. Not everyone can find a baby-sitter or can find 2 dollars to get on a train to the nearest dance studio. Some people are even intimidated by media's often exaggeratedly sexual portrayal of dancehall and don't want to give a dancehall class a chance. I once taught a class in Berlin, Germany where the only male in a class of about 30 asked his male friends to join him and they made fun of him because he said he was going to a dancehall class. They teased that he was going to learn splits. But dancehall is way more than just splits; there are hundreds of steps that are fun and easy to catch. My intention on creating a free outlet where people can learn real dancehall steps was to provide opportunity and information to those who cannot afford to pay and those who are oblivious to what dancehall really entails. So far, my classes are being received really well. I receive many messages from viewers worldwide saying "thank you". My most memorable message is from a young lady who told me that she didn't even know there were steps or even names to steps in dancehall, but she thought it was only about whining. That message and that end-result for that young lady is the exact goal. There are probably millions more who don't know the proper steps. There are incorrect dancehall tutorials on YouTube and people are learning from them and teaching incorrectly which is harming our culture. Whether I teach online tutorials or not, people will upload tutorials, people will learn from tutorials and people will teach from tutorials. I'm just providing the correct information for those who want to learn dancehall accurately.
Q: If you were stuck on a deserted island and given the choice of 5 dancehall songs to dance which songs would it be?
A: The first song would be Elephant Man – "Signal Di Plane" because I'd need to signal for help. The second song would be Beenie Man – "Row Di Boat" because if the plane doesn't come, I'd be able to escape with a boat. The Third song would be Mr. Vegas – "Nike Air" because it's one of my favorite songs, and just incase the plane and boat idea doesn't work, I'd need a nostalgic song to make me feel at ease. The Fourth song would be Mavado – "I'm On The Rock" because at that point I may have to get used to being stuck on the floating rock if help doesn't come. The Fifth and last song would be Chronixx – "Clean Like A Whistle" because it's a great song with a great message and would get me through my days as I start to adjust to life living on a deserted island.
Q: What's next for Blacka Di Danca?
A: I'm always working on the next thing and the next biggest thing is my fall world tour. I'll be touring through Europe and South America from October through December. I've already booked workshops in Argentina, France, Portugal, Belgium and Denmark and I'm still confirming more bookings. I'm also working on fundraising dancehall classes in NYC as I recently hosted a dancehall workshop raising funds for Sickle Cell Disease. While I'm in New York City, I teach workshops every Friday in Times Square, I'm constantly choreographing dance videos and music videos, planning my tours and always looking for ways to improve the outlook of dancehall worldwide.
Q: Thank you for the time and all the best. Any closing words?
A: I'd like to end saying this; whatever you want to do in life, whether it be teaching dancehall workshops or opening a restaurant, regardless of how hard it looks to accomplish, as long as it will positively affect society, go for it. When I started dancing, I did it for fun in parties. I never thought it would take me around the world and back. It wasn't easy and I had to make a lot of tough decisions but the end-result was more than worth it. When you know that you have more inside of you, when you know that you can make a difference, then be that difference. Follow your dreams no matter what. Just give it a try. The worst that you can do is fail. But it's better to fail at following a dream than to look back 30 years regretting and never knowing what would have happened. At the end of the day, we all have to work to survive. But wouldn't you rather work for yourself if you were going to work? It's not right that you have to work tirelessly while someone else benefits. Work tirelessly for yourself so that you can benefit – so that in turn, your friends and family can benefit. Work tirelessly for a bigger goal. Leave the world with something unforgettable. Be courageous, be brave, and be legendary. Follow your dreams.
Social Links: