This curry lobster recipe is easy to make. Curry is popular in Jamaica. It was introduced to Jamaica by East Indian indentured servants. The Jamaican style curry powder is very different in taste from other curry powders.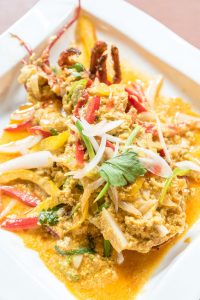 INGREDIENTS :
2 lb fresh lobster meat
Salt and pepper to taste
3 tablespoons Jamaican curry powder (very different for other curry powders)
2 tablespoons butter
1 large tomato
1/3 cup water
1 onion, chopped
2-3 blades escallion
1/2 teaspoon cornflour
2 Scotch Bonnet peppers to taste (optional)
METHOD:
Pour hot boiling water over lobster meat.
Wash with vinegar and water.
Sauté sliced seasonings in oil or butter
Add curry to the mixture
Add the lobster
Cook for 8 minutes.
Add 1/3 cup water
Season with salt & pepper
Thicken with cornflour to make gravy.
Add the scotch bonnet pepper to taste (do not burst)
Cook for 8 minutes.
Serve hot with white rice.