In this installment of Our Stories, entrepreneur Kadeem Petgrave explains how he is using games to educate Jamaica. For many people, Jamaica is pictured as an island paradise – white sandy beaches, a beautiful and vivacious culture, rich and wholesome food, and attractive people. And while that image is not far from the truth, if the lens is focused on the inspirational stories of ordinary Jamaicans, you'd find a sharper, richer and truer image of the Jamaican experience…this is Our Stories!
This is the land of my birth, nuh weh nu betta dan yaad!  But as yaadies, how well do we know our home?  Kadeem Petgrave and friends, Jahmar Clarke and Simier Lansend brainstormed the perfect idea to reintroduce Jamaicans and tourists to Jamdung.
While studying at the University of the West Indies Mona, Petgrave and his friends were party promoters, event planners, you name it; once it had to do with entrepreneurship, they were a part of it. But the young men wanted more than party promotion. They envisioned something more sustainable, something that would empower, inspire and educate Jamaicans.
After bouncing around ideas, the three entrepreneurs finally settled on a winning business idea, Educatours, a tour company that uses gamified methods to teach Jamaicans and visitors about the island.
Petgrave and his co-founders use technology to stimulate the critical thinking and problem-solving skills of their clients as they navigate their way through Jamaica's beautiful historical sites.
Meet Kadeem Petgrave, Co-Founder of Educatours 
1. What is Educatours?
Educatours is an educational tour company that provides gamified experience…to schools and private groups. It is specifically interpreted storytelling because we didn't want to do chalk and talk; we are innovative. We try to gain as much information on all the places that we tour, even if it's for food. Our tour guides now tell stories about each space and place, so we have characters, themes, time, etc. For example, we don't just drop dates; we give a story on the person or event that took place, this way the dates are more than likely to linger in the mind and people get to know Jamaica more that way. From this storytelling, persons are equipped to play the game on the app.
2. How does the app work?
The mobile app is a map set up like a scavenger hunt so it has a list of tasks that you need to do, using it to watch videos and find clues to answers. After finding the answers, you enter it into the app and it scores you and places you on a reader board. You then progress to complete the other challenges. While going through the challenges on the app, people are experiencing the place being toured.
3. Where are some of the places you have been to?
We've toured Port Royal, Roxborough Museum in Manchester, the Taino Heritage Camp in St.Mary, National Heroes Park and Seville Heritage Park in St.Ann. The Seville trip was for some deaf students. We also have a tour to Moore Town in Portland and we are adding the Charles Town Maroons to our itinerary. Our approach is a sustainable approach, so it's in partnership with the school or the community. For example, Educatours and the Maroon workers come together to execute the tour. We brought a book to life, 'Young Warriors.' So, basically, the events that happened in the book, the children on the tour had to reenact it along with the Maroons in character.
4. Talk to us about working with the deaf.
While planning the tour, I learned that deaf persons in Jamaica don't even speak English; it's actually Jamaican Sign Language (JSL). The way we would form riddles and clues, we had to do that differently. We had to simplify and make it more visual, dissecting the sight. Basically, we recreated the entire tour. While our tour guides told the story we had an interpreter giving it back to the students. They were quite normal though just like you and I. they completed the challenges, they laughed and had a great time.
5. What's your cost?
I find the cost affordable…We start at jmd$3000 per student. It covers transportation, prizes, the tour guide, and content.
6. What was your inspiration to start Educatours?
We use to be party promoters, event planners; we were always doing something entrepreneurial, myself and my co-founders, Simier Lansend and Jahmar Clarke. We wanted to go deeper into entrepreneurship, so we started to brainstorm in 2012 about something that was sustainable that our families could be proud of. Jahmar suggested starting a tour company. This was a result of him visiting Washington DC and going on one of the tour buses, which he thought was interesting. He said it would be good because Jamaicans don't know Jamaica well. We were convinced as he was studying law so he was very good at that. We did a research and decided to go with the flow. The idea was Jam City Tour that would be an island tour. We first pitched the idea to our alma mater Jamaica College (J.C.), where we got some mixed feelings. However, one teacher was interested and that's how our first tour was set up, also with the help from a J.C. old boy who loaned us a bus. (Our first) was a tour of the buildings on the Jamaica College campus as well as stories about the J.C. old boys. We also did a tour of the National Heroes Park with the class from J.C.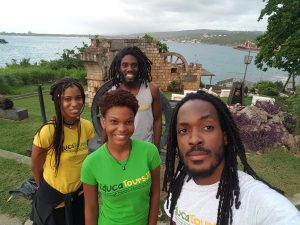 7. Who are your customers?
Our clients come from projects that we are in partnership with. For example, last year we did some work with the Ministry of Education for Math week. We worked with three different schools, one from St.Elizabeth, Hanover, and Kingston.  From our research we found out that the average man and woman wouldn't want to pay for a tour as they thought it was a tourist thing; no matter how cheap it was. So, we decided to focus on students from the primary to secondary level, knowing that there had to be field trips and that they are not yet far along that you've lost them. The basic school level is a little trickery but we'll get there. That's how the name Educatours came about. Also, in 2015 we did a project with the Ms. Kingston and St. Andrew Festival Queen and other schools. Corporate clients include JN Foundation and others.
8. What are some of the feedback that you got?
The feedback has always been great. I think we need to start capturing it on camera and sharing it. Teachers love it, students love it; everybody loves it and they always come back.
9. What are some of the challenges you face?
I would say sales and marketing is a challenge right now. We are looking for a very good salesperson at the moment to sell these twenty tours that we have and by the end of the year or even the middle we should be able to hire an administrative person. Once we get those people on board, we'll be fine.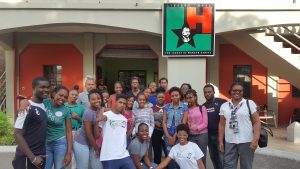 10.Where do you see Educatours in the next five years?
At that point, we should be in the United States and in a few Caribbean islands looking to export our app to other places. So it wouldn't be booking tours in just Jamaica but all over. At that point, self-guided tours will be promoted rather than to have a tour guide. This will allow for people to interact more where ever they go on the tour. Our social mission is about empowering youths and we have 3 ways to do that, through education, inclusion, and employment. The aim is to employ 20,000 youths in the next 3 years.
Learn more about by visiting its Facebook, Instagram and Twitter Pages.
You may also contact the company by phone at (876) 618-2036 /Cell: (876) 547-7989.