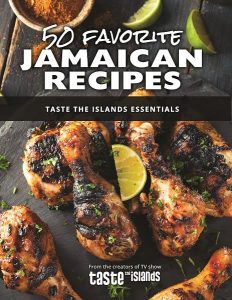 Learn how to cook delicious, authentic Jamaican food with this beautifully simple collection of traditional Jamaican recipes.
The producers of Caribbean cooking show "Taste the Islands" have published their first cookbook and they're offering FREE promotional Kindle downloads to readers of Jamaicans.com for two days this week – Wednesday 9/28 and Thursday 9/29. The book, titled "50 Favorite Jamaican Recipes", is a curated collection of some of the island's most popular traditional dishes made in the most authentic ways, or modified slightly for the convenience of an international readership.
The collection includes beautiful, mouth watering, full-color images of the finished recipes as well as breathtaking images of the Jamaican landscape. From fluffy fried dumplings to tender oxtails, jerk sauce, steamed fish, cornmeal porridge and sauce smothered brown stewed chicken, readers can enjoy these flavor-filled Jamaican foods and so much more.
The recipes have been titled with their Jamaican names rather than the proper English names. So for example, Curried Goat will be titled 'Curry Goat' and Brown Stewed Chicken is titled 'Brown Stew Chicken'. There are interesting notes on backgrounds and flavors, and easy step by step instructions for each recipe. There's a glossary for some of the elements non-Jamaicans may know by other names or may not know at all, and tips on how to handle some of the unique ingredients used in Jamaican cuisine. There are even notes on alternate options for ingredients that may be challenging to find.
Whether you're trying Jamaican cuisine for the first time or you long for the flavors of home, this is the Jamaican cookbook for you. It also makes a great gift for friends and family.
The editors are making it available to Jamaicans.com readers FREE for a two day promotional period – Wednesday 9/28 and Thursday 9/29.