Heineken discontinued the airing of its commercial that used the tagline "Sometimes Lighter Is Better" after some viewers, including Chance the Rapper, described it as being "terribly racist" on Twitter. The commercial, which features a song by the pioneering Jamaican rocksteady group the Tennors, shows a bartender sliding a bottle of Heineken Light beer to a light-skinned woman. As the beer moves towards her, it passes several men and women of color, Upon reaching the woman, the tagline "Sometimes Lighter Is Better" appears on the screen.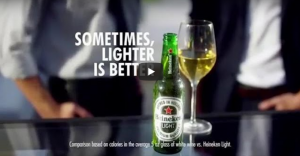 In addition to calling it "terribly racist," Chance the Rapper also questioned whether commercial brands are specifically creating racist ads in order to get attention, tweeting "I think some companies are purposely putting out noticeably racist ads so they can get more views." He said he had noticed that this seems to be happening and accused companies of "baiting consumers."
Heineken removed the commercial from television and online, stating that the company has created diverse marketing that "shows there's more that unites us than divides us." The firm said, through a spokesperson, that it feels the ad references its light beer, but "we missed the mark, are taking the feedback to heart and will use this to influence future campaigns."
The ad featured the song "Another Scorcher" written and recorded by the Tennors and one of the group's biggest hits. George "Clive" Murphy (aka Clive Tennors) and Maurice "Professor" Johnson formed the rocksteady group, which was first called The Tennor Twins, in Kingston in the mid-1960s. In 1967, they added another member and changed the name to The Tennors. The group recorded with Studio One and formed its own Tennors Record label in 1968. Their song "Pressure and Slide" is a classic of Jamaican music. The group remains active, performing in Europe in recent years. Their next European performance is during the Folkestone Skabour, September 14-16, 2018 in Kent, England.
The use of their song "Another Scorcher" in the now-pulled Heineken ad prompted renewed interest in the group and its music, which was reflected by a dramatic rise in the number of visitors to its Facebook page.
We reached out to the Tennors lead singer Clive Murphy for a comment on the situation, and he said. "We are honoured that Heineken used our song in the commercial, it is unfortunate what has happened to lead to it being pulled."