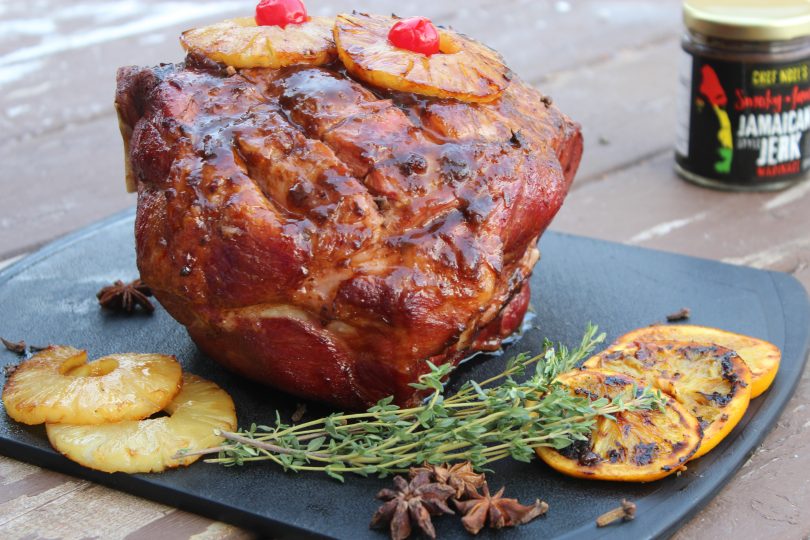 This is definitely a Cunning-Ham!! This ham is baked and glazed with Chef Noel's signature smoky jerk marinade, Coco-Cola and honey for a touch of sweetness. Spice up your Christmas with Noel Cunningham ham recipe, you will fall in love with this sweet and spicy ham glaze.
Ingredients
 6lb smoked ham leg bone in
2 tbsp. Chef Noel's Smoky Jerk marinade
cloves
 GLAZE
¼ cup honey
1 cup Coca-Cola
1tsp brown sugar
2 tsp cornstarch mix in water
1tsp ginger powder
salt to taste
Directions
Preheat the oven 350F
Remove all packaging materials including mesh. On rack in a shallow roasting pan Add 3 cups water to a pan and cover tightly with aluminium foil and steam for 45 minutes. Heat 20 to 25 minutes per pound.
Remove skin and excess fat. Use a sharp knife, cut slits in a cross-check pattern. Make sure to go deep enough that you not only cut the fat but also slice into the meat as well.
Rub with 2 tbsp. Jerk marinade and put to roast for 15 minutes. In a medium saucepan over low heat Add all glaze ingredients, once combine remove ham from oven and coat with some of the glazes. Return from oven and bake for an additional 10 minutes. Garnish and serve.