Jamrock Jerk New York is the first street cart in New York City to be legally permitted with the grills and smokers required for the production of an authentic Jamaican jerk experience. The cart offers the city's residents and visitors the fragrant and smoky flavor of authentic Jamaican jerked cuisine.
The Real Thing
The menu at the Jamrock Jerk New York street cart features the true star of the show: jerk chicken. The chicken is smoky and tender and presents with just the right amount of spiciness. Also on offer are jerk pork, a second masterpiece of island flavor, and for an even more original Jamaican experience, oxtail. All are served with sides of rice and peas, mac 'n' cheese, fried plantains, and fresh, crisp vegetables that complement the main dishes perfectly.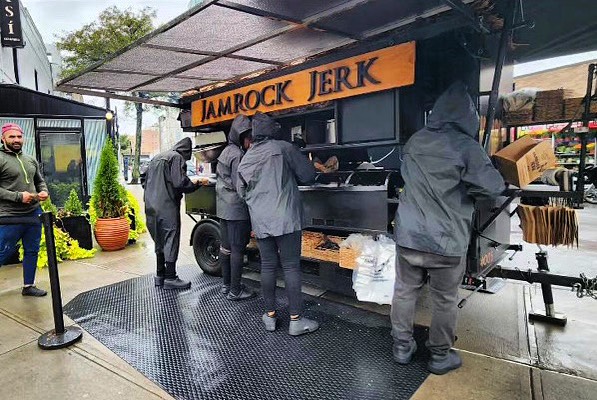 Jamaican Style Attracts Loyal Following
The look of New York's first legitimate street cart is distinctly Jamaican and seems as if a piece of Jamaica has suddenly appeared on the city streets. Smoke billows from the top of the cart, confirming the fact that something very good is cooking there, and the seasonal schedule of Jamrock Jerk only serves to create more excitement around the food. Operating only during the summer, Jamrock Jerk has garnered quite a loyal following that eagerly anticipates its annual return. Customers visit the cart for more than the food. They are also attracted to the entire experience, with celebrities like DJ Khaled sharing their visits to the cart with fans on social media.
The Originators
The founders of Jamrock Jerk New York, husband and wife entrepreneurs Magnus McKellar and Anthyne Blair-McKellar, began their street-cart journey in 2016. Magnus was a serial entrepreneur from the time he was a student at Munro and St.  Elizabeth Technical High Schools in Jamaica. After migrating to the United States in 2013 and working a series of jobs, including special education assistant at the Department of Education and assistant conductor on the Long Island Rail Road, he and his new wife decided to launch Jamrock Jerk. They realized in 2017 that real Jamaican jerk was underrepresented in the city's mobile food industry, especially in Manhattan. By 2018, the couple obtained their own commercial kitchen space and expanded their operations accordingly.
Pride of Place
Since 2016, the couple has worked to develop what Magnus calls "a worthy representation" of Jamaica's cuisine. The success of Jamrock Jerk New York can be traced to a strong commitment to delivering the most iconic Jamaican flavors and a five-star menu to diners on the streets of New York City, the most iconic city in the world.
Photo – Jamrock Jerk's Instagram Page