This month we interview Aston Cooke, one of Jamaica's leading playwrights. Cooke began writing plays when he attended Wolmers High school. He was responsible for writing the first episodes of "Oliver at Large" for Jamaica's King of Comedy Oliver Samuels. He also wrote for the popular radio series "Home Runnings.  Cooke's impressive writing portfolio includes LTM National Pantomime, "River Mumma and the Golden Table" (1987), "Children-Children" (1985), "Jamaica Run-Down" (1995), "Jamaica Pepperpot" (1996), "Front Room" (1984), "Country Duppy" (2000), "Kiss Mi Neck" (2001)' "Single Entry" (2003)and "Jamaica 2 RAHTID" (2005).  Cooke was a member of the playwright team to write the television drama "High Grade" which aired on TVJ, CVM and CTV in Jamaica. Cooke was recently inducted into the Caribbean Hall of Fame for his contribution to Jamaican theatre.  Aston Cooke's latest offering for the Jamaican stage is "Pupalick" an outrageously hilarious yet thought-provoking socio-political musical revue.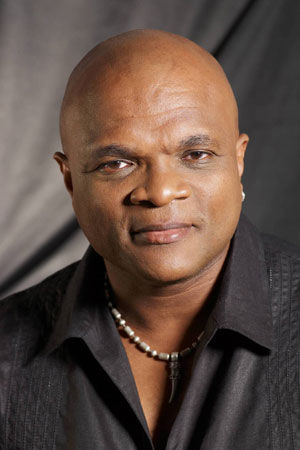 How did you get started writing plays?
I started writing while I was a student at Wolmer's Boys School in Kingston. My Drama Teacher Miss Hope Thomas suggested that I write something for our Inter-house Arts Festival and subsequently for the Schools Drama Festival. My first one act play PICKLE was Wolmer's Schools' entry to the Schools Drama Festival in 1978.
Your plays are authentic and relevant items that are happening in the Jamaica society. From the newest slang to the latest dances. How do you stay current?
I am a good listener and I have my ear to the ground literally.
Have you written any movie scripts?
Two years ago I collaborated with Sabrena McDonald on a Television drama called HIGH GRADE which was commissioned by UNESCO. That is the closest I have been to a movie script.
What is the favorite play you have written?
My favourite play…hmmm. It has to be a tie between the JAMAICA 2 RAHTID series and the drama CONCUBINE where Dahlia Harris won the Best Actress award for her portrayal of the woman scorned.
Many of the populate plays out of Jamaica now go to Florida, Atlanta and other overseas venues. Do you for see a future where plays are written with issues relevant to the Jamaican Diaspora?
I have written plays which dealt with the issues of Jamaicans living abroad for example SINGLE ENTRY looks at the ingenious strategies two Jamaican women engage in to get a visa to go to the US in search of a better life.
Do you have a master piece that you are either working on or scaled it back to a smaller play?
All projects get the same level of attention from me, full length script of a skit.
What do you do when you are not on the job writing a new play?
I am also a lecturer at the University of the West Indies in Entertainment Management.
Tell us about your latest play "Pupalick" in the Jamaica 2 Rahtid series?
PUPALICK is exactly what it says, it's "wheel and come again" of the original satirical revue Jamaica 2 RAHTID. It is a collection of some riotous sketches and songs covering a wide range of topical, social, cultural and political issues in Jamaica. In "Pupalick" I write about all the hot button issues such as the Cuban bulb scandal, Cash Plus, Jamaican talk shows, dual citizenship in parliament, elections, the political parties and their colourful leaders Bruce and Portia,
What is your proudest moment in the entertainment industry?
I am extremely proud to be part of the Jamaica Youth Theatre, a group of budding thespians coming out of the Schools Drama Festival. I live that moment each time I see the group perform.
Also last year I was inducted into the Caribbean Hall of Fame by the Caribbean Development for the Arts, Sports and Culture Foundation for contribution to theatre in Jamaica and the wider Caribbean Community.
If you were not a playwright what would you be doing?
I would be a bum. Well I like the classroom so I would be teaching.
What influence your play writing?
My influence comes from the rich Jamaican culture and the ability of Jamaicans to express themselves. We are born story tellers. Everything for us is a story. Check us out at bus stops, in the buses, in the trains. We always telling stories.
What would you say is your style of writing?
My style would have to be Folk comedies.
Have you written any books? Do you plan to in the future?
No books to date. I have been approached to publish a collection of plays for high schools. I am still working on that.
Can you tell us about your next project?
The next project (or current one while PUPALICK plays) is a radio drama I am doing. It looks at the issues surrounding the Jamaican returning residents.
Thanks for your interview. Any final words?
Thank you. See you at the theatre.