Jamaican-born Dr Robert Clarke received the Order of Distinction, Officer Class, from Jamaica's government in honor of his compassionate caregiving and outstanding humanitarian work.
Growing Up in Trench Town
Dr Clarke was born in Trench Town, Jamaica, but he always had the sense of purpose that led him from the streets of Kingston to his tireless advocacy for the needy in the United States. He first wanted a career as a pilot, a dream fueled by his six-year-old fascination with planes. However, a life-changing event in his childhood caused him to change his goals.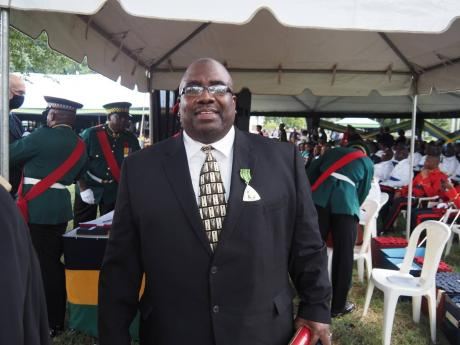 A Doctor Changed His Life
Dr Clarke broke his hand when he was ten years old, and he was taken to the Bustamante Children's Hospital in Kingston. He met a doctor there whose dedication and care impressed him so much that he decided to become a doctor instead of a pilot. He traveled to the United States in order to achieve his dream of pursuing medicine. He attended Seton Hall University and majored in mathematics. While it may seem an unconventional path to medicine, his studies in mathematics strengthened his determination to become a doctor. After his graduation from Seton Hall University, he was accepted into medical school, where he experienced challenges and achievements. He even faced tragedy when, just a few weeks before graduating from medical school, his mother died of cancer, but he continued with his studies and earned his medical degree. He completed his residency in internal Medicine at New Jersey's University of Medicine and Dentistry in 2003 and opened his own medical practice in 2004, specializing in treatment for opiate addiction.
A Passion For Serving Those In Need
In addition to his medical practice, Dr Clarke served as a clinical instructor in medicine at New Jersey Medical School, sharing his knowledge with the students, interns, and nurse practitioners who came through his office. Ultimately, his passion for helping those most in need prompted him to co-found the Help Jamaica Medical Mission. Through the Mission, Dr Clarke has helped over 40,000 patients in over 50 communities to obtain healthcare at no charge. His commitment to humanitarian work illustrates his belief in giving back, and he has personally brought Jamaicans to the US to receive life-saving treatment.
He has held important positions at several healthcare institutions, including his role as medical director of East Orange Medical Practice, serving as medical director for Complete Care at Orange Park and medical director for Silver Lake Hospital in Newark, New Jersey. Dr Clarke has also served as the chief medical advisor for the Northeast Diaspora. Top Doctors of New Jersey honored Dr Clarke for his dedication to working among the state's senior population, and his commitment to healthcare and community was recognized by the New York State Assembly as well.
Received Numerous Awards
Dr Clarke has received awards and honors for his outstanding service to the community during his career. These include a Congressional Award for outstanding and invaluable service to the community. His influence goes beyond the healthcare sphere as well, and he has held leadership positions in organizations like NAJASO, the largest Diaspora organization in the US.
Honored by Jamaica
Dr Clarke's recognition by Jamaica with the presentation of the Order of Distinction, Officer Class, is a testament to his belief that it is giving to others that makes life worthwhile. His dedication to making lives better for the most needy and to making the world a better place has had a beneficial impact on many people and will continue to do so through his legacy of healing. His life is an inspiration to future generations.
Photo – Dr. Trevor Clarke, Clive Lewis on Facebook