Jamaican Callaloo & Saltfish makes a great topping for pizza. This healthy homemade pizza will be a hit with vegans (minus the saltfish). If you are willing to try something different, try our Callaloo & Saltfish Pizza.
INGREDIENTS:
1 (12 inch) pre-baked pizza crust
1 cup seasoned tomato sauce
½  cup sliced onion
2 cups shredded mozzarella cheese
1 ½ cups cooked callaloo & saltfish (see recipe) – Vegans can cook this without saltfish
olive oil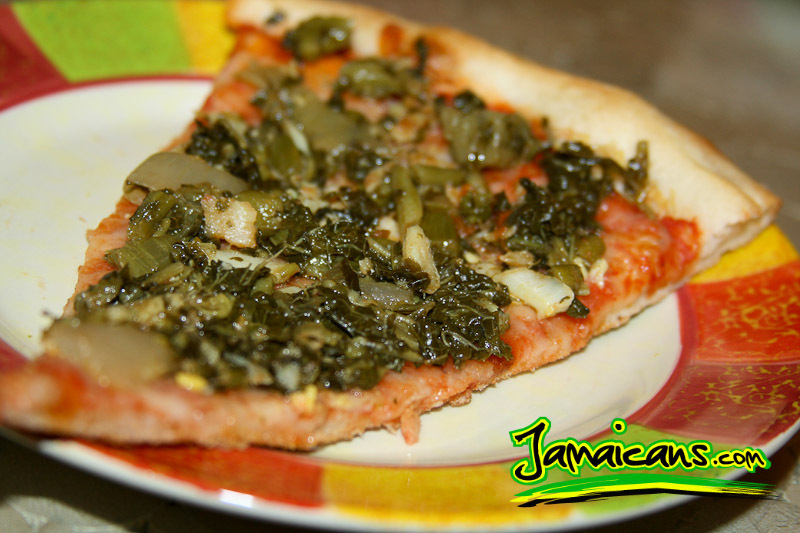 METHOD:
Preheat the oven to 350°F (180°C)
Place the pizza crust on a large non-stick cookie tray or pizza pan.
Brush the crust evenly with olive oil.
Spread tomato sauce over it with the back of a spoon or spatula.
Sprinkle cheese and onions evenly over the sauce.
Bake for 8 minutes  (do not let the cheese fully melt)
Remove and add the callaloo and saltfish (vegans minus the saltfish)
Bake for another 5 minutes.
Let cool for 2 to 3 minutes before cutting.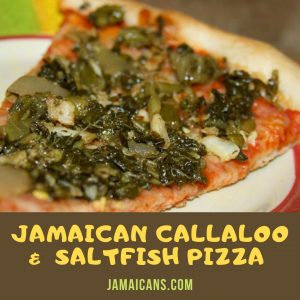 Photo: X Murphy