On July 27th, 2017, the designated Diaspora Day of Service across Jamaica, the Treasure Beach community welcomed attendees of the 7th Biennial Jamaica Diaspora Conference for an entire weekend of service and fun. Volunteers – conference attendees, their friends from overseas, Jamaicans from other communities and local residents – worked together to improve the Pedro Plains Infant School facilities. This service project supported an ongoing Do Good Jamaica/Crayons Count pilot project in the community to help improve the quality of early childhood education and assist schools in their quest to achieve standards for certification by the Early Childhood Commission (ECC).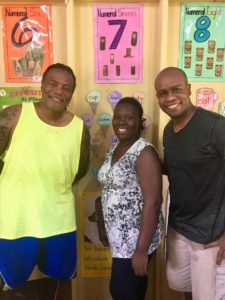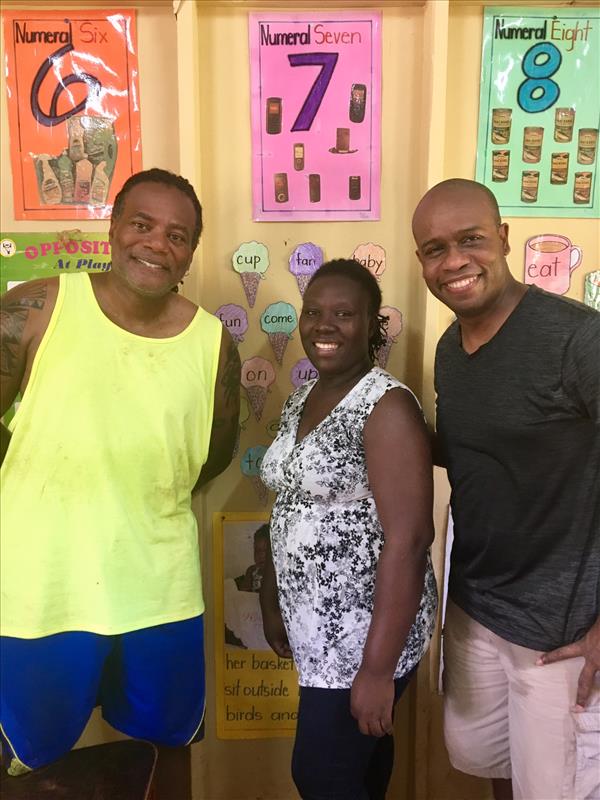 Powered by irie + ital, this Diaspora Day of Service project included the collaboration of Do Good Jamaica, Breds Treasure Beach Foundation Jakes Hotel and painting supplies generously donated from National Supply. As a combination of fun and service, the experience was designed to engage diaspora visitors, their overseas friends and local Jamaicans with the community in a meaningful way. The Diaspora Day of Service was part of a weekend getaway that allowed participants to spend a few days enjoying the beautiful South Coast of Jamaica – sun, sea, sand and much more.
"The weekend of service and fun was a fitting way to end an inspiring week of Jamaican diaspora activities. We shared ideas, connected with each other from around the world, and invested in the local economy. This service project highlighted the importance of early childhood education and community tourism", stated Marlon Hill, former Jamaican Diaspora Advisory Board Member for the Southern United States and Miami attorney.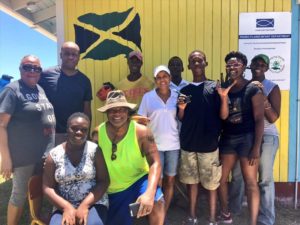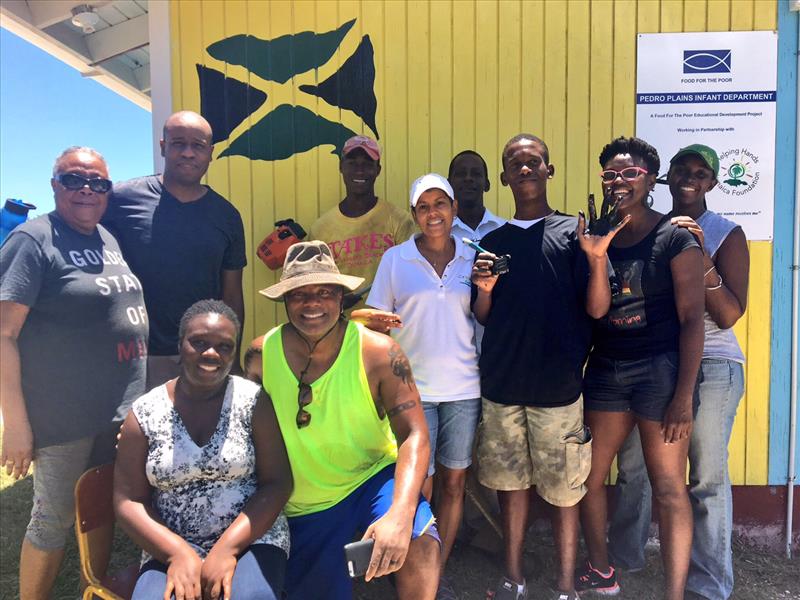 Led by local Treasure Beach mural artist, Top Hill Pastor Dennis Bennett, volunteers helped to paint an educational mural to promote literacy, numeracy and national pride, featuring national symbols and heroes.
"The school asked for this mural. They had a new beautiful building that did not yet have educational artwork typical of early childhood institutions across Jamaica. As the building was made possible by Diaspora members, it was a perfect fit for the artwork to be done by Diaspora members – deepening those cross-border networks and partnerships.", explained Deika Morrison, co-founder of Do Good Jamaica and irie + ital. Last June, Pedro Plains Basic School received a new building – to facilitate much needed classroom space – made possible by Helping Hands Jamaica Foundation, Donovan Bailey Foundation, Breds Treasure Beach Foundation and Food For The Poor (US, Canada and Jamaica).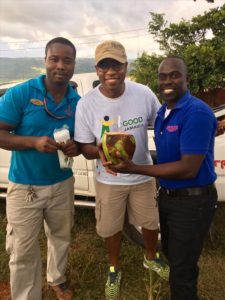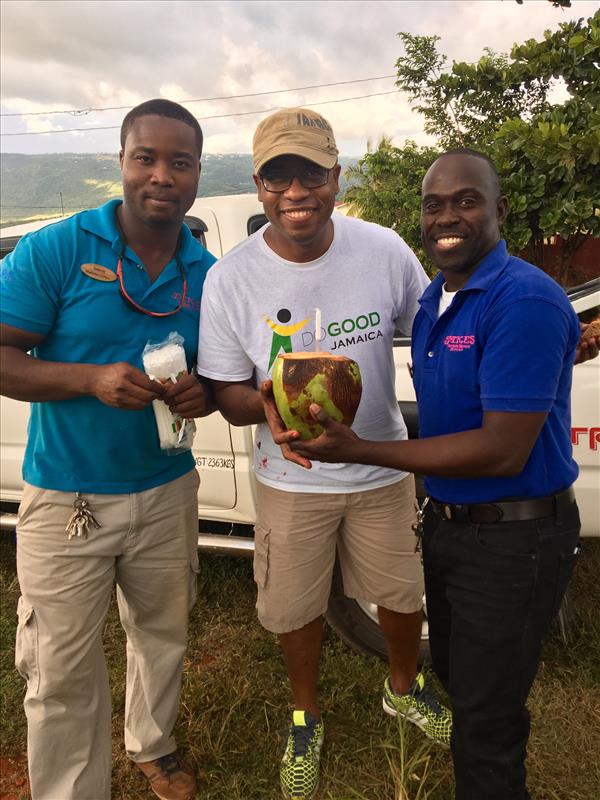 While Hill and his family and friends hailed from the US and Trinidad, the UK was represented by Nathaniel Peat, Chairman of Jamaicans Inspired UK and organization members. "Assisting the Do Good Jamaica project for the children was so important to us at Jamaicans Inspired UK, as we are driven to help and empower young people in supporting Jamaica to rise. We had an amazing time working with our diaspora partners." shared Peat who did not let three blown out tires en-route from Kingston stop the group, including Zeena Banks, winner for the Song For Jamaica competition, from participating.
The mural also benefitted from other professionals, namely Treasure Beach's very own Sally Henzell and Staysean Daley of Kraas Images. Dave Smith, a 15 year old Newell High School student and up and coming artist, gave a much needed helping hand.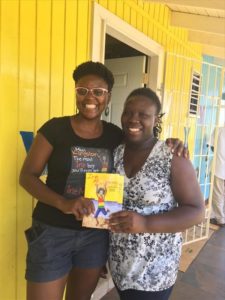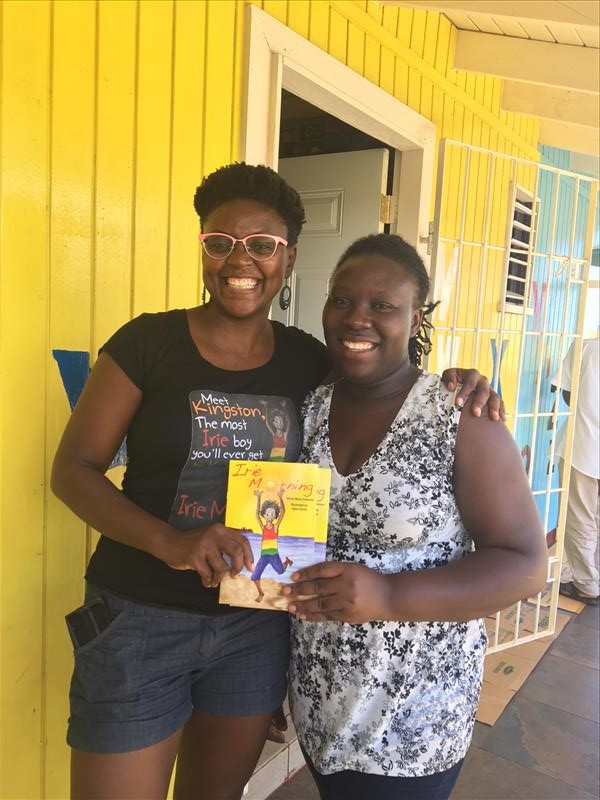 Member of Parliament for South West St. Elizabeth, which includes Treasure Beach, and Minister of State for Education, Information and Youth, Floyd Green came by to paint with the group. "I think the day of service is an excellent idea which adds tremendous value to the diaspora conference by allowing members to truly tap into the heart and soul of their country through projects. Truly honoured that this project focused on rural Jamaica and Early Childhood Education. The children will be forever grateful that team was willing to give if their time and energy to beautify their space but more importantly to reaffirm their commitment to working with all stakeholders to enhance early childhood education. The people of St. Bess say thanks." said Green.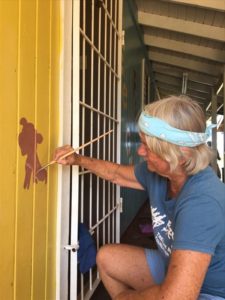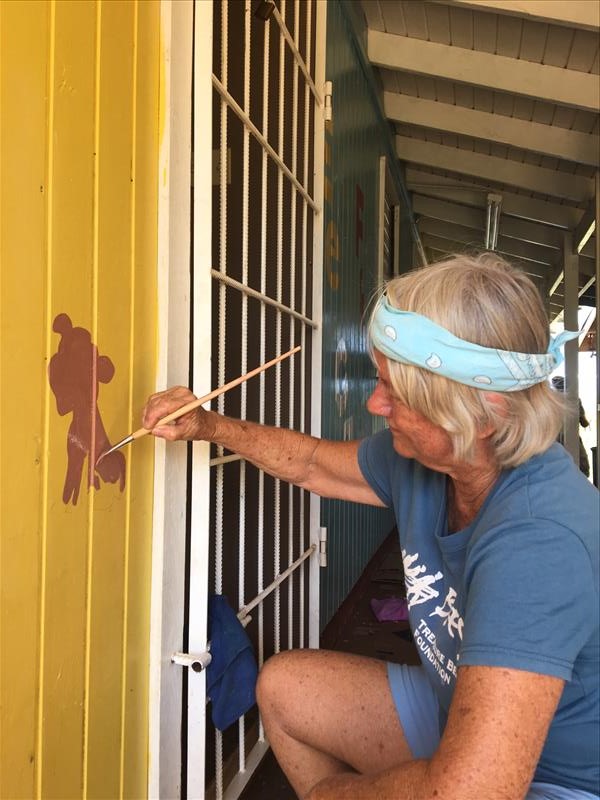 Volunteers also helped to beautify the school grounds and made donations of books and school administration supplies. Tanya Batson Savage, publishers of Blue Banyan Books, came in from Kingston to paint and brought books with her. "I've been going to Treasure Beach for over a decade, mostly for Calabash [International Literary Festival] but at other times as well. I've found it a beautiful little space, and going there for Calabash means that I have many wonderful experiences wrapped up in Treasure Beach. So when I saw the flyer I thought it was an excellent opportunity to give back to a place I'd reaped so much creative energy from", shared Batson-Savage. "We talk a lot about the country's development needs, but enough of us aren't willing to put our sweat where our mouth is."
Our volunteers certainly did sweat and much more. While helping out, community member Christopher Ennevor saw a need for locks to secure the school so went home and brought some new ones he had just bought for his own home. Justine Henzell drove in from Kingston and before she could get started saw a need for a toilet seat cover, jumped in her car, went to the hardware store, bought one and installed it herself. "We love this!" said an excited Morrison. "This is what the Crayons Count model is all about – every single person can do something in some way. We didn't even ask. They just saw and did. One one cocoa full basket, indeed!"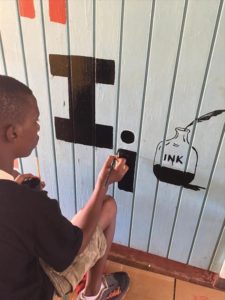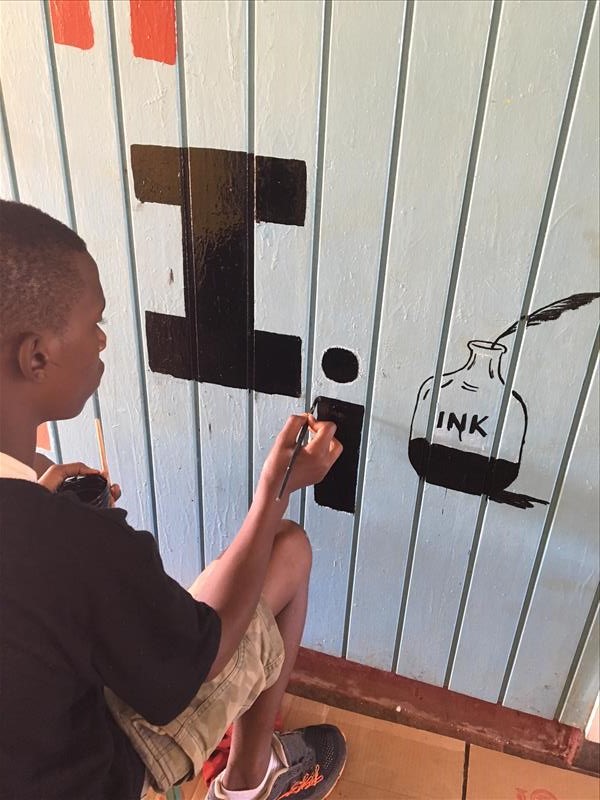 Upon deciding he was coming for this trip, volunteer James Weldon, a Miami firefighter with no ties to Jamaica other than Jamaican friends, reached out to his colleagues and arranged for fire extinguishers to be donated to Jamaican schools. "We were proud and honored to participate in the weekend of fun and service. Most importantly, we are overjoyed to be able to help Jamaican schools with the incoming contribution of 102 fire extinguishers from AB Fire in South Florida to assist with the certification of Jamaican basic schools. Big thanks to Food for The Poor for helping to ship the donation," stated Weldon.
Donations like fire extinguishers fill a unique need and are required for fire safety and ECC certification. "This is really an amazing story", stated Morrison. She continue, "James is a non-Jamaican friend of  Marlon's who asked what we needed. We asked for 26 extinguishers (2 for each school in our pilot area) and said we help all schools islandwide so whatever he can arrange will find homes. We were thrilled to hear 35. But when our partner, Food For The Poor, went to collect them for us there were 102 extinguishers. 102! That means 50 schools will benefit in Treasure Beach and beyond. These are the partnerships we are talking about – between the Diaspora and between Jamaica, the Diaspora and their non-Jamaican friends."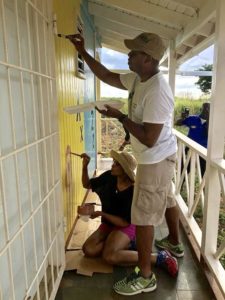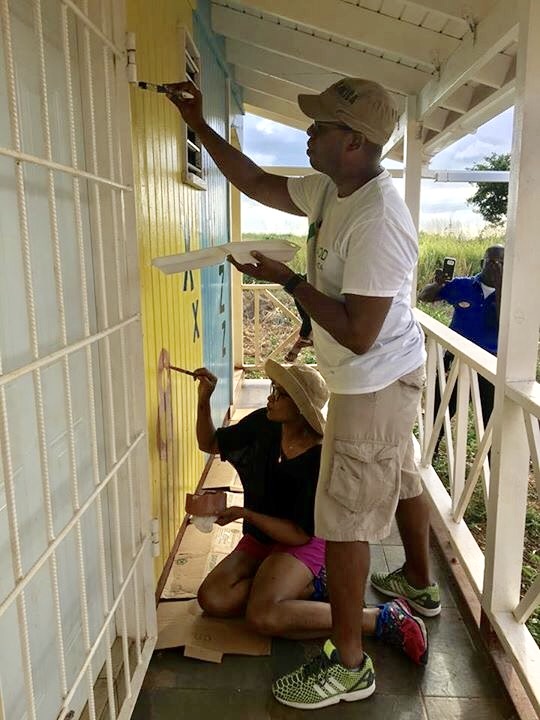 On hand for both afternoon and morning were Ms. Denise Smith, the teachers for the three year olds and Ms. Kenisha Daye, the teacher for the five year olds. The teachers were visibly excited and expressed their gratitude to the volunteers. "This will help to transform our children's lives along with the teachers in a big way. Each day we attend school we will always remember your kindness. Our national heroes and emblems will remind us of working hard and the hard work of the team and that will put a smile on our faces every day." shared Ms. Smith. "We the staff of the Pedro Plains Basic School would like to say a big thank you to the persons who came out to make our school environment more beautiful and conducive to the teaching and learning process. We are very appreciative of the interest shown by persons from here and abroad and words are inadequate to express just how grateful we are. Again, I want to say thank you and look forward to your continued support as we continue to prepare our little ones to become positive citizens for a better tomorrow" said Ms. Daye.
After the service which was itself fun – with plenty of vibes with music, fresh coconut water, delicious St. Elizabeth watermelon and more – the vacation time allowed for even deeper bonds to be made with the community in the few days that our visitors had to experience its unique charm. Jakes Hotel, on site for the service project with staff, resources such as the gardening tools, refreshments and more, was a welcome home to our visiting volunteers. In the days that followed, visitors rested rejuvenated and had fun at the one and only Pelican Bar, Breds Sports Park, in the community and with wellness and entertainment options offered by Jakes and Jack Sprat. "Everybody says they are coming back again to Treasure Beach for more service and more fun. That's what we love to hear" said Morrison.
"Our Jamaican diaspora is an important extension of the Jamaican family and critical to our national development. This Weekend of Fun and Service project was a testament to what we can accomplish together when we organize around common values of philanthropy, service, and community building," noted Hill.
About Irie and Ital
Irie and Ital, an initiative of Carleene Samuels, Deika Morrison and Justine Henzell, creates conscious lifestyle events and projects in Jamaica that support social causes and contribute to the growing movement towards mindful living and culture. Visit irieandital.com.
About Do Good Jamaica
A non-governmental organization that supports individuals and organizations doing good deeds in Jamaica. With a special interest in children and education, Do Good Jamaica's project Crayons Count is a campaign to support early childhood education and development. Since 2011, Crayons Count has supported every early childhood institution in Jamaica – registered with the Early Childhood Commission – with recommended learning tools, teacher workshops and more. For information about the special Crayons Count pilot project, visit dogoodjamaica.org/crayonscount/treasurebeach.
About Breds Treasure Beach Foundation
A wholly volunteer-based charitable organization run by members of the community, for the benefit of the community in Treasure Beach, a small, rural enclave on Jamaica's undeveloped South Coast where fishing and farming are still common ways of life. Breds works in partnership to effect social change, especially for youth, via education, sports and environmental conservation. Visit breds.org
About Jakes Hotel
Nestled in the picturesque fishing village of Treasure Beach on Jamaica's south coast, Jakes is a bohemian resort with an earthy, relaxed style. A fantastical, magical realist feast of eclectic structures, with rooms, cottages and villas beside the Caribbean Sea. Visit jakeshotel.com
For more information about the Diaspora day of service project and weekend getaway in Treasure Beach, contact Deika Morrison or Marlon Hill via [email protected]