You have seen the Jamaican fans at the stadium at the 2015 IAAF World Championships in Beijing, China. They have been cheering on Team Jamaica as they dominate the sprint events. What is the vibes like there? We ask Dr. Nicoleen Johnson a Jamaican, who lives in China and is attending the World Championships.
How are the vibes in Beijing?
The vibes is nice here in Beijing. It's like Deja vu of 2008 Olympics.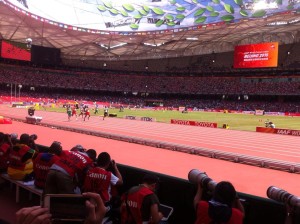 How are the Chinese hosts treating Jamaicans?
The Chinese are totally in love with all things Jamaican because of the outstanding performance of our athletes especially,Usain and Shelly-Ann. At the end of the night after the 100m men's final the security ushered all the other participants out the stadium. The Jamaicans in the stadium were allowed to hang around and take photos as long as we wanted. On the streets, people see us in our colors and they literally run to take photos with us or ask for autographs.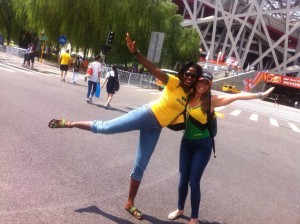 Do you have a memorable moment with Chinese fans?
Today at the Great Wall of China, we met one fellow who was so ecstatic to actually meet Jamaicans in person, he literally jumped with excitement. We made his year! Ha ha ha! He was beside himself with excitement…we are really receiving a lot of love here. I am very very proud to be Jamaican.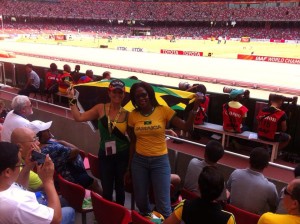 The stadium seemed to be buzzing Bolt won the 100m. People seem to be dancing. What was happening?
After Bolt's race, they played Bob Marley's "One Love" in the stadium. It was great to hear the chanting across the Bird's nest. Even participants from other countries can't help but cheer for Jamaica.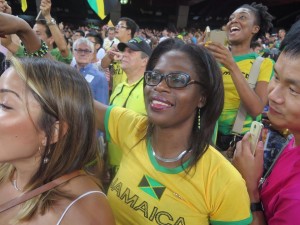 Are there any special events the will promote Jamaica taking place this week?
The Jamaica House will open tomorrow night. So everyday for the rest of the week until the end of the games on Sunday, Aug 30, from 6pm until very late, Jamaica Tourist Board will be promoting Jamaica, providing food and refreshments, a big screen to watch the games, and an after completion celebration Party for all Jamaicans and friends. We look forward to that.
Note: Jamaica House will be at NUO Hotel, located at 2A Jiangtai Road, Chaoyang District, Beijing.
Thanks for taking the time to talk to us.
Cheers.