Despite encountering an unforeseen injury, Jaydon Hibbert, the rising star in Jamaican triple jump, secured his place in history as the first Jamaican men's triple jumper to reach the World Championships final in 28 years at the Budapest 2023 World Athletics Championships in Hungary.
Soaring to New Heights
The 18-year-old prodigy, Jaydon Hibbert, made history by securing a spot in the coveted men's triple jump final. His leap of 17.70 meters during the qualifying rounds not only showcased his exceptional skill but also outperformed the seasoned world and Olympic medalist Zhu Yamin. Hibbert's skill and dedication were evident, impressing observers with his abilities.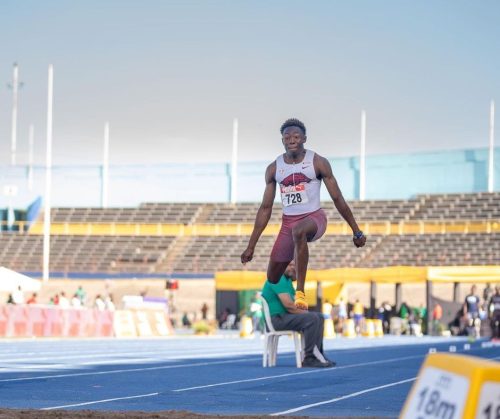 An Unexpected Obstacle
However, despite his exceptional accomplishments and dedication, he faced with an unexpected set-back. During the crucial stages of the competition, Hibbert experienced tightness in his right leg, forcing him to halt his jump and reevaluate his participation in the event.
Resilience in the Face of Adversity
In consultation with his coach, Travis Geopfert, Hibbert made a difficult decision. Applying gel to alleviate the discomfort, he opted not to continue with his subsequent attempts. While the injury may have disrupted his immediate plans, his future remains promising. His determination, resilience, and ability to overcome challenges mirror the qualities that have propelled him to this point.
A Vision of Excellence
Inspired by the legendary Jamaican sprinter Usain Bolt, he aims to become the "Usain of jumping."  This daring goal is however justified by his rapid rise within the sport. Holding the world under-20 and NCAA records in triple jump, Hibbert's dedication and ambition have propelled him to the forefront of international athletics.
Empowering the Next Generation
Beyond his athletic achievements, Hibbert's impact resonates with aspiring athletes. Growing up in the Arnett Gardens neighborhood, he defies stereotypes and strives to inspire the youth of Jamaica. By breaking records and pursuing excellence, Hibbert is a symbol of what determination and hard work can achieve. His achievements serve as a testament to the potential of young athletes, motivating them to pursue their dreams relentlessly and break through barriers. His commitment to excellence and his ability to overcome setbacks exemplify the essence of sportsmanship. Hibbert's story resonates with anyone who has faced setbacks, reminding us all that setbacks are merely stepping stones on the path to ultimate success.
Photo – Official Instagram Page for Jaydon Hibbert