Do you like Tacos? Do you like Jerk Chicken? Do you like mangoes?  We have the perfect recipe for you that fuses the Mexican Taco with Jamaican Jerk chicken and mangoes. This week's featured recipe is Jerk Chicken Tacos with Mango Salsa.
INGREDIENTS :
4 skinless, boneless chicken breast halves
4  tablespoons Jerk Seasoning/Sauce/Paste (We recommend Jamaican brands Jerk Seasoning, Sauces/paste – Walkerwood, Jamaica Country Style etc)
3 shredded cups cheddar cheese,
12 taco shells
1 cup diced mango
1 small red bell peppers (diced)
1 small red onion diced red onion (diced)
1 jalapeno pepper (de-seeded and  minced)
3 tablespoons fresh cilantro leaves (chopped)
1 tablespoon lime juice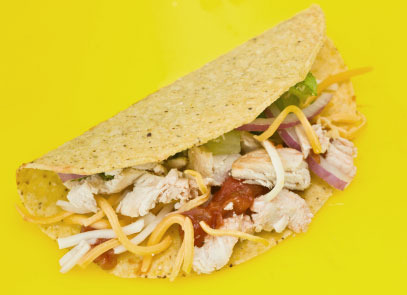 Buy the cookbook "Simple Jamaican Cooking".
METHOD:
Rub each breast half with jerk sauce/paste, and place in a shallow dish.
Cover, and refrigerate at least 1 hour.
Cook chicken on a low fire on the barbeque grill.
Mango Salsa Sauce: Combine mango, red bell peppers, onion, jalapeno pepper, cilantro leaves and lime juice. Put in the refrigerator and chill.
Warm up the shells.
Once the chicken is cooked dice them into thin slices
Layer the 12 tacos in this order: cheese, Jerk chicken (Optional: Add more Jerk Sauce), Mango Salsa.
Optional: Garnish with shredded lettuce
Serving size 6-8