A new park in the Toronto subdivision of Scarborough has been named in honor of Jamaican-Canadian broadcaster and publisher, Brandeis Denham Jolly. The park was dedicated at a ceremony on November 4, 2023. Upon receiving the honor, Jolly said it was "more than an honor" to see his name on the new greenspace in the neighborhood of Ellesmere and Kennedy roads in Scarborough. He went on to say that he was grateful to be recognized in this way, adding that most people are forgotten after their death, but his name will continue to live long following his passing.
A Street in His Name
Toronto previously honored Jolly, the broadcaster and publisher of the weekly newspaper, Contrast, by naming a street "Jolly Way." According to Scarborough Center Councilor Michael Thompson, people on Jolly Way who were asked to select a name for the new park wanted to name it after the "same great Torontonian." Thompson added that he could not imagine a "jollier way" to ensure that that street and park reflect the strong, diverse community connection. Park neighbors also aided in the selection of amenities at the park site, including a playground, outdoor fitness equipment, picnic tables with umbrellas, and bottle-filling stations.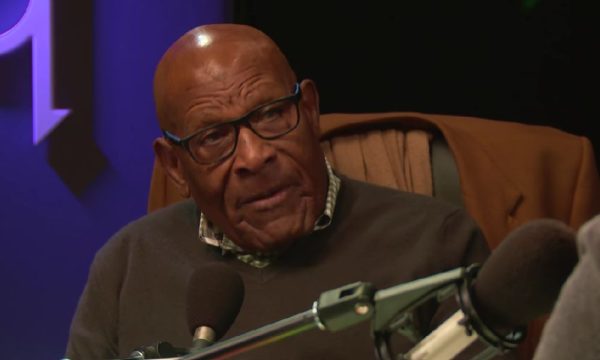 Jolly's Early Life and Career
Brandeis Denham Jolly was born in 1935 in Green Island, Jamaica. He attended Cornwall College and pursued studies at the University of Guelph, Dalhousie University in Nova Scotia, and McGill University in Montreal where he received a degree in science in 1960. After his graduation, he returned to Jamaica and worked for the government at Nutrition Research. He emigrated to Canada in 1962 and worked in Air Pollution Research in Toronto. He taught chemistry and physics at Forest Hill Collegiate in Toronto after getting a teaching certificate.  His business career started when he purchased a rooming house on the campus of the University of Toronto. In 1968, he launched the Donsview Nursing Home in the city and then built a Day's Inn Hotel in Ontario. He owned and operated the 210-bed nursing and retirement home, the Tyndall Nursing Home and Estates for more than 40 years.
His Publishing and Broadcasting Career
In 1982, he bought and published Contrast, the community newspaper and also founded and headed the Black Business and Professional Association and the Harry Jerome Awards. He was active in civil rights and spoke on social justice matters when a member of the Black Action Defense Committee. He was also a founding member of the Committee for Due Process. He started the first Black-owned radio station in Canada, FLOW 93.5 CFXJ-FM via Milestone Communications, although he had to fight for a license for some 12 years. After his licensing struggle was featured in major media outlets, he finally received his broadcasting license in 2000 with the support of the Toronto Star and the Toronto Sun.
FLOW 93.3
Jolly's radio station first broadcast in February 2001 and was the first mainstream radio station to bring hip-hop to Canada, the first to play the music of Drake, and to play and promote Black musicians in the country. Many top artists, including Janet Jackson, Lady Gaga, Jay-Z, Kanye West, Damian Marley, Rihanna, and Drake have been interviewed on FLOW, and Sir Richard Branson visited the station to launch his Virgin Mobile communications. FLOW won the Station of the Year Award in the category of Contemporary Hit Radio at the 2005 Canadian Music Week Industry Awards.
Jolly as Philanthropist
His philanthropic work includes a $50,000 donation in 2008 to endow the Jean Augustine Chair in Education at York University, his 2010 funding of volunteers to ship walking aids from his nursing home to Haiti after the earthquake, paying off the mortgage of the Jamaican Canadian Association Center with a donation of $312,000 in 2019, reinstituting a breakfast program at Cornwall College for 60 students a day, and continued sponsorship of Industry Cove Basic School in Hanover, Jamaica, and sponsoring local and Canadian athletes, among many other supportive actions. He serves on the boards of the YMCA, Surrey Place, and the Toronto International Film Festival. He has been recognized with awards including the Black Media Pioneer Award, the African Canadian Lifetime Achievement Award, the Canadian Urban Institute City Soul Award, and the Black History Award from the Markham African Caribbean Association.
Photo – YouTube