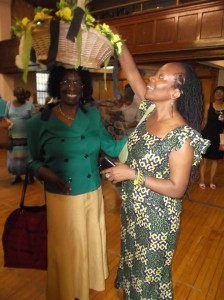 The Thanksgiving service in recognition of Jamaica's 53rd year of independence was celebrated at St. Frances of Rome Catholic Church, on August 2nd,  officiated by Rev Cannon Calvin McIntyre from the Church of the Good Shepherd – who did not disappoint with a barrage of jokes to tickle the mainly Jamaican crowd, while the Rev Dr. Sam Vassel Pastor at the Church of the Nazarene giving the sermon.  Rev Vassel gave the congregants food for thought directing them on when and where to do the right thing; pointing out at length that the right thing is not always that followed by the majority; not to be swayed by false prophets and also to listen to the words and voice of God.  The hidden message was clear to those who had ears to hear.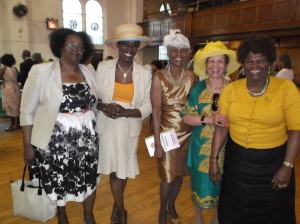 St. Frances of Rome is a beautiful edifice situated at 236th and Barnes Avenue in the Bronx, but as I sat in the sanctuary, I couldn't help reflect on previous Independence Thanksgiving Services and the fact that there seemed to be something missing from this present one.  The musical presentations helmed by the maestro Lloyd Chung with his Independence Choir gave a spirited rendition of Peter Tosh's 'Jah is my Keeper', but there seemed to be an air of suppression.  There was definitely a lack of the natural mystic.
Prayers for the country and the Diaspora were offered up from Dr. Roy Streete and Ms. Sabrina Hosang-Jordan, recently returned from a trip celebrating her first wedding anniversary.  Michelle Rodney, Dean of Monroe College in the Bronx and daughter of Karl and Faye Rodney and Winston Codner, Clarendon College Alumni Association read the Scriptures.  Assemblyman Nick Perry was in attendance and Congresswoman Ruth Hassell Thompson sent a representative.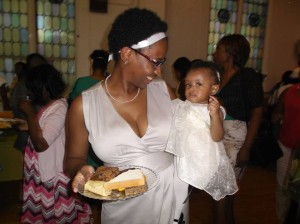 A definite highlight came as a member of the public arrived late and as ushered to her seat.  Low and behold the lady created quite a stir as she walked into the sanctuary with what appeared to be a basket of fruit on her head – people actually got up out of their seats, craning their necks and applauded her inventive headwear.  I was lucky to get a picture of Ms. Cynthia Neita, who should definitely get a ticket to the upcoming Independence Ball for her eye-catching outfit.