The rural parish of St. Thomas in Jamaica is experiencing a transformative wave of real estate development, marking its evolution from a tranquil countryside to an urbanized hub. Leading this transformation is the multibillion-dollar Sun Coast Beach Club, a resort-style gated community set to redefine the eastern parish's identity.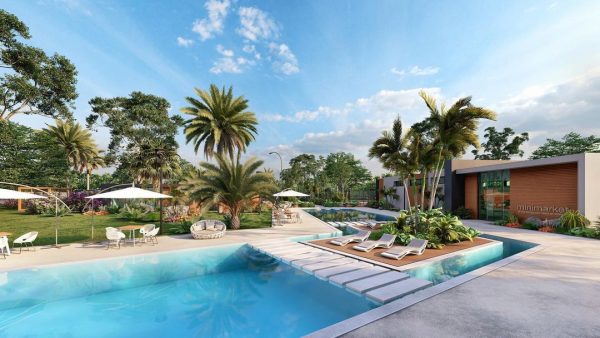 Sun Coast Beach Club
Spanning 90 acres of pristine beachfront property in Twelve Miles, Bull Bay, the Sun Coast Beach Club is a sprawling project that offers a diverse range of residential options, including townhouses, villas, duplexes, and luxury condominiums. This ambitious venture is the brainchild of TCF Holding Limited, with Kevin Frith serving as its Chief Executive Officer (CEO).
The Road to Development: Southern Coastal Highway Improvement Project (SCHIP)
In a recent interview with the Jamaica Information Service (JIS), Frith said the government-funded Southern Coastal Highway Improvement Project (SCHIP) is the driving force behind this massive development in St. Thomas. He emphasizes the strategic location of the project on both sides of the Harbour View to Yallahs bridge portion of the SCHIP, ensuring seamless connectivity. An underpass running directly beneath the highway links both sections of the property, facilitating accessibility and integration with the larger infrastructure plan.
St. Thomas: The Emerging Frontier
Kevin Frith perceives St. Thomas as the next emerging destination, describing it as an "untapped community." Recognizing the impending highway development, TCF Holding Limited secured the property approximately two and a half years ago, setting the stage for the creation of the Sun Coast Beach Club.
A Vision Realized in Three Phases
The Sun Coast Beach Club will be developed in three phases, with a total of 396 residential units. Phase one, comprising 133 units, is currently in progress and is expected to be completed by December 2024. The overwhelming response from potential buyers is a testament to the allure of this project.
Beyond Housing: A Wealth of Amenities
Aside from its residential offerings, the Sun Coast Beach Club boasts an impressive array of amenities. Residents and investors like renowned entertainer Gramps Morgan can look forward to a host of recreational options, including a mini golf course, swimming pool, tennis court, badminton court, basketball court, football field, jogging trail, and various water sports activities.
For those with a taste for adventure, the Beach Club offers areas for jet ski and yacht docking, camping grounds, a barbecue area, a farmers' market, an event hall, a homeowner's office, and free community Wi-Fi. Kevin Frith emphasizes the desire to create a resort-like atmosphere for homeowners, where they can experience a vacation-like ambiance each time they return home.
Incorporating the pristine beachfront into the development completes the vision, providing residents with access to a stunning natural asset. The transformation of the former Sun Coast Adventure Park into a thriving housing community demonstrates the potential of St. Thomas as a burgeoning urban paradise.
As St. Thomas continues to urbanize through projects like the Sun Coast Beach Club, it solidifies its position as a prime destination for both residents and investors seeking a blend of tranquility and modern amenities in the heart of Jamaica's new frontier for development.
Photo – Sun Coast Beach Club Instagram Page