DOWN TO THE wire, the slew of last performances of the anticipated Rebel Salute 2017 on Sunday morning, was the segment that properly sealed the over 20 hour fiery package.
Next year Rebel Salute arrives at its 25th silver anniversary. So this years show seemed to be a teaser for 2018's silver lined production.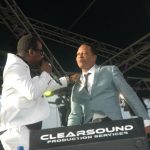 Simmering the blend of music from foundation years to todays risen reggae stars were a line up of over 40 artistes and bands such as Sister Nancy, Tenor Saw, The Abysssians, Warrior King, Taurrus Riley, Lone Ranger, General Trees, Tarrus Riley, Tanto Metro and Devonte, Wickerman, Zosia McGregor, Davianah, Spragga Benz, NoMaddz, Rockers Elements.
Mutabaruka, Duffous 'Nuffy' Shepherd, Jenny Jenny, Cordel Green as emcees encouraged critical thinking, even as they threw punches at wrongdoers in society and managed to trigger peels of laughter using the realities of Jamaican life.
Rebel Salute 2017: PHOTOS By Errol 'Shakka International' Dawes and Travis Roach.
Friday night began with Bushman.
Patrick 'Tony Rebel' Barrett was the true commander for the night with his usual delivery of
Fresh Vegetables
medley and renewed commitment for women especially the love in his life. More than one woman were seen aggressively climbing the wire fence on cue of his voice.
REBEL SALUTE 2017
Despite the vibes and performed songs that would linger for months to come, the most memorable ones on Friday were offered by Lindon 'Half Pint' Hall, and Minister Marion Hall, formerly Lady Saw.
In their two very distinct styles they commanded the sways of the audience.
Half Pint from one spot and one position had his way with favourites like 'Suzie' 'Level The Vibes', Mr Landlord, 'Victory', 'Political Fiction'. Truly the crowd answered the bid to 'Run Come' to join in the 'One Big Family' of dancing, jumping, playing together.
Minister Marion Hall, was more determined to lead the crowd into offering worship to the God of her new found salvation. Many were moved to tears as she released numerous spiritual tunes, selected ones as reggae ballads. In her mix she threw hints of traditional reggae, dancehall, soca and soul music.
HAPPY BIRTHDAY TONY REBEL
Saturday night featured Tony Rebel, founder of the event cutting his birthday cake. Earlier that day there were demonstrations on the 'herb curve' and patrons seized opportunity to purchase artworks and culture souvenirs, and indulge in meals prepared from natural foods – un-preserved and not processed.
The last performance of the Rebel Salute package, was by Beenie Man in distinct gentleman style. There could not have been a better choice to create balance certainly with the memory of Tarrus Riley's outbursts after a backstage incident was still fresh.
Beenie Man worked the stage and his way into the hearts with charm and dignity, but not before Popcaan and others such as Wickerman, Tanto and Devonte charged and reworked the vibes of the ever thirsty and patriotic numbers at Prairy, Saint Ann.
Earlier on Saturday night the rebellous Queen Ifrica were among the selections to provide social commentary and challenge to wrong doers. Her were more than piercing as she belted out hate towards child molesters and perverts.
No one was allowed to be tired, nor to entertain thoughts of an early departure rain, or shine before Sunday January 15th at approximately 9:30am.
Rebel Salute 2017: PHOTOS by Errol 'Shakka International' Dawes and Travis Roach, and Anthea McGibbon.
With every moment of the sun's rising, so the spirits of the patrons of Rebel Salute 2017 were rising as energetic artistes one after the other grounded the crowd right till the late morning of Sunday. Two nights well spent, money's worth.
Rebel Salute 2017: PHOTOS By Errol 'Shakka International' Dawes and Travis Roach
The event was held at Grizzlys Plantation Cove from Friday January 13th to Sunday morning, January 15th, 2017.
—
LINEUP Friday:
Adahzeh, Anthony B, Bobby Tenna, Chaka Demus and Pliers, Chevaughn, Ed Robinson, Fanton Mojah, Feluke, Gary Patch, General TRees, Half pint, Harrison Stafford, I-Wayne, Iba Mahr, Jabez, Lone Ranger, Minister Marion Hall, Nkulee Dube, No-Maddz, Notis HeavyweightRockaz, Ras I, Ras T, Shakespear, Sister Nancy, Tarrus Riley, The Abyssinians feat. Bernard Colins, The Astraunauts, Tony Rebel, Warrior King, Wayne Wonder, Yvad, Zagga
LINEUP Saturday:
Agent Sasco, Bushman, Chuck Turner, Cocoa Tea, Davianah, Derrick Morgan, Duane Stephenson, Errol Dunkley, Jesse Royal, Junior Kelly, Lady G, Leroy Gibbons, Leroy Sibbles, Moses 'Beenie Man' Davis, Queen Ifrica, Ras Shiloh, Rockers Element, Sanchez, Sophia Squire, Spragga Benz, Stranger Cole, Tanto Metro and Devonte, Third World, Wickerman, Zosia McGregor ———–
MORE LINKS:
Rebel Salute 2017 still playing in my head