In this installment of Our Stories,  Reneé Drummond shares how she earns an income helping UK residents relocate to Jamaica. For many people, Jamaica is pictured as an island paradise – white sandy beaches, a beautiful and vivacious culture, rich and wholesome food, and attractive people. And while that image is not far from the truth, if the lens is focused on the inspirational stories of ordinary Jamaicans, you'd find a sharper, richer and truer image of the Jamaican experience…this is Our Stories!
Pick some random Jamaicans and ask them, 'would you live and work in the UK?' They may possibly reply with a strong, 'yes!' Despite complaints from residents about the unfriendly weather and subtle racism in the UK, most Jamaicans in the island enjoy fantasizing about living there and would jump at the opportunity to bid farewell to this island in search for better opportunities in the foreign land. In this installment of Our Stories, Reneé Drummond, who has lived in the UK for more than 10 years, explains how she is helping Jamaican residents and non-Jamaicans in the UK to relocate to Jamaica.
Meet Reneé Drummond, Founder and Managing Director of Expat Jamaica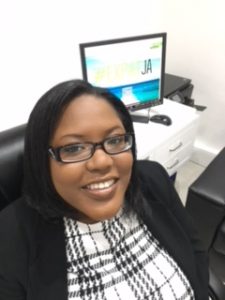 1.Why did you decide to offer relocation services?
…when I finished my university degree, I was like, 'yow, why am I still in the UK? I should go back!'
So I was trying to move back…unless you want help from family members or you're physically going to Jamaica to help yourself move back, there's no one to help you do it. Most Jamaicans (in the island) if you call them about rentals, and you'd be like, 'I'm moving in 6 months,' and they'd be like, 'okay', (they) take your information and they'll never call you. Here in the UK and I know in the (United) States, they have relocation agencies for different countries. So if you're Russian and you're moving to the States, you can go to a relocation agent in Russia or the States and they help you do everything you need to do. Jamaica doesn't have that. When I was searching for it, all I saw were shipping agents.
2. Your company is a little close to 2 years old. Describe the service you offer.
Expat Jamaica or Expat Ja is basically a company that helps an expat (someone who is not from Jamaica) or a repat (someone who is a returning resident to Jamaica). We help them move to Jamaica, we help them invest in Jamaica, by investing it's anything from buying property that they're not necessarily going to live in…. to getting into the financial market in Jamaica. We also help people with packaged holidays; obviously, as Jamaicans, we're quite used to knowing what we need to sign up to get discounts, like coupons in the US. Jamaica has little things like that but obviously, if you're not a native person, you wouldn't know about it.
3. How has business been so far?
When I just started, the first couple months were amazing. I was having companies booking me because I do UK representation also, which is if you have a company in Jamaica and you want the Diaspora to know about your company, (they would ) book my services.
Then, it kind of dropped. The interest was so slow. I felt like I was spending money and wasting money. However, this year (2018) weirdly enough, probably because I've pushed it a whole lot more, in January 2018 it has been extremely busy. I think it's one of those things that will edge and flow…. especially now that we have a state of emergency, I really don't know what's going to happen.
4. So, how has the state of emergency affected your business?
I've had some comments on my Facebook page like, 'oh it's really irresponsible to tell people to move to Jamaica' and I'm like, 'hol' on wait! Most of my clients are repats (repatriating Jamaicans), they know what Jamaica is…' 
5. Good response! Now, who are your main clients?
When I just started it (the company), I started it for repats but because it's on social media and the internet, pretty much 80 percent of the people who were inquiring (about our services) were not returning residents so that was a big shocker for me and I had to adjust.
6. Which services are your clients most interested in?
The most queries I get, '…my husband is Jamaican so we want to move to Jamaica now, what can I do? Where can I live? How easy is it to get a job in Jamaica?' or I get people saying, ' I got a job in Jamaica, I now need to move. my company has given me a budget but I don't know how to organize everything. Plus what can I do to socialize in Jamaica? What clubs are there?'
Some people ask about visas, I don't do that at all. I don't do passports or visas but I can tell them where the Consulate or Commission in their country is.
7. Why do UK residents want to relocate Jamaica?
For all the people who are saying that Jamaica is bad, clearly, it's not that bad. I have blonde hair and blue-eyed people wanting to move to Jamaica to live a better life or because they got a job in Jamaica. (Jamaica) is pretty and in general, they like the lifestyle in Jamaica…carefreeness, we're quite a happy people.
(In comparison to the UK), it's a 100 percent better. I would tell anyone, don't move here. That would be my personal recommendation.  I'm sad that I'm here right now for a longer period. Yeah, Jamaica is a better lifestyle, the food that you eat, the heat…oh my God it's so cold here, everybody is so miserable here. And in Jamaica even if you're broke, there's still something to do and it's warm there.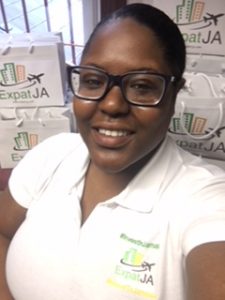 8. What are some of the main challenges you have encountered while managing Expat Jamaica?
Oh, my word! Getting Jamaicans to trust me. Unfortunately, a lot of Jamaicans have had bad experiences. I mean a couple months ago there was an article in the (Jamaica) Gleaner (newspaper). A lady was sending down money, consistently for months and when she finally went to Jamaica to see what they had built, it was just bricks. Nothing had been done so basically she lost all her money. So people see stories like that and they don't want to trust me or they have had their own experiences. So getting people to trust you and see that you are trustworthy and ethical is quite difficult.
Luckily, my father is also a businessman and he works very closely with Jamaica National Money Transfer in Jamaica and the UK. He also has a property company that is based in the UK….and he's quite well-known so usually dropping that little bomb makes some individuals say, 'oh I can trust her'. As well as, I try to build the trust. I use social media to show them what I do. I always try to give a good service. I always try to make sure I email and call when I say I'm going to. A lot of Jamaicans are used to people saying they are going to do something and doing it when they feel like. Trying to do all of that to combat that negative view (of Jamaicans) that some people have.
9. Since you launched in 2016, describe one of your most memorable experiences managing Expat Jamaica. 
I think my biggest success story would be that I started this in October 2016 and I had a client within two weeks. And it was a development company in Jamaica. I was so excited. And literally, all I did was contact them on Instagram. We had a few conversations via telephone, I spoke with the director and yeah they were on board!
Awesome! Thank you for sharing your story Reneé and I look forward to more great news from Expat Jamaica.
Are you considering relocating to Jamaica? Visit the Expat Jamaica website for more information.
Also, connect with Expat Jamaica on Facebook and Instagram.
Our Stories is a feature which shares the other side of Jamaican entrepreneurs: their innermost thoughts, inspirations, and personal stories. Are you a Jamaican with a story to share? Contact us [email protected].