Fresh off winning a Grammy, Morgan Heritage headlined the spring concert on Fort Lauderdale's fashionable Las Olas Boulevard on April 2nd, 2016.  The exclusive Broward Center for the Performing Arts was the venue for a night of roots rock reggae and positive vibes.
The crowd was a wonderful mix of cultures and people of all ages.  Young lovers, moms and dads on date night, parents with their toddlers and young children, grandparents and girls night out groups made a lovely blend  that truly exemplified 'out of many…'   The diversity was a tribute to Morgan Heritage and the way they promote their love of family. Not many artists could pull such a wonderful mixture of people.  It was a pleasure to see the audience filled with many variations of families.
Junior Marvin's Wailers warmed the crowd up with assortment of popular songs.  They were followed by the ever popular Maxi Priest. Of course the ladies went wild when he ran onto the stage. This evening Maxi opted for the mysterious look.  He wore a brimmed hat and sunglasses throughout the entire performance.  Half way through his set Maxi called out DJ Junior Morgan to serve as what appeared to be a hype-man for his set.  To my disappointment, the DJ remained on stage for the remainder of Maxi's performance. All the remaining songs included the DJ chanting, singing or juggling as a sort of back up.  Maxi Priest has the voice and the stage presence to command the stage on his own. But, there probably were many in the audience that enjoyed every bit of Maxi and the DJ.
As is their signature, the Morgan family was out in full effect to support the band.  The children took their places at the side of the stage and occupied the best seats in the house while their 'heritage' performed.  Parents Denroy and Hyacinth Morgan were also in attendance and were given a special cameo at the close of the show.   Missing that night was sister Una Morgan, but with what seems like an endless supply of family talent, one of the other Morgan's filled in for Una.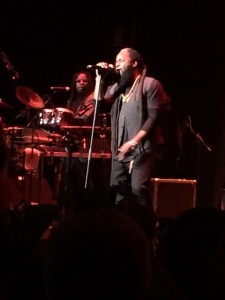 The final set was about one hour.  The band has an extensive catalog of hits, for sure many people left without hearing their favorite song.  They did get in 'Don't Haffi Dread' and 'She's Still Loving Me', and closed the show with Gramps paying tribute to his friend Buju Banton. Gramps lead the band in a musical rendition of the 23rd Psalms and the entire family filled the stage as the house lights came on.
If you haven't been to a Morgan Heritage show, you are truly missing out. Check their website http://morganheritagemusic.com/ for upcoming tour dates. Remember, they now have the phrase 'Grammy Award Winning…' as a prefix to their name.