"Sister Carol projects more vibrancy and power in the flex of an eyebrow than most performers do in an entire set." — Billboard Magazine
With a BSc. in Education Carol East aka Sister Carol has many monikers, Movie star, singer, D.J, humanitarian, certified teacher to name a few. With eight albums to her credit, her critically acclaimed 1996 release, "Lyrically Potent', described as a "perfect antidote to the lowbrow slackness of female sing-jays… quality in production values and subject matter" earned her a Grammy nomination. She's appeared in two Hollywood feature films by director Jonathan Demme "Something Wild" and "Married to the Mob" w/ Michelle Pfeiffer, her music can be heard on several Hollywood movie soundtracks including "The Mighty Quinn" w/Denzel Washington, appeared on NBC's David Lettermen and Late Night With Conan O'Brien and was the familiar voice behind Jazz great David Sanborn 'Night Music" show on NBC.
Onset w/ director Jonathan Demme
Her reputation stretches worldwide; she was invited to perform in Monaco on concert put on by the royal family, to perform at the Commonwealth Games in Australia 2005, at Constitution Hall in Washington DC, Home-Coming ceremonies in Gambia and Senegal, and special request by the aborigine chief in New Caledonia South Pacific.
Her music addresses a wide-range of topics such as female equality, spirituality, herbalism, HIV, drugs, unresponsive government, and police brutality. Village Voice writer Carol Cooper, describes her live performance, this way "no other woman in dancehall can touch Sister Carol" and noted NY Times music critic, ROBERT PALMER, says "Sister Carol could still teach American rappers a thing or two about rhythmic fluidity and about combining chanted rhyming with the structured melodic "hooks" of pop music. She combines wit, personal and political commentary and dance-hall cheerleading in a similarly fluid manner"
A champion women equality Sis, as we affectionately refer to her, carries the torch for the culture of positive women, she's embodiment the constant fight by woman to be heard and seen while they take their equal place with men in the world. Sister Carol represents internationalization of reggae music and dancehall. I interview my school mate from Mico Practicing School and fellow City College of NY class mate for the second time in my journalist career.
SS: How long have you been an edu-tainer professionally?
Sister Carol: I have been involved with the music 31 years now, but as a solo artist, I have been Edutaining for 26 years.
SS: Your major influence is Brigadier Jerry, list some other and tell us why?
Sister Carol: Besides Brigadier Jerry others who have influenced me are Nina Simone, Diana Ross, Aretha Franklin, Alton Ellis, Bob Marley, Burning Spear, Dennis Brown,
Big Youth, I-Threes, Cynthia Richards, Hortense Ellis ….to name a Few
SS: How would you best describe your DJ style?
Sister Carol: My style of chanting is of an organic nature. Roots and Culture straight.
SS: As a female artist what are some of the obstacles you have face and how did you overcome them?
Sister Carol: Some of the obstacles are sexism, racism, religious and gender prejudice. They claim "This is a man's World", hence the woman get a fight all the time..
SS: Did you think being a female helps to advance your career or has it hurt you?
Sister Carol: I am thankful for the knowledge that the female energy must be balanced with the male energy or else it is CHAOS. However being a female has blessed me with a certain strength to overcome most of the obstacles along this journey as Mother Earth…
SS: Do you think that radio, TV and the concert stage offer the female artist the same opportunities to be seen and heard as your male peers in reggae?
Sister Carol: Absolutely…No.No…No.
SS: What are some of the things you think the reggae industry could do to make it easier for female artists to break into the industry or succeed?
Sister Carol: Believe me it is hard for me to say right now. I do not see any industry all I see is the dust.
SS: What can female dj/singers do to improve and increase their visibility on stage and on record?
Sister Carol: The sisters MUST reacquaint themselves with Self-Love, Self-Esteem, Self-Respect, Faith and Humility .Most of the people who are in control are men, therefore it is up to them to make that change in giving the woman, more love, support, respect and opportunity without a PRICE
SS: List some of the big names in the entertainment business you have had the honor of working with?
Sister Carol: Right now I respect and love everyone as an individual whether big or small. Bigness can sometimes not be positive, yet I give thanks to everyone who has worked with I along the journey. I've worked with people from all walks of life in all genres of the music, film and television world, so to start naming people I would need a full newspaper…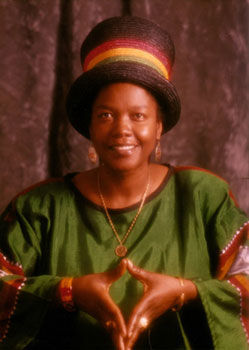 SS: You have degree in education, you are no longer in the classroom, on any given day when you aren't touring, in the studio recoding what does Sister Carol do, are you ever just Carol East?
Sister Carol: The Bachelor of Science degree has enabled me to teach worldwide through the medium of music as opposed to 25 students in a classroom. I am a proud mother of four and grandmother of five, therefore there is always work to do outside of music.
SS: From your days at Mico Practicing and St Anne's Primary did you ever believe that you would become such an important person in the world?!
Sister Carol: Yes! I had a feeling since I was a youth that I was important to the world as a true
child of the universe and that I would make a contribution to the world. I am not
really surprised.
SS: Why do think that female artists who make have it, generally have to do so on their own while male artists get more support from the industry?
Sister Carol: Females in the industry suffer from the same prejudice that exists even outside reggae music. I think since they claim "It's a man's world", it is hard for some men to invest money in a woman without a price. Therefore most successful females have a husband or family who believes in her or she is doing it herself.
SS: You have been invited to perform for Prince Rainer of Morocco, the Olympic committee for the commonwealth games in Australia, these are just a few of the highlights of you hugely successful career, why aren't we able to see you the three biggest reggae festival in NYC Jamroc Reggae Fest, Irie Jamboree or Carifest?
Sister Carol: I honestly feel that you should put these questions to the people who are in charge of these festivals, they should have an answer by now, and it's been a while..I can be found at www.sistercarol.com, myspace.com/sistercaroll2 or (347)866-5390 (Black Cinderella Management)…
SS: Since you live in NYC, what do you think it would take for you to by on NY festivals like Jamroc Reggae Fest, Irie Jamboree or Carifest, in Europe, Asia and the rest of America don't seem to have a problem finding place for you on their festivals?
Sister Carol: It would take the same business approach and respect awarded to the reggae artist the lives outside New York City.
SS: Diana King says the males in the reggae industry are only comfortable with women in subordinate role, do you agree?
Sister Carol: I think, some of our male counterparts are just as confused as the teachings they got. Religion has portrayed a devilish role in regards to the woman therefore some of them do not know any better. The book says "the earth is the lord and the fullness thereof, yet they curse Mother Earth the "Womb-man" same way…
SS: Bob Marley set precedent, the only artist he ever produced was female, Martha Velez, the first artist he signed to his label Tuff Gong was Nadine Sutherland, he was the only industry male figure of note to show up for the release of her "Black Woman" album according Judy Mowatt, why do you think the males in the reggae industry haven't followed his example in supporting females up front?
Sister Carol: Bless is The Gong who had the consciousness, but like I said before, wrong teachings make most of the men come up short….
SS: You are part of small group Jamaicans who have had international success in both music and Hollywood movies, which do you, enjoy or prefer most, acting or music?
Sister Carol: I am thankful for all the opportunities, but music is my first love after JAH.
SS: What is, or has been the biggest challenge you have faced as female artist?
Sister Carol: Listen from early out they say we must glorify the father, the son and the Holy Ghost. They never mentioned the woman, who was doing the most. Therefore women always face challenges. The first strike against you is being a woman, and then the second strike is being black and third is being Rasta. They never stop coming but through determination, strength and faith we overcome…
SS: Why do you think that promoters shy away from booking female artists, if so why?
Sister Carol: I said it before, lack of over standing and false teachings. I have noticed that even when men are very angry at each other they refer to each other as a female Private part. Think about it that's the way they feel about women who were their first teacher, guardian, protector, etc.. .Some of these promoters are no different in their feelings towards women…
SS: List your most successful singles or album?
Sister Carol: Various singles and Albums have been successful in various capacities world-wide, but the biggest song to date is "Wild Thing" which was also a part of the
Something Wild movie and sound track. I have also had quite a few song as movie
soundtracks in movies like The Mighty Quinn and Failure to Launch….to name a
few.
SS: Do you have difficulty getting air play for your music, if so in what format?
Sister Carol: Air-play is something that we all could use more of, however I give thanks when or wherever I get it. I would also like to see some more support from my
community.
SS: You are a singer and an actress what was your first acting experience like?
Sister Carol: My first experience as an actress came at an early age in school and church so my feature in the films was quite natural to me just an extension of Jah's blessings..
SS: What are your professional goals as singer?
Sister Carol:  My goal is to spread the words of truth, peace, love and unity with reggae music
by edutaining the world.
SS: Do you think you get the respect from the music business consummate with your accomplishment?
Sister Carol:  Not really, because a lot of people do not know of the accomplishments. However, I feel the love and respect people not the pope-ple.A JAH a mi publicist so who fi know will know.
SS: Recall your fondest experience or proudest achievement in the entertainment business?
Sister Carol: One of my proudest achievements in the entertainment trod was having the ability to have my mother tour West Africa with me twice, Senegal and Ivory Coast. It was also a very proud time for me when she attended the Grammy Ceremony with me when I got nominated for "Lyrically Potent".
SS: List your worse experience in the business?
Sister Carol:  My worst experience might have been Sunsplash 1987 in Jamaica. That is where I really learned that oil and water cannot mix. I felt like I was thrown in an ocean of slackness as a small cultural fish fighting to stay afloat.lt was a serious learning experience…
SS: Is it difficult to juggle motherhood and your music career?
Sister Carol: It is difficult, but strong family support has helped me to be successful at what I
do.
SS: Do you think your male peers give the respect you deserve?
Sister Carol:  Most of the brethrens give Ras-Pect because they have no choice. My work speaks for itself. I also do not sweat things like respect from people .It is more like compliance with the almighty (Rastafari)…
SS: Do you own a record label and do produce other artists?
Sister Carol: Yes! My King Man and I own the Black Cinderella Record label and we do record other Artiste.
SS: Thank you Sister Carol and much continued success.
Sister Carol: One Perfect Love /Jah Bless Always…Sister Carol
Stan Evan Smith is contributing Editor to Everybody's Magazine, (NYC) Music critic for the Gleaner/Star NA. Staff writer, Jahwork.org, (California) Westindiantimes.net (Virginia) and Jamaicans. Com (Florida) and, contributing writer to POSH Magazine (Maryland). He can be reached [email protected]. http://www.myspace.com/stanwsmith