This Christmas make a nice, sorrel chutney! If you have fresh Jamaican sorrel give it a try! This is absolutely excellent on chicken, fish, or pork, or in sandwiches. It is great for when you have an over-abundance of sorrel during the Christmas season.
INGREDIENTS :
7 cups of sorrel calyces
2 ½  cups brown sugar
2 ½ cups water
2 small onion (diced finely)
1 garlic clove (minced)
2 inch piece of ginger (finely grated)
1 lime (juiced)
1 tbsp white cane vinegar
¾  cup golden raisins
7 pimento (allspice) grains, crushed
2 yellow Scotch Bonnet pepper (de-seeded & finely chopped)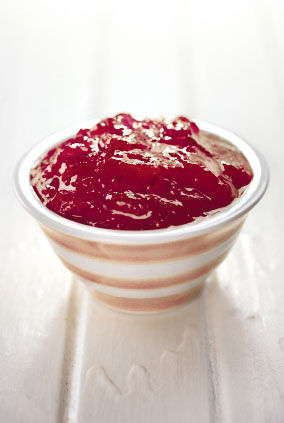 METHOD:
Wash sorrel thoroughly, using the fingers to lift it from the water.
Put into stainless steel container and set aside.
Combine  water, brown sugar, pimentos, ginger and garlic in a large saucepan.
Cook over high heat for five minutes then reduce to a simmer.
Add sorrel calyces, raisins, lime juice, vinegar and scotch bonnet
Stir all the ingredients
Cover, cook and stir occasionally until the mixture has a jam consistency.
Removed from heat and chill in refrigerator for at least 3 hours before serving.
Place chutney in spotlessly clean jars for storage. The flavor improves after a couple days.
This chutney can be stored in the refrigerator for 1-2 months.
About the Writer:
Jacqui Sinclair is a  Le Cordon Bleu trained Chef, Food Writer and Food Stylist. She writes a weekly food columnist for the Jamaica Observer under my "JuicyChef" brand. Jacqui is working on her first cookbook which will be available soon.