In this installment of Our Stories, Jamaican plus-size model, Tessenie Mowatt talks about the struggles she faced with body image and self-confidence. For many people, Jamaica is pictured as an island paradise – white sandy beaches, a beautiful and vivacious culture, rich and wholesome food, and attractive people. And while that image is not far from the truth, if the lens is focused on the inspirational stories of ordinary Jamaicans, you'd find a sharper, richer and truer image of the Jamaican experience…this is Our Stories!
Meet Tessenie Mowatt- International Plus-size Model and Founder of Curves, Class and Mimosas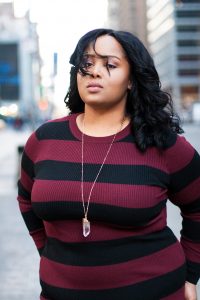 Interactions with this full figured model will leave you oozing with self-confidence; her bubbly personality, infectious laughter and bombshell poses in front of the camera would have you believing that Tessenie was always driven by her deep belief in self. Shockingly, that's not the case. For more than two decades, Tessenie struggled with confidence and body image issues.
She can recall walking into crowded rooms and feeling uncomfortable and self-conscious. The frustrating bit of it was that she could not understand why she felt the way she did.
But Tessenie's life and her perspective on her body took a whirlwind turn a few years after she migrated to Canada and met other plus women, some from the Caribbean, who were living their fullest lives regardless of their body mass.
1. What made you self-conscious while growing up?
 I had a good support system within my family unit. It was when I branched out into the real world that I became self-conscious. I was now exposed to the media and becoming a woman, dealing with the opposite sex and sexuality. The media made me feel like, 'wow, you're fat. You're not exactly attractive. You're not our idea of beautiful'.
At home (in Jamaica), my mom would say,'you're beautiful; you're going to be the next Miss Jamaica World'. She would tell me all these lovely things but when I went out into the real world and my friends say,
'You're fat' or ''that guy across the street that you like will not look at you two times because you are too big'…that's when I started thinking that maybe there is something wrong with me.
2.So you are saying that the support from family and friends wasn't enough?
 While it is important to have a supportive unit around you, your confidence is really gonna come from within. You are not gonna have your cheering squad behind you everywhere you go. You have to find that strength within to stand in your place as a woman or man in this society.
3. When did you get this epiphany that,' listen, I love myself and I'm going to go out there and get everyone else to realize that body image is not everything'?
 I was having a conversation with a guy I was dating and I realized that I was the only one who noticed a lot of the things that I thought were unattractive about me. I would point these things out and he would be like, 'well if you didn't point that out I wouldn't have seen it'. I'm the one walking into the room and tugging at my skirt or pulling at my shirt because it's falling into my rolls but nobody sees that….People see how you smile when you walk into a room, your presence or your aura. That's when I realized that I had to go within to find that inner beauty. You are more than your physical appearance.
4.How did these negative thoughts affect your everyday life?
 I used to question myself. I never wanted to be the centre of attention. I never wanted to participate in any social activities. I would never go out with friends. I didn't start dating until I was like 19 years old. I never did anything that could help my personal development. In terms of social skills, being able to network and walk into a room with confidence, I never had that. I was so self-conscious about what I looked like that I held myself back from a lot of things that I think I would have excelled in earlier if I had that confidence.
5. What did it take for you to step out of that comfort zone you were in and let go of all the negative energy?
 When I moved to Canada in December 2011 I found women who had the same problems as me. They understood what it felt like to put a shirt on and have back fat or when your belly protrudes in a dress. They would be like, 'yeah it protrude, so what?' or 'your arms are big and what?' I started to realize that changing my crowd; being friends with and reading articles about people who looked like me had a positive effect (in my life). And putting myself out there as one of those women helped to boost my confidence; women would come up to me and be like, 'I am so amazed by you!' or 'thank you for showing me that fat women can be beautiful'. That's when everything started to change for me.
6. Do you think you would have had the same outcome if you didn't migrate to Canada?
 You know what, maybe not. It took getting out of my comfort zone, literally moving in order for me to realize I had a problem with my body. I was so used to covering it up (my body) and not liking it that I didn't even realize it was a problem until I moved out of my norm. So yeah, I would not have been this confident if I still lived in Jamaica. Still doing my everyday routines, I don't see where I would have been challenged.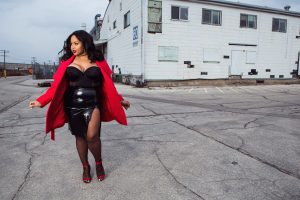 7. How different are issues surrounding body image in Canada compared to Jamaica?
 Jamaica is getting better, I must say. Jamaica is heavily influenced by North America. I feel like now that more plus size women are putting themselves out there in North America, Jamaican women are like, 'Oh yea, yes mi look good, I'm not just a fetish'. Jamaicans have a long way to go but they are improving. In terms of when I just moved to Canada, I started to see girls who were bigger than me being confident in their bodies, not caring what anybody thought and just living. It made me think, 'What are you worried about?'
8. Now, let's talk about your modelling career. Did you always want to be a model?
 I knew I wanted to be in the fashion industry. I just wasn't sure in what capacity. Based on what I was seeing I never had the idea of being a model because I figured I couldn't be a model anyways. I'm too fat. But I always knew I wanted to do something in fashion and media.
9. When did you get that break that finally got you into the modelling industry?
 Somebody saw a casting for models for a fashion show and said to me why not try out for it? I sent an email to the show organizers offering to assist (with the production) because I didn't want to model. I didn't think I could. I just asked to be an assistant. One of the show organizers emailed me asking for a picture of myself. I looked for probably one of the worst pictures I could find. I didn't want her to think I would ever be interested in modelling. She responded by asking if I would like to come in for an audition. I've never walked in heels before but I did it. When I actually did the fashion show and heard how the crowd was hyped, that's when my big break came. I decided I wanted more of this.
10. Do you think you have gained any new qualities since you started modelling?
 Definitely, I have gotten way more confident. I've learnt how to be more of a public speaker, a mentor and a teacher to other people. My interpersonal relationships have changed. I now know what to look for in a spouse, a friend, and in a business partner. I am very selective about who I let into my space, who I speak to, and the words I say about people and about myself.
11. What are some of the challenges you still face even with your new-found, self-confidence?
 Some of the challenges I face include showing up and doing events on days that I don't want to show up; when I don't feel very confident about my body. When I feel like nothing I wear looks good or my hair doesn't look right or my face looks too fat or round. The next thing is the competition. More women are starting to feel better about their bodies. Now your looks come into play along with your ethnicity. If you are more of a mixed race or more white you will get further ahead than someone who is darker or has more afro features. Then there are the bullies that come from online and from the world in general. There are people out there who think fat women should just stay behind.
12. How do you get out of that negative space in your head and how do you deal with bullies online?
 I step back from it a little bit. If I have an event to go to I try to do things that will help my mental state. I listen to music. I do things that will occupy my mind so that I don't have time to think about anything negative. As it relates to bullies, I try to come at them from a more educational standpoint than trying to clap back.
13. Tell me about the most memorable moment you have had since being a model.
 My younger cousin who is at university now is tall and skinny. I remember this girl wrote me pretty much a 10-page letter telling me how much I inspired her. We weren't close while growing but she just came out the gate and told me how inspiring I was. That just solidified my entire career. To have somebody from my own family, my own tribe say to me 'I need you, I see you, I watch you, I love you'. I was just like, 'okay, this is it!'
14. What is your advice to young girls and women struggling with body image issues?
 Find your support group. It could be other girls who look like you or friends who support you. The next thing is to be careful what you put into your mind. You should be able to relate to the people you follow on social media. Make sure you are able to relate to the things you are putting into your mind. Feed your mind with things that are positive and will enhance your energy rather than take away from it. Another thing is to treat people how you want to be treated. Be kind to people. When you put that positive energy out into the world, you will start to get it back. You will start to feel better about yourself.
Wow! Powerful advice! Thanks for sharing your story with us Tessenie.
Tessenie Mowatt is a Jamaican-born, full-figured model, style influencer and consultant, brand ambassador and founder of Curves, Class and Mimosas. Follow her on social media @tesseniemowatt and visit her website http://www.tesseniemowatt.com .