In this installment of Our Stories, makeup artiste, Kedesh McFarlane explains how she escaped financial troubles with makeup artistry. For many people, Jamaica is pictured as an island paradise – white sandy beaches, a beautiful and vivacious culture, rich and wholesome food, and attractive people. And while that image is not far from the truth, if the lens is focused on the inspirational stories of ordinary Jamaicans, you'd find a sharper, richer and truer image of the Jamaican experience…this is Our Stories!
Meet Kedesh McFarlane – Makeup artiste and CEO of Kandid Touch Artistry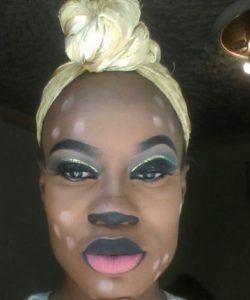 Being an entrepreneur in Jamaica can be extremely difficult and coupled with being a woman, it can be even more difficult to survive. Many Jamaicans are forced into entrepreneurship to escape financial struggles, however, the pressures of self-employment may drive them to stop, but that's not the story of this powerful woman who is being featured in this installment.
In 2013, Kedesh met with financial difficulties which compelled her to start her own business. The now, 28-year-old, started Kandid Touch Artistry to provide a service that was not as prevalent in her community, in hopes that it would create some buzz. And while McFarlane continues to face many roadblocks that threaten the progress of her business, Kedesh has been making a name for herself on and offline as more and more of her clients share the beautiful outcomes of being #TouchedbyKandid.
Why did you decide to enter the makeup industry?
Growing up, I always enjoyed looking pretty and at the time that I started, it was not as prevalent in Jamaica. I was also broke & wanted to make money. I was always seeking a job because I was just sitting at home. I was constantly being turned down even though I was duly qualified, it became frustrating. Getting a job was always a priority. So, I just decided to try entrepreneurship and makeup artistry was the best option. I felt nervous when I just started but I warmed up to it. So, the two reasons just came together nicely. It was something that I had a passion for and I could make money doing something I love that to me was quick and easy.
Tell me about Kandid Touch Artistry.
Kandid Touch started in 2013 and offers everything as it relates to makeup.  Bridal glam, day and evening, graduation, carnival/fantasy, birthdays, even simple brow shaping. Whatever and wherever one wants makeup for, Kandid Touch can and will do it. I'm very passionate about my artistry. I'm a perfectionist so you can be sure that I'm always putting my best out and thinking it's not enough still. So with Kandid Touch, you can be assured that I'll be giving you my best and each face is done to perfection. I just recently did a vision board and I have a lot of makeup goals on it. So, I'm quite excited for what 2018 has in store for Kedesh and Kandid Touch.
Okay! So, what makes your artistry unique?
I'm still trying to figure out my niche but for now, I'm a quick learner. I can do any and everything if I look at it and figure out how exactly it is done.
Did you receive formal training in makeup artistry?
Yes I did. When I decided to do makeup, I wanted to make sure I did. I saw myself in high places and doing great things in the future and I didn't want that to be a hindrance when I got there. So I enrolled in a class at Face Place Ja, and the rest is history.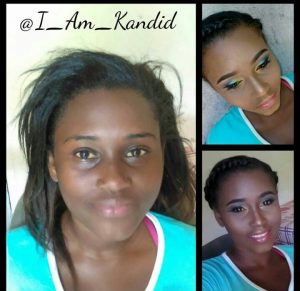 Who/What is your biggest inspiration?
Well I think my biggest inspiration is family. I'm very family oriented, close-knit. I try my utmost best to make sure that they're okay. The whole idea of having the family succeeding, that motivates me. We grow together.
What is the biggest challenge you are facing or have faced while pursuing this career?
My biggest challenge is marketing. Marketing your small business always proves to be a big challenge.
Marketing? So how did you overcome this ?
Well actually, I'm still yet to overcome it but if I stop, I won't know. I just gotta keep moving moving moving but marketing is still a struggle for me. I am trying though to have a better social media presence. I try to make my posts more frequent on every platform. That way people are always reminded that Kedesh is still here because I'm ever-present on their feeds. I'm also trying to build on my customer service with my current clients so that they will feel inclined to recommend me to friends or anyone. I try to be pleasant and give clients what they want even when it seems impossible. I also treat all my customers like we are great friends so they'll feel extremely comfortable and want to come back.
Upon deciding to pursue this career, what were your biggest setbacks?
Ummm… What was that? I think… Blending! Foundation, concealing, I think blending the whole face was a challenge for me. But I overcame that with practice. Additionally, a lot of times it has been difficult to find bus fare to go out and do faces. Running a small business is no easy feat in the financial department. I struggled a lot with buying products. God bless the (Student) work and travel programme. I used that opportunity to stock up on a lot of stuff in 2016. Calls to work are not as frequent as I'd like and I don't work otherwise so that's been a challenge from day one. Still, I don't let it bother me 'cause I believe that (it) won't always be the case. Funny enough as well, I used to suck at makeup, but who didn't when they just started? Now I've seen my improvements. I can't tell you how much I'm happy for that. But, there's still room for improvement.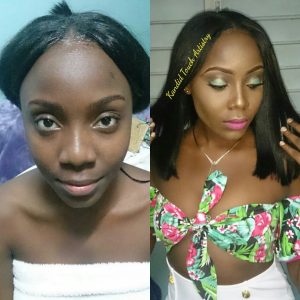 What is the best thing about your career?
When the look is finished & the, 'OH MY GOD! This is a different person! I love it Kedesh!' Yes. That is one of the best things……the satisfaction.
What advice would you give someone who wants to enter this industry?
Whatever fuels your boat go ahead with it. Do you. Don't try to compete. Try not to focus too much on the other person. You can look at their work for inspiration but how far they are in the industry should not be any of your business. Just try your best to elevate yourself. Even though sometimes when you're going slow it may bother you, I believe in working with your process. As long as you're going forward it's the same direction as the next person. Try not to rush anything. I believe in going through your phase because there must be a reason you're going through it. It should make you stronger for sure and it should teach you something.
Kandid Touch Artistry offers makeup services for any event; whether it be a wedding or an evening date, Kandid Touch has it covered. You can contact Kedesh or keep up with her journey by following her on Instagram or on Snapchat @KandidTouch_Mua or even on Whatsapp, (876) 891-1370.