In this installment of Our Stories, poet Xavier Frazer explains how his life changed after he was wrongfully accused of murder….For many people, Jamaica is pictured as an island paradise – white sandy beaches, a beautiful and vivacious culture, rich and wholesome food, and attractive people. And while that image is not far from the truth, if the lens is focused on the inspirational stories of ordinary Jamaicans, you'd find a sharper, richer and truer image of the Jamaican experience…this is Our Stories!
 Meet Xavier "Zuberi Berko" Frazer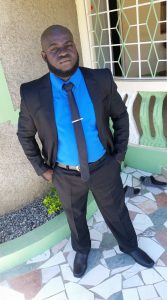 In 2014, Xavier fled from his home community, Matthew's Lane (Spanglers) in Downtown, Kingston after he was wrongfully accused of killing one of his childhood friends. The versatile poet vividly recalls explaining his innocence to the family of the deceased boy. However, he was met with threats and violence. In one instance, he had to make a mad dash out of the area to escape an angry friend of the deceased who was bent on killing him.
When I sat down with the young, Jamaican poet, he told me that despite that tragic ordeal he still visits Matthew's Lane every day.
1.Why do you think they were so convinced you did it?
You see in the garrison when you're different, you're always an outcast. If you're not in the crowd then you're against the crowd. A lot of youths don't want to be a part of the culture of the gang thing but because you don't want to be taken as a fool, you join in.
I was a target so my name was on the agenda.
2. So what did you say to the family of the deceased to explain your innocence?
Me and my mom went to him (the brother of the deceased), he literally said, 'yow brejin a dat di people dem seh. How yuh fi kill mi bredda and mi and yuh a friend?'
(I replied) 'But me and yuh bredda a friend to, even two weeks ago mi did fi help him look bout him TRN'.
3. So after pleading your innocence, was his family convinced?
No…I was chased at one point. A guy chased me and fired several shots after me. Luckily I could run so I escaped unscratched but a few days after, luckily I had a visa, I just took myself away.
4. Was that the time you went abroad?
Yes. I had to resign my job which I held for five years and spent some months abroad until my grandmother passed away so I returned to Jamaica.
5. When you were abroad, were you thinking about returning to Jamaica?
Boy dat neva deh pan mi agenda fi come back, fi'real.
But Grandma was always a figure so when she passed away I had to contemplate the option. And my kids are here, my mother is here, my friends are here.
6. So are you still living in Matthew's Lane?
No. I went to St. Thomas. My mother purchased a house there but I come here (Matches Lane) every day. This is my spot, my friends are here so whenever I don't have work, I'm back. I chill on the block same way. I try to tell my brejins that bigger things are out there. 'Yo guh look a visa so we can travel'.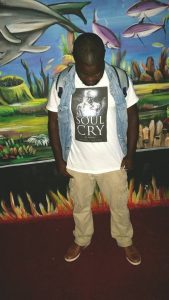 7. That's commendable and I'm happy your life was spared, now let's talk a little bit about your poetry. How would you describe it?
Poetry is everything. I think it's more raw-form of writing, free expression way of writing. And based on what others are saying, it's the best type of poetry. For instance, I have a piece called. 'Home', literally I tell you,
'At the sound of screams all I can remember is a bullet-riddled body'.
Basically, when it goes down I start to tell you what my environment is like, the zinc-fences, etcetera…I go in…passionate, that's the only way I know how to.
It is a means of telling the stories that others don't get to hear, in a form they are not usually told.
8. So what are some of the issues you write about?
Social commentary, where I attack persons who have nothing to do with the garrison but they tend to point fingers.
There's a (poem) that I call, The Reality….
'How do you expect us to live as one when it's evident that our reality is nothing but a spin-off or off-set of yours?'
9. Wow potent question! So what are the other themes?
Love, Inspiration. Reflection.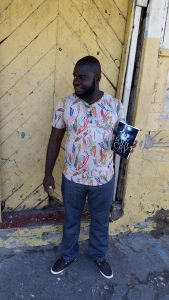 10. You published a book, Soul Cry, what is it all about?
Nuff people don't understand the garrison lifestyle and Soul Cry highlights some of these things like the 'informa must dead' culture.  Sometimes you genuinely want to say to the Police,
'listen mi know seh a Tom kill Barry'
But why tell the Police if the police himself going to tell Tom? You're going to be the next victim.
11. Are you trying to change the perspective of the garrison through your poetry?
Telling you the vividness of this reality, that will put some sense in your brain to say, 'okay this is why they're acting (in that way)…this is where they live.'
Honestly Ashleigh, this is the first in a long time I've sat on the corner without being agitated.
I paint the reality that I know through my poetry.
12. I realise. Now what's your message to someone who has been wrongfully accused of a crime?
Out of sight, out of mind. Take yourself away from the issue. They say coward man keep sound bone. You may not have the luxury of a visa but you must have relatives elsewhere.
If you're marked for death innocently then the good God will see you through but if you're marked for death based on your actions then he will probably see you through so you have a testimony or you live by it, you die by it.
My message, take yourself away from the negativity…sad to say, my cousin never lived to see his 21st (birthday), today I'm months away from being 30. I'm grateful for that.
Thanks for sharing your inspiring story Xavier!
Here's a sample of his poem- Jamaica Cries
Follow Xavier on Facebook, Instagram and Twitter.
Find out how you can purchase a copy of Soul Cry.
Our Stories is a feature which sheds light on real, social issues in Jamaica through the inspirational stories of Jamaicans with lived experiences. Are you a Jamaican with a story to share? Contact us [email protected]