Don't we all love beach holidays to relax. Romantic dinners and cocktails at sunsets, meditations at Bonfire places and spotting colourful fish in the blue ocean, satisfy our souls. We also like little cozy bays with palms, long white sand beaches, rough rocks with tiny crabs and sunsets. Last but not least: beach parties are the best parties.
In this article we selected the most awesome, 'irie' beaches for you as Jamaica is the exotic holiday destination right now! Allow yourself a beach holiday gift and explore the real Jamaican beaches in the magnificent, natural way.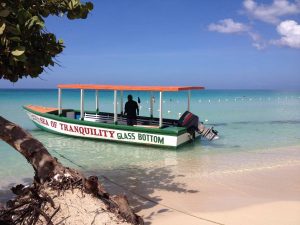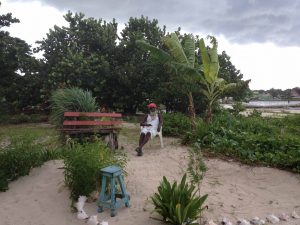 1 NEGRIL
Negril is highly recommended when it's about party and beach and is certainly one of the best 'irie' beaches of Jamaica: 7 mile (11km) stretch of white sand with all kinds of local bars and hotspot hotels. Besides this you get nature, one love vibes and most of all a perfect ocean, save to swim in and snorkeling with awesome sunsets.
An old rule as they say still works on the beach as it comes to buildings: by law it is not allowed to build higher than the highest tree! This gives Negril a cozy and charming village look & feel.
Look for the wooden arts and craft shops on the beach with Jamaican style cloths, jewellery and carvings.
In tourists places like Negril everybody wants to have some profit out of tourists. When the hustling is too much for you, just put on a friendly face saying you are 'all right' or 'another time will be better'.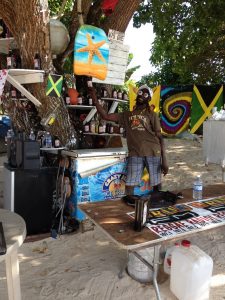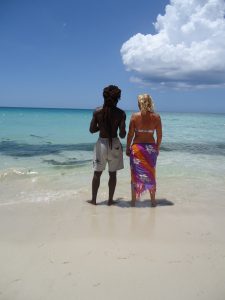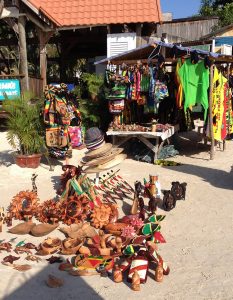 So much things to see
Early morning joggers, fruit sellers and sun lovers for a stretch on a beach chair and a zip of an Appleton rum cocktail is daily life Negril.
Walking to the end of Negril-Beach (eastwards) leads to a small beach, behind some grassland and trees. Here is Dr. Love waiting for you with his smile, his carvings and yes you can buy a cool Red Stripe beer up here. The most famous carving is probably not for sale, but you are allowed to sit on it and make pictures.
For snorkeling or diving just take the glass bottom boat and go to the reef. Explore Negril area on a bike, find little bays like Bull's Bay or Bob Marley Beach, with astonishing views and enjoy the chill vibes. When you are not so much an explorer, take a local tour guide; he can show you little bays, and even rivers and caves in Roaring River Park. Relax on the backseat and go!
Sunset time
Watching sunset, with happy hour cocktails (for instance at Shields), gives you outstanding moments with fabulous pictures; you can't imagine how beautiful and different day after day the sky gives you the treasures of colourful sky's as in a fairy-tale; Negril is famous for it!
For the romantic ones among us: some restaurants offer special dinners right on the beach: a table for 2, surrounded by candle lights and soft reggae tunes at the background. Who doesn't want to have this special treatment?

Free yourself with music
Ready for party now? Several bars offer (live) music on the beach, some with Bonfire and acts. Take change at Bourbon Beach, Roots Bamboo, Woodstock or Alfred's Ocean Palace. Get inspired by the music and dance or sing with reggae tunes and dancehall moves till you drop, so be happy and free yourself!

Food
Local food at One Mile on the boulevard/beach opposite The Drifters Bar, or 3 Star in the little alley next to Bourbon Beach or Annie's close to Corner bar. 'Ital Food' at Ras Rodie West End, mixed food at Canoe or Mi Yard and last but not least: you have to try jerk chicken on the street!
         
2 BLUEFIELDS BAY
The beach stretches out as far as you can see at laid back Bluefields Park & Beach. It shows you the local, peaceful vibe therefore you really need to have a dip in here. Put up your hammock and get a drink; it is chilling time!

'Tek time fi di real vibes'
Peter Tosh Memorial close by Belmont is worth a visit. Nature Roots Cottage is the place to be for an overnight stay; I won't use the kitchen because 'mommie' has excellent cooking skills. Just chill on the veranda and listen to the birds. Belmont and Bluefields ask you to chill, so 'Tek time fi di real vibes'.


3 The beaches of TREASURE BEACH
In here no jet skis, parasailing or fancy nightlife, Treasure Beach is just a friendly community with some little bays and laid back vibes.
There are several bays with most visited Frenchman's Bay. Little local bars as Zara and restaurants like Gold Coast, Diner's Delight and Gee Wiz are next to each other. Calabash Bay Jack's, the famous bar and restaurant on the beach, has a fantastic menu. Try conch soup, it's delicious!
A great opportunity to spot some dolphins, while a fisherman brings you on his fishing boat, is having a swim close to the reef and drinking your cold Red Strip beer at Pelican Bar. You just have to ask around on the beach of Frenchman's Reef and there you go.

Breakfast time
The most common question travellers ask is where to have great breakfast. The answer is always the same: Smurf's. This local restaurant is Treasure Beach's most improbable legend. Out the back is a morning-only cafe that cooks up some of the best breakfasts in Jamaica and roasts and brews the most delicious and dangerously addictive coffee. Smurf's has authentic Jamaican cooked food and delicious all over the world breakfast.
  
4  GUT RIVER Blue Hole
Off the beaten track you will explore the hidden gems of the South Coast: Little Ochi, Rockey Point, Canoe Valley, Alligator Pond, Milk River Mineral Spa & Hotel and many more.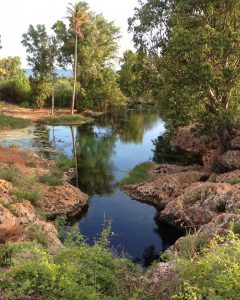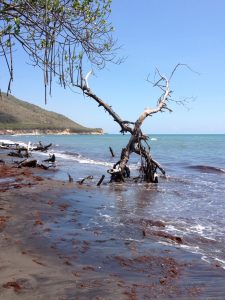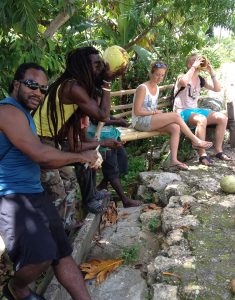 Mineral water Gut River blue hole, where the river meets the ocean, shows an abandoned beach with stunning views. It is a mystic area, you can feel the real vibes, it's hard to explain… but it is because of the silence, the purest nature, the trees, the breeze and the sound of the waves, the history, the views, the clear mineral water of blue hole and Rasta vibes. It is you and nature! A stunning awesome place where real nature lovers like to stay a couple of days when brave enough.
The best irie beaches of Jamaica hidden gems
It is possible to explore the whole area around Gut River: crater, natural wells, mangrove river and much more. Healthy and advanced hikers can have spectacular hikes from the villages down to the beach. But don't go on your own, go with a tour guide who is familiar up there. Gut River itself has no shops, restaurant or bars, no wifi and even no telephone access. Here you'll meet wild nature, accessible through an old potholed dirt road where overnight stays can be arranged on request.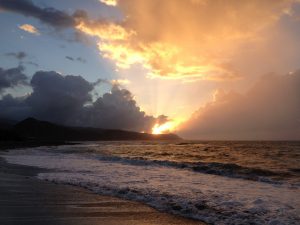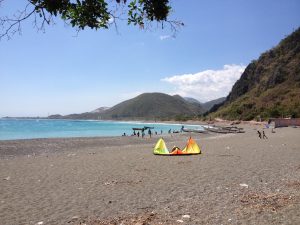 5 KINGSTON AREA

Many options to escape the busy town Kingston on a hot Sunday afternoon. Beach lovers will enjoy Hellshire Beach and Bull Bay (Bob Marley Beach), both are local beaches but very different in atmosphere. While Hellshire Beach is lively and active, Bob Marley Beach is calm and quiet, a perfect spot for surfing though. Both worth a visit!

Hellshire Beach, Portmore
Jump on a Sunday into Hellshire Beach and emerge with locals. Families and couples, children, friends and foreigners are chilling and relaxing. Hellshire is a lively beach, where people come for fresh seafood and where youth showing the newest dancehall moves. If you dare…

Bull Bay 
Bull Bay or Bob Marley Beach is a small beach with some rock stones known as the place where Bob Marley liked to come. It has the biggest Rastafari community with 300 inhabitants and can be found at Zion Hill. Nyabinghi ceremonies with chants will still take place at Zion Hill. At the hidden Cane River Falls Bob washed his hair as it is been told.
The beach, reached by a dirt road at 9 mile, is undeveloped. A small wooden bar sells fish on Sundays and that's it. You can find Bob Marley Beach behind Wickie Wackie Beach, another beach known for surfing and music events. The ocean waves can be very rough here, good for (kite) surfing or a fresh up, but not for a far swim. The surrounding hills are beautiful and trees on the beach gives you shade. You have to experience this beach once you have plenty time in Jamaica.
  
6 The beaches of LONG BAY PORTLAND
Long Bay Portland, with Boston Bay and Winnifred Beach is a quiet undeveloped area with a special calm vibe and rough sea, for sure these are one of the best beaches of Jamaica. There are a few bars and restaurants where you can hang out, have some chats or 'meditate'.

Boston Bay
The small Boston Bay is a round, deep, blue water bay, famous for its waves and surfers. You'll meet a modern hippy look & feel, which attracts backpackers, lively with arts and craft, mixed people, restaurants and the nearby Great Huts Guesthouse. The scenery with the rocks around is gorgeous. Boston Bay is also well known for its Jerk Centre and Jerk Festival. It seems the best place to be for Jerk food. Don't miss this one!

Winnifred Beach
Like Boston Bay, Winnifred Beach is a real beauty, wider though, with sea grape trees around for some 'shade' and plenty facilities; different bars and restaurants and arts & craft shops. It is the most beautiful one in the eyes of many; we can say a 'five star beach'. It is a save place for children therefore families love it. It can be nice crowed on weekends and holidays with enjoying the chill, friendly Jamaican vibes, …peaceful! Winnifred Beach: to find off the main, cliff top road and down a bumpy pathway (by car) or trough a small hiking path. To park your car probably a little fee is asked.
  
7 DEAD END BEACH
The famous Hip Strip with its beautiful view over the blue coloured ocean is decorated with beaches bars and restaurants and leads to Dead End Beach. Visiting Dead End is an easy way to get an authentic Jamaican beach experience in Montego Bay. This beach attracts local visitors and travellers waiting for their flight back home and has a lively atmosphere.
Mommie Fairy, on the beach, sells all kind of drinks and little snacks like awesome sandwiches with fried fish or cheese and salad. Wifi access is across the street at the nearby bar/restaurant, also a good place to chill out and have some lunch.

Low-flying aircraft
The 'irie' Dead End beach is right next door to the Donald Sangster International Airport. Visitors can enjoy the thrill of watching low-flying aircraft come in to land whilst they bathe. It's an amazing place waiting for your airplane!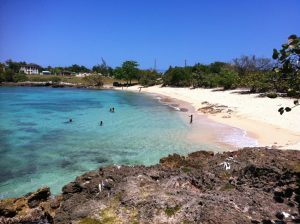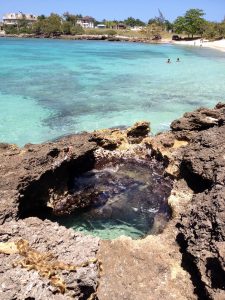 8 BULL'S BAY
The unknown local beaches in a little cove, Bull's Bay, offers shade, white sand beach and magnificent views. Fish hides behind rocks and the beautiful rugged coastline shows the glistening ocean and the silver waves hit rocks; it seems your need to bring your snorkel gear!
At the entrance to the beach of Bull's Bay from the main road is a little shop. Snacks, drinks, as fresh coconut juice, and friendly owners make the spot a must stopover.
More blogs of Sandra Smits at Jamaicans.com
With the description in this travel guide you will find most of these beaches with ease on your own. When not fully sure, ask your way around, everybody is willing to help you out!

About the Author:
'These tips are written by Sandra Smits, a true lover of Jamaica, founder of InspiringVibes.nl and co-founder of travel agency 'Rappa Rasta Tours' Jamaica. She is writer of travel guides and blogs and works together with Favoroute.com and wearetravellers.nl' Feeling more comfortable and secured by having a local tour guide? Explore the Real Jamaica in the Natural Rasta Way and go on an adventure with one of the trustworthy tour guide agencies: Rappa Rasta Tours. Look for all kinds of tours at Face Book or website: www.rapparastatours.com.