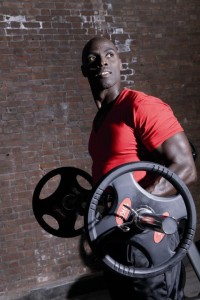 This week on People Profile: Michael A. Anderson​ (Body Builder/Personal trainer )
Bodybuilding is the use of progressive resistance exercise to control and develop one's musculature. An individual who engages in this activity is referred to as a bodybuilder. In competitive amateur and professional bodybuilding, bodybuilders appear in lineups doing specified poses, and later perform individual posing routines, for a panel of judges who rank competitors based on criteria such as symmetry, muscularity and conditioning. Bodybuilders prepare for competition through a combination of dehydration, fat loss, oils, and tanning (or tanning lotions) which make their muscular definition more distinct.
This week on People Profile we have as our guest Michael A Anderson a professional bodybuilder and personal trainer.
Dr.C
Welcome Sir, please share with us, who is Michael A Anderson?
Michael A Anderson
Bless up Dr.C. Michael is a very simple person who thinks nothing in life is hard to achieved, you just have to work twice as hard to achieve it. If you fall, rise up and start over again. One of my greatest desire in life is to help people to achieve their goal, that's my main reason for becoming a Personal Trainer. I would like people to believe in themselves.
I was born in Kingston, Jamaica. Love to travel and see the world, i am 1.83cm or 6ft tall. My favorite dish is oxtail with Rice & Peas and at times some real nice Spaghetti.
My favorite sports are Track & Field, football, and basketball, and bodybuilding.
My greatest desired in life is to see world peace where people can live together and stop using religion as a tool that divide us.
Dr.C
Big respect Michael!! From a family of track athletes to bodybuilding, please tell us Michael what prompted you to begin competitive body-building in the first place? Were you always big on fitness?
Michael A Anderson
Yes, I was always athletically incline from primary school to high school. I represented my high school in the biggest boys track and field championships in both the 110m and 400m hurdles for 4 years then went on to the USA where i eventually retired. Years later i became fat because of not being active so i decided i will get back into what i really love. That's when i return to the gym for help and i didn't look back. I have been moving forward over 15 years now. I started working out in 1993.
In 1997 I decided I wanted to take things a bit further, so I started doing my diploma with the National Federation of Professional Training in the USA for being a personal trainer. I also received another diploma in Holland in 2013 with LAPT to upgrade my knowledge, now I have been a personal trainer for the past 18 years.
My interest in bodybuilding came from friends with good inspiration, who told me about my well developed physique and advised me to enter competition.
That was 14 years ago (2001) when I came 6th in my first Mr Jamaica Junior Bodybuilding competition. Then two years later I came second in the same competition and then a few years later I won for the first time the "Masters Mr Jamaica" and also represented my country at the world CAC Games held in Jamaica at that time.
After taking a few years off and moving to Belgium, my love for the bodybuilding sports reignited all over again. Being a personal trainer I am never far from the fitness, so the feeling came natural.
So in 2012 I entered again as an IFBB athlete where I won my first championship in Belgium, but then in 2014 I decided to switch alliance to the NCOBB federation ( the Natural Bodybuilding federation). In Belgium, they are more clear about the sports being natural and you are tested twice yearly.
I am currently the Belgian champion in the minus 8Okg category (with the NCOBB), for the past two years. In the Masters category I was first in 2014.
In the European championship (UIBBN) I am now ranked 2nd in the minus 80Kg category, and in the World championship as well.
Dr.C
Wow, a man of many bodybuilding hats!…..I am not a body builder but i am frequently stopped by strangers who often offers compliment on my physique. I suspect that you would be asked similar questions too right?
Michael A Anderson
lolol …Certainly Dr.C, especially in Belgium because I do lots of competition and a Personal Trainer in the gym (fitness) so i am kind of well known so people give me lots of compliment but it sometimes comes with lots of questions about how can they work out to look like me.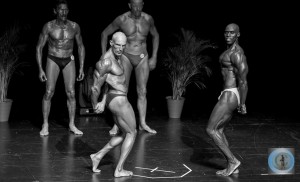 Dr.C
I know this profession requires some serious dedication Michael. What's your workout regimen when competing?
Michael A Anderson
My training schedule is 4 days per week, but at times because of my love and desire for working out I sometimes have additional days.
I ride my bicycle to work everyday so I consider this to be my cardio. I work out about an hour and a half every day.
Normally I focus on two body parts with weight lifting one day and some functional training exercises other days.
I adjust my reps and sets according to how I see my muscles developing and where I feel adjustment is needed. The muscles that are in my opinion least developed at that moment in time, I focus on them with the extra days of working out.
Dr.C
Wow! Should i assume that you live very close to your fridge? How do you eat?
Michael A Anderson
Not really close to the fridge…lol. How do I eat? In general I eat 6 meals per day. For this I need to prepare all my meals for the day in the morning to take them with me to work. Basically it comes down to eating no sugar, low salt in take , high protein, and good quality carbs throughout the day.
Dr.C
What kind of diet is required for anyone looking to compete in bodybuilding competitions?
Michael A Anderson
When competing, workout is very intense but in some way the foundation is already set so its just some fine tune up and minor work. Proper eating is crucial also.
Dr.C
Does bodybuilding negatively affect your health in any way?
Michael A Anderson
In no way has bodybuilding negatively affect my health. For one thing I can say that it enhances my health in every aspect of my life even my sex life. As long as you don't abuse your body with enhancing supplement such as steroid. YOUR BODY IS YOUR TEMPLE.
Dr.C
If a body builder masturbates will this affect his or her ability to compete?
Michael A Anderson
Hahahaha, In some way they say it does. Some people does it to relieve stress because the dieting process can be very stressful especially when eating the same food for months without salt and sugar. Whenever one has an organism, its a lot of protein being used up that the body needs. My advice is not to.
Dr.C
Why do you laugh Michael? is it that bodybuilders don't masturbate?????
Do you utilize supplements (protein shakes, creatine, etc), and if so, what kinds?
Michael A Anderson
Yes, I do take supplements such as Protein, Bcaa, L-Carnitine, Fat Burner and etc. If I try any over the counter supplement and it enhances my body in anyway I will used it as long as it is legal to use.
Dr.C
Before a competition, are there certain last-minute exercises, foods, or other fat-burning methods that are "musts?"
Michael A Anderson
There is no short way method, every supplement has to be taken for a period of time to get result. Yes food must be down to a point, most times reps are increase from 10 to 15 but for some bodybuilder it varies. Fat burner is a must, salt and sugar out of your diet also a must. The last few days is where the whole process gets very intense. Dieting can go for 6 months or more for some bodybuilders,
Dr.C
Let's just say that a "friend of mine" (wink wink), wants to get a six pack and he is 50 years old, what advice would you give?
Michael A Anderson
Well please tell that friend (wink), that it won't happen in 6 months. First he has to be ready to do the full package of intensive workout which consist of aerobic and anaerobic exercises. Secondly, his eating habit must change for better, without these main factors he or she will never achieve their goal.
Dr.C
I see….not easy huh? Tell us though Michael, how do you know when to bulk or cut?
Michael A Anderson
Bulking and Cutting are done in 2 different phase. Bulking is done mostly on off season where you try to gain as much muscle mass as possible. The cutting phase is done for preparation of competition. Muscle definition is most important at this stage.
Dr.C
If you only had 30 min per day, 3 days per week to work out, what would you focus on? Weights, cardio, yoga, or a combination?
Michael A Anderson
I learned a lot from your interview with Guru, (beautiful lady too), but yoga is not a part of my daily or occasional routine. Maybe it could be important in your daily routine. But for me I focus on weight and cardio training which adds more value to me.
Dr.C
Do you have a favorite pro bodybuilder that you see as a role model?
Michael A Anderson
No, I don't have a favorite or a role model bodybuilder. What they stand for or how they achieved their goal isn't my way of bodybuilding. If they didn't earn it honestly they can't be my role model. But I have no problem with how one uses his or her body because they have the right to do as they chooses.
Dr.C
How has becoming a bodybuilder affected your self-image and relationships?
Michael A Anderson
My self esteem has grown a lot over the years because when I was fat I didn't see myself as I do now. I was very insecure, I worried about my health and felt guilty. I didn't want this to reflect in my relationship.
Dr.C
Do most competitive bodybuilders do it just to look good, or are there other less obvious motivations?
Michael A Anderson
To be honest, I think everyone does bodybuilding to look better. We all do admire the transformation of our bodies from fat to top form and some from skinny to top form looking like a statue.There are guys who would do anything to look good for just one day and don't care what happen after that.
Dr.C
How prevalent is steroid use in pro bodybuilding?
Michael A Anderson
Well i have never been there but I think the use of steroid is very big in pro bodybuilding. The human body can only grow to a certain point. Above that, you definitely have to used some form of steroid to enhance the body.
Dr.C
Tiger or Lion
Michael A Anderson
Lion because he is the king of the jungle and a man represent kings-man-ship.
Dr.C
Usain Bolt or Asafa Powell?
Michael A Anderson
They are two great athlete of our time. Love them both, but a bit more for Bolt because he has more heart of a lion and is out to conquer the track at all times. Asafa just don't have that killer instinct.
Dr.C
I heard you are scared of lizards my brother. Please tell me this is not true?
Michael A Anderson
No, not afraid of Lizard but not going to hold them in my hand. I am afraid of height!.
Dr.C
The giant that won't touch a lizard…and is afraid of heights…wow!!!..lol
Michael it was indeed a pleasure chatting with you on People Profile. Thanks for sharing your thoughts and ideas.
Michael A Anderson
Dr.C thank you for choosing me for your program and i am really looking forward to the 2016 People Profile Awards.