The Reggae Girlz, Jamaica's women's football team, didn't get their name through a grand plan or a genius idea. It simply came about as a response to their male counterparts, the Reggae Boyz.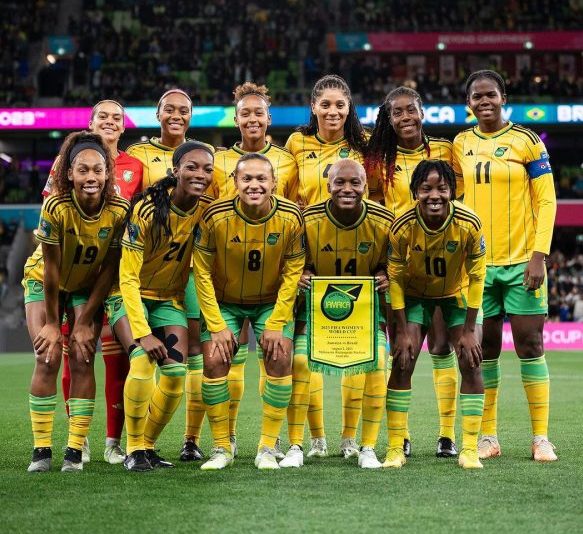 Origins of the Reggae Boyz
According to accounts from several members of the Jamaican men's football team, the name "Reggae Boyz" originated during their trip to Lusaka in 1995 for two friendly matches against Zambia, while they were preparing for the France '98 World Cup.
The matches took place in Kitwe and Lusaka in November of that year, and Jamaica ended up losing 1-0 and 4-2.
The team's coach at the time, Brazilian Rene Simoes, recalled that upon their arrival at the airport in Zambia, they were greeted by a large crowd chanting "Reggae Boyz, Reggae Boyz." That's how the name was born.
The team quickly embraced the name because they loved it. Initially, it was spelled "Reggae Boys," but they later found out that someone else had already registered that name. So, they made a slight modification, changing the "s" to a "z," and became the iconic "Reggae Boyz."
The Power of Reggae Music
Reggae music, born in Jamaica in the 1960s and popularized worldwide by the legendary Bob Marley, is a precious gem of the Jamaican experience. Marley's music connected with people from all walks of life, offering hope and anthems of liberation that inspired hearts and minds.
Football and Reggae, Inseparable Companions
In Jamaica, football and Reggae music go hand in hand. They are both essential parts of the Jamaican way of life, allowing the common people to express their talents and viewpoints. The late Bob Marley, who had an intense passion for both football and music, embodied this deep connection.
The Birth of Reggae Girlz
The women's football team wanted a catchy name like the men's team. It didn't take long to decide on "Reggae Girlz." After all, if you have the Reggae Boyz, it only makes sense to have some Reggae Girlz. The name resonated naturally and reflected the vibrant Jamaican culture.
Embracing the Name with Pride
Jamaica's female footballers wear the name "Reggae Girlz" with immense pride. It encapsulates the essence of Jamaica – its love for music, its calmness, and its cool vibes. The name also associates them with the iconic Bob Marley, making it even more appealing to fans.
The Magic of Cedella Marley
Cedella Marley, the eldest child of Bob Marley, was drawn to support the Reggae Girlz as their brand ambassador and benefactor. Along with the leadership of the Jamaica Football Federation, technical team, sponsors, and support staff, Cedella Marley's foundation played a crucial role in the historic qualification of the Girlz to the France 2019 World Cup, a first for a Caribbean nation.
Photo – Official Instagram Page for Jamaica Football Federation