Danusia Francis began gymnastics at age five and became the British Champion for the first time at age nine. Since then, she has been the British Champion multiple times and was awarded a gymnastics scholarship to the University of California Los Angeles (UCLA) from 2012-2016. In 2016, Danusia became the NCAA Balance Beam National Champion and scored two perfect tens on the beam during her college career. During her time at UCLA, Danusia decided to compete internationally again, but it was not possible for Great Britain due to its requirements of attending national squads back in the United Kingdom while living in the United States. So, Danusia started competing for Jamaica in 2015 and qualified Jamaica for the 2016 Olympic Games. She made history in 2018 by helping to qualify two spots for the 2019 Pan American Games and posting a team score at the 2018 World Championships for the first time. In 2019, Danusia came third overall and first in the balance beam while competing as a guest at the English Championships. She also won the floor title at the Superstars of Gymnastics showcase.
1. How are you connected to Jamaica?
My dad is Jamaican, from Saint Thomas.
2. How did you get started in gymnastics?
It started as an after-school hobby when I was five years old.
3. Tell us about your show-stopping performance at the inaugural Superstars of Gymnastics? Did you expect it to go viral?
I was excited, as this event was the first of its kind where we had none of the strict competition rules that we are used to. Instead, they wanted to see more crowd interaction and unique routines. I didn't expect my performances to be as popular as they have been because the other gymnasts in the event were all so amazing. I knew it would be hard to stand out. But, I just really embraced my strengths and personality and it paid off!
4. Have you had an "OMG" moment from the famous people that reached out to you about the performance? Can you tell us who they were?
I think the "OMG" moment has been from the number of people, more than one specific person. I am so happy to have gained so much support and respect from a lot of Jamaicans!
5. As we approach the Tokyo Olympics in 2020, what are your goals as you compete?
My main focus at the moment is to qualify for the Tokyo 2020 Olympics. Once I do, I will focus on my specific goals for the games.
6. Who do you admire as a gymnast?
I really admire Nastia Liukin, she embraced her own style and it was so beautiful. She also had injuries and adversity that she pushed through to become a champion. I also hugely admire her attempt at a comeback as I myself retired after my collegiate career. Making a comeback when you have already achieved at a certain level is a lot of pressure. But, it is always better to try and fail than not try at all or regret not trying down the line. She definitely showed me this.
7. Who is your hero?
Usain Bolt is my hero! Having met him, I am happy to say he is the coolest person ever.
8. My favorite guilty pleasure is…
Pizza.
9. My friends would say the strangest thing I do is…
I am a bit OCD. Everything has to be tidy or I can't sleep.
10. My favorite Jamaican food is…
Callaloo patties.
11. Thanks for the interview. Do you have any closing thoughts or words of encouragement for future gymnasts?
To future gymnasts: Work hard to be the best that you can be. Don't compare yourself to others.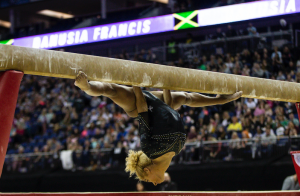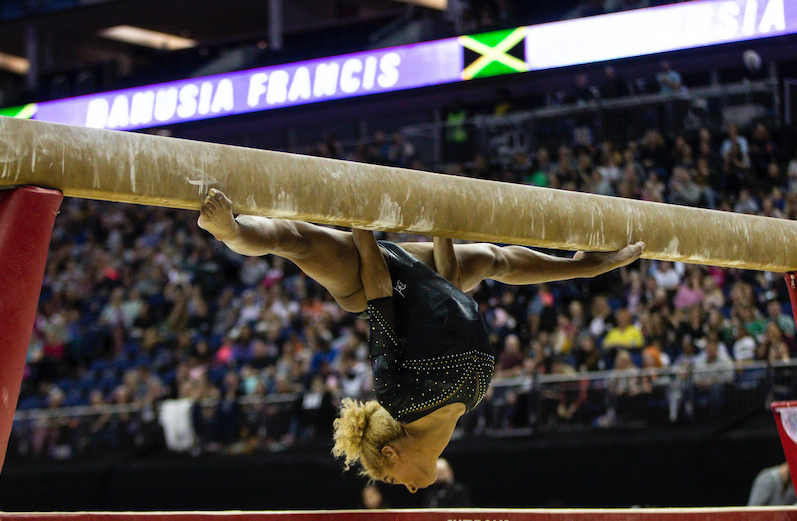 Be sure to follow Danusia Francis on Facebook, Instagram, and Twitter.